Linea Aspera and Schwefelgelb were 2 of the most interesting electronic acts to emerge during the last years before they called it quits. Linea Aspera, that played a mix of synthpop and darkwave, with very strong lyrics, was just on the verge of a bigger break when they split up. Schwefelgelb on the other hand had a more punkish attityde, mixed with elements of NDW and EBM. Zoè Zanias and Sid Lamar were vocalists in each of these bands and about 2 years ago decided to start Keluar in Germany.
Zoè Zanias aka Alison Lewis is not from Germany, she is from Australia but grew up in Malaysia, Indonesia and Papua New Guinea. When you compare the music of Keluar with their previous projects, this is something different entirely. Keluar has a much more experimental, cold new wave-ish sound while maintaining the strong lyrics of Zoé Zanias.
The first release was "Ennoea", released in only 300 copies on vinyl in 2013. It was followed by "Vitreum", still only on vinyl (500 copies this time) in 2014 and with this the band was about to get a wider audience. After a very strong review of the "Keluar" CD, a collection of their first 2 EP:s released about the same time as the second EP, we felt that we had to explore the world of Keluar and find out more about one of the best experimental synthpop newcomers out there.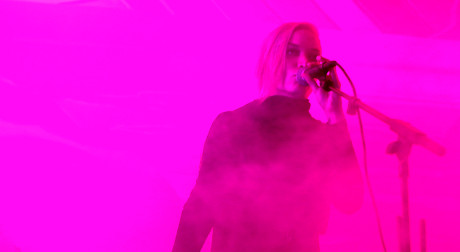 Keluar performing at the Kalabalik på Tyrolen festival in Sweden 2014.
Photo by: Fredrik Wik
Around the world
When did you meet and how come that you decided to collaborate?
Zoè Zanias: We met in Leipzig in 2012, when my former band was playing a show there. I lived in London and he lived in Berlin back then, but with our chemistry collaboration was inevitable, especially when my other band stopped being active.
Which output can you get in Keluar that you feel you couldn't get in your other projects?
ZZ: It's just the unique combination of the 2 of us, our (very different) tastes and influences and inspirations, which of course you can't get when you work with anyone else…
Sid Lamar: For example, Zoè sings in church modes quite often, which is something I wouldn't have come up with. Especially these things the counterpart does, which you wouldn't have done usually, brings it on another level.
What does "Keluar" mean and why did you decide to use that name?
ZZ: It means 'to go out' in the Malaysian and Indonesian languages. We only used it for the sound, the look and slight hint of my background, so not too much should be read into the meaning.
Where do you get your inspiration from?
ZZ: Topics of scientific inquiry into the human condition: archaeology, biology, psychology, neuroscience… they provide the language through which I can express the emotions that life creates. Also travelling to far-off places can inspire some of the imagery I use in my lyrics. Some Keluar tracks have references to places in Brazil and Burma, for example.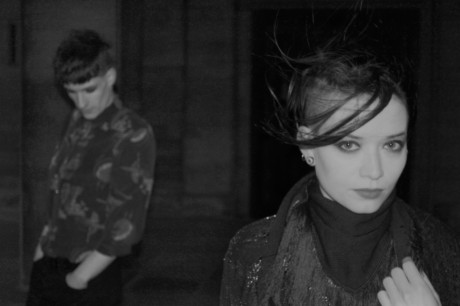 What do you do when you are not creating music? How does creating music affect your everyday life and vice versa?
SL: I'd be travelling or partying. But there's almost always music in my head, it's not easy for me to quit thinking about it. But it makes more sense to consider it as one big creative process instead of trying to separate it into different parts. It's a symbiotic system where each element influences the other.
ZZ: I enjoy Berlin's parties, take my dog for walks and feed my thirst for knowledge as far as I can without going back to formal studies (which I will do one day). Creating music turned my whole life upside down. I was studying archaeology and anthropology before, with a clear academic path ahead of me, then after the music started I took a break from it to move to Berlin and pursue something totally different. My everyday life is a lot less predictable now. I never know when I'll be inspired, and daily routines don't easily form when life is punctuated by touring.
Releases and touring
Within your musical genre most releases are done on vinyl, do you think by releasing "Keluar", a collection of your two first EP:s on CD, that this will help you find a new audience?
SL: We did have many requests for CD:s before we released it. Some people just don't have a record player but do want to own something physical. I don't think that a CD reaches a totally different scene though.
"Keluar" got a 9/10 from Release Magazine and a lot of people are already naming this as one of the best releases in 2014. Are you happy with the result?
SL: I usually try to protect myself from most of the external feedback. It is quite dangerous, as it could result in a manipulation of our music. Like if you tried to achieve or even beat former feedback with your next release. This is a very wrong motivation. So I never read any reviews and I never get to know this kind of feedback unless I'm told explicitly told or I accidentally read it in a headline.
ZZ: Good reviews are certainly a nice pat on the back, but as Sid said, they should never guide the music making process. To me their most important role is in perhaps bringing our music to the attention of more people who'd like to book us. The more shows we can play, the happier I am.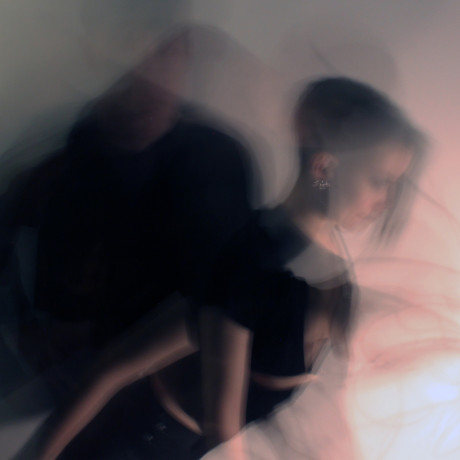 Currently you are touring Europe and playing a lot of live shows. How have your discussions been regarding on how you want to present your music on stage?
SL: Considering the technical setup, decisions have been based upon the circumstances under which we perform, which are rather small stages and not always well equipped sound systems. So we try to keep everything very compact and use a stage mixer.
ZZ: On the performance side of things, as opposed to the technical, we tend to just stick to being ourselves and feeling the music as much as we can. I try not to think too much about what I do on stage, mostly for my own benefit since there's something very cathartic and almost transcendent about letting go like that – and its even better when the audience appears to have reached a similar state. It really feels like sharing something so powerful and uniquely human.
What's next for Keluar? Are you working on a new EP?
ZZ: Yes, we are working on a new EP. Details will come soon.