Sebastian Hess met up with icon Jimmy Somerville backstage at the Rewind Festival in Henley outside London. Jimmy Somerville first became famous in Bronski Beat in the early 80:s, then he went on to start The Communards and has also released several solo albums. In early 2015 his new disco album will be released.
"Smalltown Boy" – a timeless classic
With a cup of tea in one hand, Jimmy Somerville says hi from his trailer and joins me and his manager Gunther Walker in the sunlight outside. We sit down at a table in the shade and in the background we can hear the 80:s music from the Rewind Festival. In just 20 minutes A Flock of Seagulls will take to the stage to perform their few but classic hits.
I start by asking Jimmy if he thinks it is surreal that the Bronski Beat hit "Smalltown Boy" was released as far back as 30 years ago. The classic 1984 song is about a boy leaving home dealing with his family's rejection. He replies that even though it was a long time ago the response from people is the same
- I still get letters from fans telling me how much the song has meant to them. And that flow of letters has been consistent over the years which makes the song almost transcend time, making it as important today as it was back then.
We talk about the music Jimmy listened to when he grew up, and he tells me Kraftwerk had a huge impact on him as a teen. The machine-like music coupled with a melancholic touch really struck a chord with him.
- I spent a lot of time walking around the streets alone where I grew up, making different synthesizer sounds with my mouth, he says.
Jimmy continues to talk about the music he grew up with and mentions artists like David Bowie and Donna Summer as big sources of inspiration.
- Even if Bronski Beat was an electronic act in many aspects I made sure to get the disco influences into the music we created.
"Finding a great new album in a real gatefold cover was better than… well, pretty much anything I'd ever experienced."
Jimmy on the subject of chasing new music in record stores during his teens.
Nostalgia
As we are backstage at the ultimate nostalgia festival I ask him about his thoughts when he was first approached to play Rewind. Was he afraid of being labeled a "nostalgia" artist if he said accepted?
- I did think about it but decided that I had no problem with that. The Rewind Festival is one thing and writing and releasing new stuff is another. I know that people are here for the nostalgia.
And if you could choose any artist, alive or dead, to play at your personal Rewind Festival, who'd play?
- Oh, that would be one strange festival! Definitely Donna Summer, Sylvester, David Bowie. ELO maybe. A lot of disco!
"That song is just like a big glitter ball in my head"
Jimmy Somerville on stage at Rewind about "Never Can Say Goodbye", the Jackson 5 disco hit he recorded with The Communards in 1987.
New album in 2015
Just before leaving for Rewind I heard that Jimmy was recording a new very disco influenced album.
- I have always wanted to make a proper homage to the disco era. Not a pastiche but an album true to the disco genre. I have always wanted to do this but now is the first time I really have felt that I have the confidence to do it. And the process was unbelievable – I have worked with close friends in the studio and it has worked out so well. So well that we actually just kept going and we are already recording stuff for another album.
It was time to wish Jimmy good luck with his show later the same evening. And to ask him if he was willing to take the ultimate 2014 photo of himself to accompany the interview text – the infamous "selfie".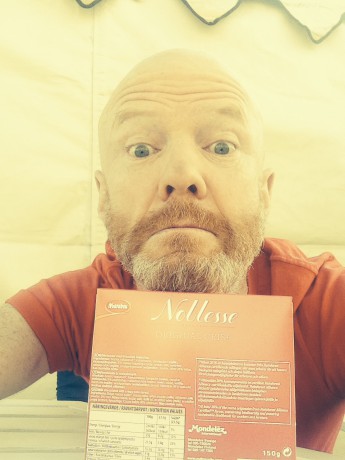 Jimmy's new album will be called "Homage" and it will be self released in early 2015. It will be available on vinyl in a gatefold cover with "Homage" in silver across the foldout – imagine teen Jimmy seeing that.
Just as I came back out to the festival area I got to see A Flock of Seagulls perform "Wishing (I Had a Photograph of You)" and "I Ran".