Following September's News piece on celebrated coldwave duo Linea Aspera's reunion, I spoke to Zoé Zanias (Alison Lewis) who revealed the current release and tour plans.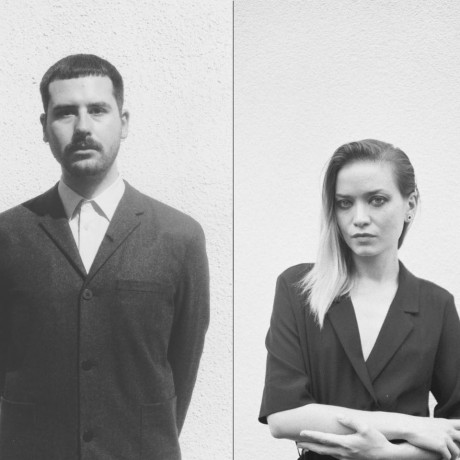 You have added quite a few live dates and from what I have heard the first Linea Aspera concerts have been successful? How does it feel to return to the project where it all started?
- The first few gigs felt like they went very well. It feels great to return to something I love doing that is also so well received. My seven years in other, far less hyped projects taught me not to take that for granted. There was a time I thought I couldn't play live anymore because it was stressing me out so much, but Linea Aspera shows are a true joy to perform.
We all knew that the Linea Aspera debut album is something of a modern underground classic, but are you surprised by the massive interest for Linea Aspera right now?
- It's a little surprising, yes, but when I look back over the last decade I see that 2010-2012 was an incredibly productive time for this style of music, with artists like Martial Canterel, Light Asylum and Trust releasing records I still have on repeat until this day. Since then I can't think of many artists who've impressed me much… honestly, the most popular music of the last few years has been frustratingly boring. So in that sense, I can't be too surprised. I know what we made was pretty special, even though I can't say we knew what we were doing when we made it!
You and Ryan Ambridge have written new Linea Aspera music – do you have any plans for a release at this point?
- Yes, we are working on a new album. We've been playing a few tracks from it in our live shows.
Can you reveal something about the new sound and lyrics?
- We grew up a lot and so did the sound, but we are still very much Linea Aspera. The lyrical themes are still rooted in scientific analogies, this time from a slightly different discipline. We both feel our new material is far stronger, though whether the audience agrees with us will be another question entirely…
I read that your solo EP has been moved to March, can you tell me more about it and your solo plans?
- I have two EP:s finished. The first will be out on Fleisch Records in March, the second will be out slightly later this year on my other label Rune & Ruin, which I run with Lynette Cerezo of Bestial Mouths. I won't play so many Zanias shows this year, but I will keep the project going as an outlet for my own music production and DJ sets.
You have also hinted that you have other projects and releases in the pipeline, what can you reveal at this point?
- I've been working on a few collaborations with artists I admire. They're somewhat delayed by my work with Linea Aspera and Zanias, but as soon as solid results are formed I will have news on those!
Linea Aspera has played a row of inspired live shows after the comeback. This is the current tour plan and more dates will follow (they have hinted North American dates):
10th of April – Urban Spree – Berlin
11th of April – Das Rind – Rüsselsheim
12th of April – Zentrum Altenberg – Oberhausen
7th of May – Almo2bar – Barcelona
8th of May – La Residencia – Valencia
9th of May – Trashcan Music Club – Madrid
15th of May – Inkonst – Malmö
16th of May – Spillestedet Stengade – Copenhagen
29th of May-1st of June – Wave Gotik Treffen – Leipzig
19th-20th of August – Fekete Zaj Festival – Mátra-Sástó (Hungary)
21st-22nd of August – Kalabalik på Tyrolen – Alvesta (Sweden)
5th-6th of September – CMD_F 202020 – Mexico City