Only a year and a half year after their critically acclaimed album "Nyctophilian", Stcokholm post-punk/goth rock four-piece Then Comes Silence released their fourth album "Blood". It came out in October 2017 on Nuclear Blast, thus they changed label from Gotland based Novoton. Extending the "Blood" tour into 2018, Then Comes Silence returned to Hamburg supporting ChameleonsVox  (formerly The Chameleons). Release met up the band members just after their arrival at the venue to have a chat about the return of the post-punk/goth scene and why it's easier to play in Germany than on home turf in Sweden.
Since their noisy shoegaze inspired self-titled debut album in 2012, Then Comes Silence have established themselves as one of founding bands of the reborn post-punk scene in Sweden. The subsequent years provided listeners with two additional albums, "Then Comes Silence II" (2013) and "Nyctophilian: Then Comes Silence III" (2015). They built on a big and varied palette of reverberated guitar drones, and moved toward gothic post-punk with dark 80:s influences and Sisters of Mercy references, making an imprint on their latest album.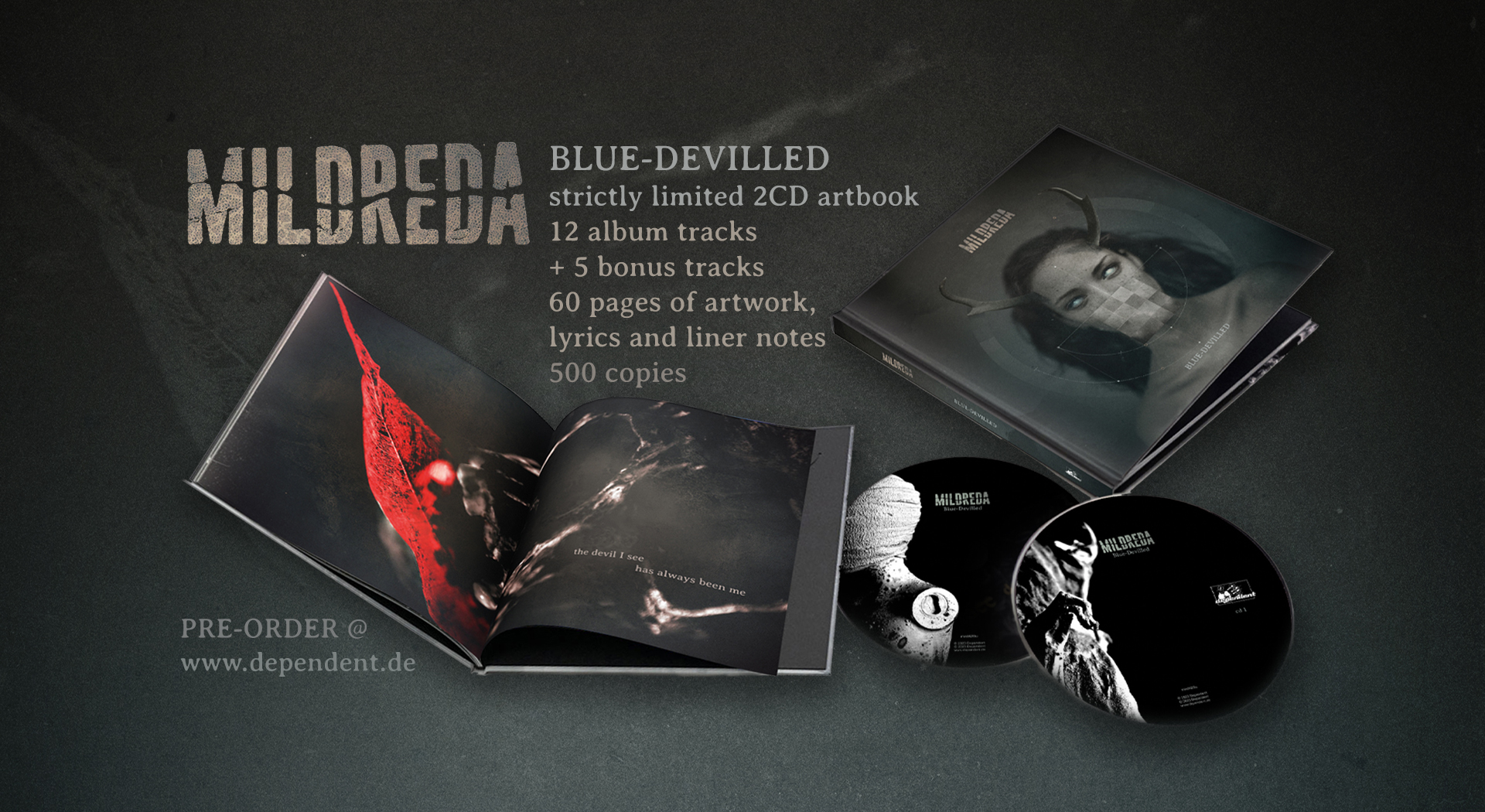 With "Blood", the band has created a rather unique sound; a thoroughly distinctive hybrid of horror aesthetics, post-punk and goth rock mixed with electronic music pulsations. This sound formula has given them a larger and more devoted audience, particularly in Germany. And the album has been well received among music reviewers. The re-routing of 80:s goth rock through a post-punk filter have earned them lots of positive response for their "big-bang choruses, churning guitar lines and their homage to The Sisters of Mercy".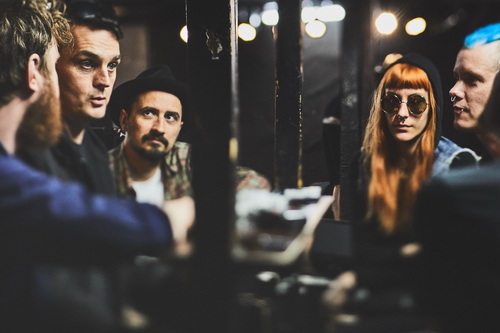 Then Comes Silence with entourage from the left: Jens (guitar), Alex (song/bass), 
Seth (guitar), Kim (hangaround and Klubb Död organizer) and Jonas (drums).
From indie label Novoton to metal label Nuclear Blast
You just arrived from a gig at Wave Gotik Treffen. How was it?
Alex: It was a really good show and a full house.
Jens: Most definitely! It was a new venue and we didn't know what to expect but it turned out really good.
Alex: This time we played at Westbad, a quite big venue for us – how big could it have been? I think it's an old school or something.
Jonas: A thousand for sure! It used to be an old swimming hall before it was changed into a venue. But we have played in Leipzig before, at the Pogo Festival, I think it was two years ago, but it was quite different this time.
Germany seems to be the country where you do most of your touring. Has it something to do with your German label Nuclear Blast or just that post-punk/goth rock is more popular in general here?
Jonas: Germans just happen to like us. The first time we were here was in 2014, so basically it started way before we signed up with Nuclear Blast. When you start to get established in a place and people learn to know you a bit more, it's easier to get shows.
Was that the reason to change label to Nuclear Blast?
Alex: Not only. We were at this great Swedish indie label Novoton, a really good label, but when you get an offer from Nuclear Blast you're just stupid if you say no to it (laugh).
But Nuclear are much more focused on metal and heavy guitar based music?
Jens: I guess you can say that we're an odd bird on Nuclear Blast.
Alex: The sparrows in their very weird bird collection (laugh), that's what we are.
But these shows with ChameleonsVox are not part of the "Blood" tour since the album was released last year?
Alex: In a way that's right but we still call it the "Blood" tour.
Jonas: We just extended the tour since it's still the most recent album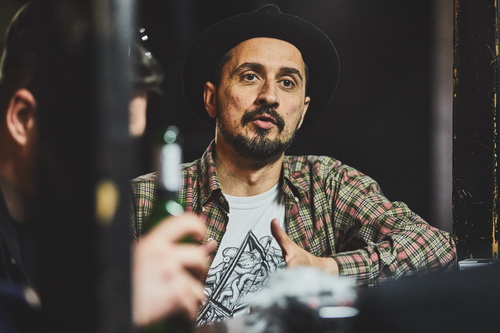 I have followed your musical progress ever since I attended your gig at the Roskilde Festival in 2013 and if you listen to the development of your sound, quite much has changed, in particular between the first two albums and the recent record "Blood". It may also become more apparent when you consider which bands you've supported, starting off with A Place to Bury Strangers and today supporting ChameleonsVox. What's your take on the development?
Alex: Our first gig was with them. I used to play in another band and we supported A Place to Bury Strangers a few times and when they were coming to Stockholm I simply asked "Can we play with you tonight", and that was our first gig together as a band.
The sound was more noisy in the beginning and I rarely turned off my fuzz pedal. Today I use it on one or two songs at most (laugh). It's only me and Seth that have been in the band from the first record, and since then the sound has changed quite much.
Seth: But also the songs have changed. We're more focused on writing songs rather than finding a certain sound. It was kind of spaced out on the first records; more psychedelic, or dark-psychedelica. I would say that the sound is more polished today.
Can we expect another change in the musical direction considering that Nuclear Blast is known for their heavier music genres and bands like Behemoth, Sabaton and In Flames?
Jens: We're about to make a country record!
Alex: And Americana! With stuff like harmonica in there (laugh)! No no no, it would surprise us much if we suddenly started playing metal.
Jens: But we have a few hard rock references.
Alex: Yes, at least bits and pieces of it but you can also hear much Joy Division in it.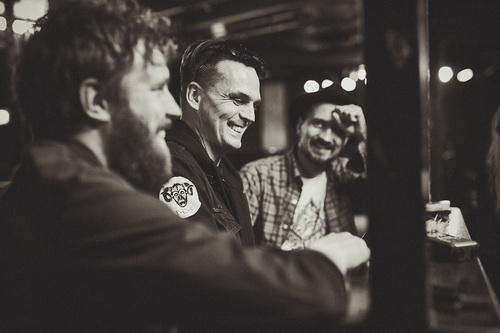 The revival of the scene: "It's hipsters doing darkwave"
The post-punk scene has returned stronger than ever. In our interview with fresh Canadian post-punk band Actors, frontman Jason Corbett points out the "undercurrent of fear" as one major reason for its revival. However, rather than speaking of a revived post-punk scene Then Comes Silence consider the contemporary scene as something new, a new music genre that shoudn't be mistaken for being the original post-punk sound.
Although the scene has revived, coated in a new soundscape, it's strangely difficult to find a broad fanbase or do something similar to a German tour in Sweden. In case of the the post-punk/goth rock scene, Germany is the market for the music genre, in particular if the ambition is to do extensive touring.
You combine a few musical influences and you can clearly hear both post-punk and Sisters of Mercy inspired goth rock in your music. The post-punk scene were all but dead after the 1980:s but has been on the rise the last ten years. Why do you think it's on its way back?
Alex: I don't really know. There were a few bands on the scene in the 1990:s but maybe the synth scene conserved it for a while and then let it free some twenty years later. What is sad is that it's still called post-punk when it's something completely new, bringing together bits and pieces from the synth scene, indie and psychedelica. There are of course influences of the original music in it, or in some cases imprints of bands as Joy Division, The Cure and Sisters of Mercy and many classic bands on the scene, but it's something new.
Jonas: To me it's more that the darkwave scene became popular again and it's not the old goth people who brought it back again, it's hipsters doing darkwave that got popular on the goth scene as well. But it's better to see it as a new genre.
But you're hardly intertwined with the hipster culture considering your aesthetic, rather it's quite much a horror aesthetic on stage, and in other interviews you've said that horror movies influence your image. How important is this aesthetic?
Alex: Well, I don't know about important, we're not a horror rock band but what I would like to keep in terms of the aesthetic is something like a 1920:s/late 1910:s aesthetic which reflects the last two records. That connection is more important than to manifest some sort of horror feeling.
Jonas: But most of the lyrics are about ghosts and such stuff.
Alex: But not the Freddy Kruger kind of way, rather The Shining in that case.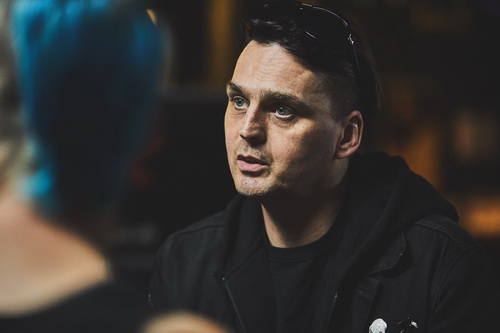 But your aesthetic has developed much over the years. I remember a much stripped down show at the Roskilde Festival in 2013. How have you worked with developing the aesthetic?
Alex: In the beginning it was only backlighting, we only had lights from behind meaning that you could only see four silhouettes on stage. But it started to change when we toured much in Germany, somewhere around the "Nyctophilian" record in 2015. Then we let the light flow from every direction (laugh). We have most definitely cooled down about it.
Jens: But it's still important to have a good visual appearance, and there is a thought behind what we wear on stage and how we want the lighting although we don't do it in the same way every time.
Alex: Of course the aesthetic is important! If you want to go on stage in a T-shirt and chinos you should probably do something else (laugh), not be onstage playing great music.
Jonas: It's also much about which genre you're into and what you like. Punks are punks and we are goth.
Alex: But punks don't go on stage in T-shirts and chinos either (laugh).
Jonas: But the aesthetic is not set in stone, we have changed it alongside the musical changes and with each record we released.
Alex: You know, for a while you just had hoodies [nodding to the others] and on the previous album you had a sack over your heads (laugh).
Jens: Yeah, that was really boring times, nobody knew who we were (laugh).
Jonas: After the shows when we were at the merch table to sign records people just passed by (laugh).
Bringing good music to the Stockholm club scene
It's obvious that Germany has a good scene for your music, if you consider festivals and clubs on the scene but how does it work out in Sweden? Quite many bands have gained attention the last years such as Principe Valiente and The Exploding Boy but you rarely read anything about the scene.
Jonas: It's because of us it got attention (laugh)! And I don't mean Then Comes Silence but the goth club I'm running in Stockholm.
Alex: 50% of Klubb Död is here today.
Jonas: We realized already from the start that whatever band we booked to the club no one turned up to the shows but today it's different. The scene is on the rise again, people are more interested in post-punk, in particular people from the synth scene and quite many of them also come to our gigs.
Jens: But just like Alex said, it sounds different today and you should call it something else. It's also a genre that has lived very much on nostalgia. To me that's one of the reasons why I found it great that new stuff turns up that doesn't copy what was done in the 80:s. It's definitely the reason why the scene almost disappeared for a few years.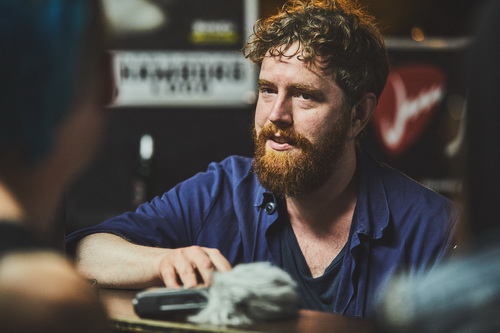 But how does it work out for you in Stockholm? You've been on the scene for a while.
Alex: Being the flagship I would say (laugh).
Alex: I really don't know, not at all, but I've seen some people writing that we're part of the heaver rock side of the scene. If you like Grave Pleasures you probably like us since we probably has a bit more of a heavy rock sound than The Exploding Boy and Principe Valiente.
Jonas: But it may also be because we have a classic rock setup compared to the modern darkwave acts.
Alex: For some reason we work well together with those bands and have played many festivals and gigs together, in particular with German bands, and it works out great. I would love to play more in Sweden but Sweden is not big enough. It's impossible to do a fifteen date tour in Sweden. When you also consider that most of the clubs on the scene in the 90:s are gone it makes it even more difficult.
Seth: We're just ten million, almost less than just the Berlin region.
Jens: And touring in Sweden is difficult with our kind of music. You can do it in Stockholm and Gothenburg and then you might get a gig in Sundsvall but that's pretty much it. Probably it's because the venues in smaller cities don't exist anymore.
Jonas: There are some clubs left but they're interested in other music genres than what we do.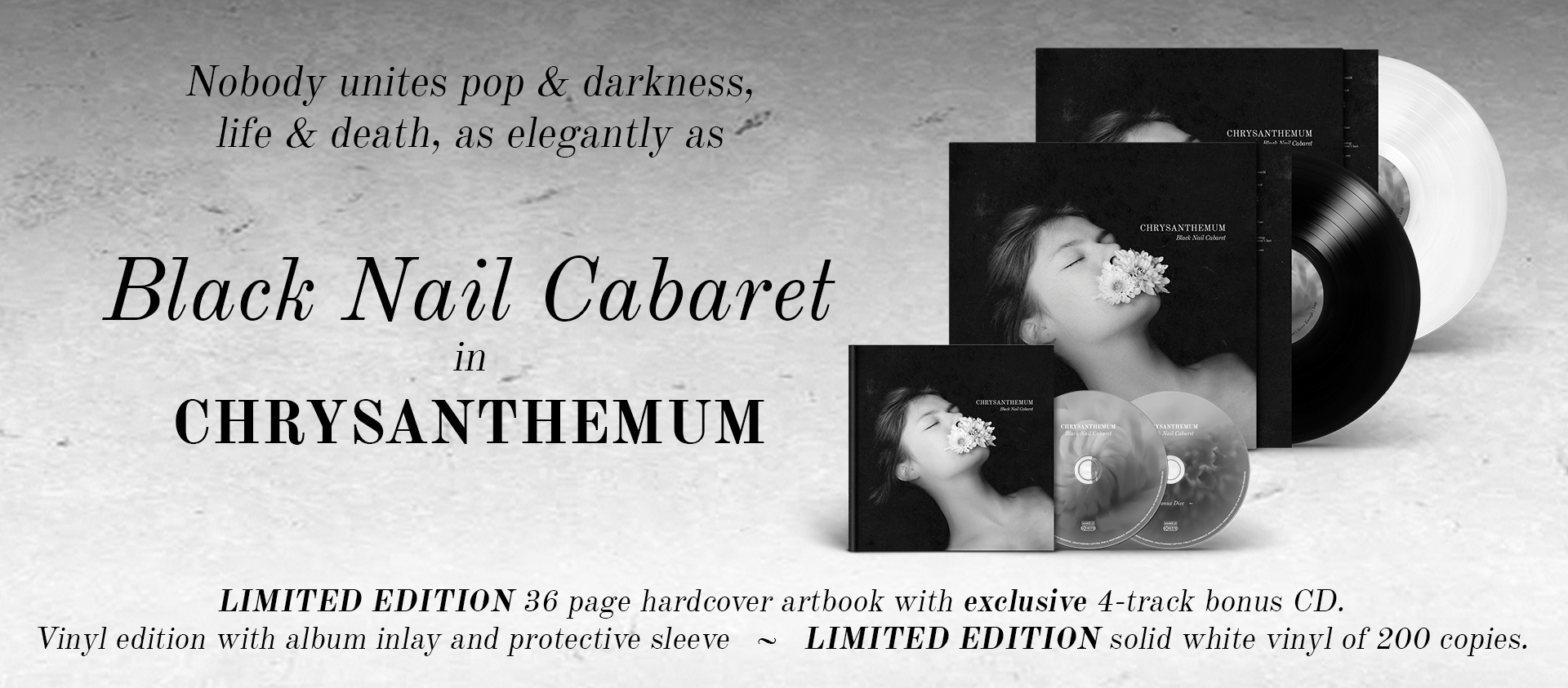 The luxury of getting paid
"I find YouTube's business to be very disingenuous [since] it is built on the backs of free, stolen content and that's how they got that big", Trent Reznor said in an interview on how to earn your living off music in the 2000:s.  Most bands have the ambition to earn something on what they do, at least to cover some of their expenses for recordings, tours, merch and all those hundreds of money consuming things that are part of running the show. And the combination of being on a German label and frequently touring Germany also means that the opportunities to sell CD:s and merchandise is much bigger than in Sweden.
Most musicians have an ambition to at least get some money back from what they do just to cover costa for the studio, touring etc and I know from other interviews that you Alex pointed out that you managed to make it as a full-time musician in periods. Is it too ambitious to believe that you can have music as a full-time job today?
Alex: There is definitely an ambition to get paid for what we do, we're worth it. At the same time you have to be realistic; there are moments when you want to get thousands of euros for a show but end up with a hundred. But tonight we'll get more (laugh).
Jens: But I also feel that it's not necessary to live off music as long as I can play music and combine it with everything else going on in life.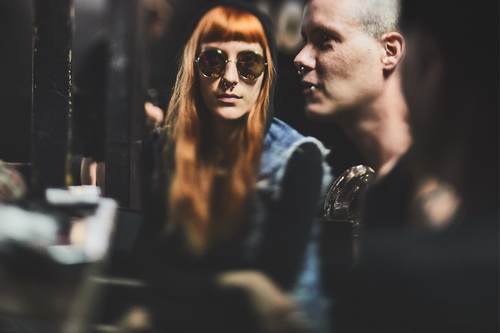 Although most bands don't earn a cent on selling records anymore it's still possible in Germany – people actually buy CD:s and everything else you offer. Have you noticed any differences in general between playing in Germany and, for instance, in Sweden?
Jens: CD:s! People actually buy CD:s in Germany and they would never do it in Sweden.
Alex: And we have quite a lot of merch, a wide range of T-shirts and other stuff and it's great that it's appreciated by our fans.
Seth: We sold incredibly much on WGT this year.
Jonas: Ten times more than we sold in Copenhagen two days later. Denmark is just like Sweden and selling CD:s doesn't work out at all; people buy the occasional T-shirt or vinyl but not much.
What's on the agenda for Then Comes Silence in the near future?
Alex: I'm writing new songs at the moment, but there are many more phases to go through today. It's more people involved who work with us and they should also come to the point "This is good, let's go on". At the same time planning needs to work out, just like getting studio time, "No, it's booked the whole spring, we can't do it until August" meaning that you need to plan ahead of things.
Jonas: Just look at "Blood" which was recorded one year before its release, already in 2016, and mostly it was because our label needed time to plan the release and everything that comes with that. But we have almost finished a new record, we just need a few more songs.
Alex: So – hopefully next year!
Photos for Release by: Julia Schwendner