Marc Verhaeghen and Dirk Ivens debuted the seminal band The Klinik in Belgium in 1985, and continued to release several influential albums with their particular brand of monotone, experimental industrial. They split up in 1991, but decided to get back together for some gigs around 2003. Then nothing happened, until now. They're finally back with a new album, so we decided it was time for an interview.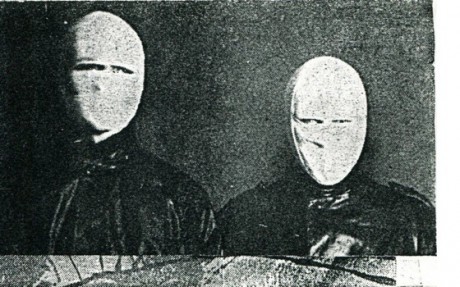 Splitting up
The Klinik became a favourite band of mine back when I started to delve into the deeper well of 80:s and 90:s industrial and EBM. They sounded like nothing else at the time, and I was fascinated both by the music and the band, hiding their faces behind layers of bandages. The early albums used primitive equipment, and have a pretty unpolished sound, which gradually got more refined until their final album "Time" (a favourite of mine). After that album the band split up, and Marc continued under the name Klinik – without the "the" – branching out into other genres such as psychedelic trance. Dirk focused on his own projects such as Dive, Sonar and Absolute Body Control.
Finally gathering the troups again, together with new member Peter Mastbooms – who has worked with Dirk and The Klinik on stage before – the new Out of Line album "Eat Your Heart out" is a welcome return and a continuation of their sound while at the same time developing and modernizing it. It seems that they don't have any problems working together now, so what happened back in 1991?
- I simply think that our musical interests were going different ways plus the fact that when you are only two people in a band it's not always easy to discuss matters and find compromises. When you are in a band with more people then you could just say the majority wins, haha. On the other hand, a lot of other interesting projects came in place instead of Klinik. People thought there were big stories or fights behind it, but there weren't. The proof of that is here and now, Dirk Ivens (who is the only one doing The Klinik interviews and therefore the only one who talks in this article) says.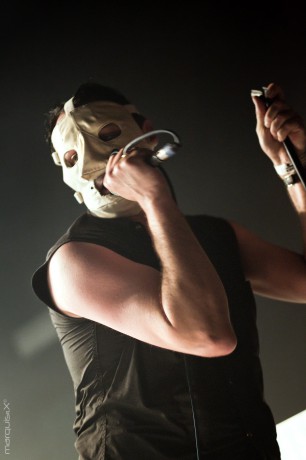 Reunion – and Marc getting sick
The two of them performed together again at a couple of festivals several years ago, but then everything went quiet again.
- When we reunited in 2003 it was not our intention to continue but the response was so overwhelming that we played several times more in the years that followed. Around 2008 we said to each other why not record new material, and so we started working. Some time later Marc got sick and therefore there was a big delay before we could continue working on those songs. And I concentrated on Dive, Absolute Body Control and Sonar. Now we came to the conclusion that the health of Marc was not getting better and therefore we decided to finish the album with the material we had. It felt like everything fell into place because one year ago I wasn't ready to complete it either.
How did the reunion come about? Who took the first step?
- Well a good friend of us is organizing the BimFest in Belgium every year and he asked for a reunion concert several times. Around that time I played as Dive and Marc as Klinik at the same venue at the Wave Gotik Treffen in Leipzig, May 2003 and it was there that we saw each other again after a very long time. Marc asked me to go on stage with him but I was not prepared at all, so we decided to take things seriously and do a reunion concert at the BimFest that year instead.
The Klinik will go out on tour in support of the new album, but Marc won't join. Dirk explains a little bit more.
- In the last years we already toured with Peter Mastbooms replacing Marc on stage. Peter has become a real member now and as I understand Marc in a conversation we had short time ago, he's not healthy enough to join us on stage. This being said, people should see The Klinik more as a unit now. We present us on stage in outfits, it's the atmosphere that counts, not the individuals.
Having been apart for so long, you have to wonder what it was like getting together again and working on new music. Did they fall back into the same roles as they used to have while working on the music?
- Yes, it was just like it had never stopped. In the first stage Marc recorded some basics, then we came together to talk about the structure, after that I wrote the lyrics and then I added my voice on top. We always knew what we wanted regarding atmosphere and so on.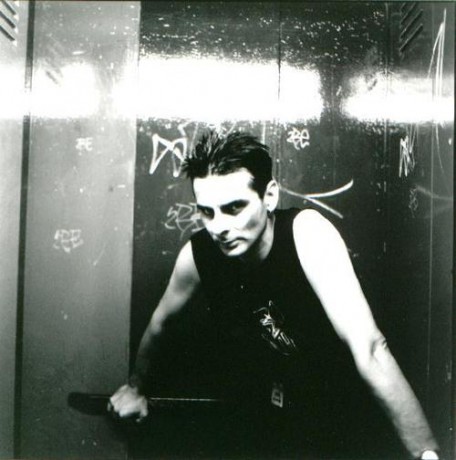 Still recording vocals on tape
What's the difference in the studio between the old days and now? Are you using software now?
- We still use the old instruments but we use software to build the song structures. We try to keep the Klinik sound as close as possible. I even recorded my voice on tape, not digitally. It's unbelievable now that the old Klinik songs were one time recordings; which means no cutting, no overdubs or anything else, all recorded in real time.
The sound on "Eat Your Heart out" is pretty close to the classic Klinik sound I'd say, but with a few twists. Did the sound just come naturally, or did you try other styles as well?
- No, we just took it as it came. Of course 22 years have passed since the album "Time" and the music scene has changed completely, from analogue to digital. Also music itself has changed a lot so it's natural that we are influenced by the things we hear around us but we find out that the music that we like and grown up with still have a big place in our hearts. In a way the new album sounds 80:s but is made today.
Do you have a favourite track on the album?
- Difficult to say, the album is so fresh and we had to take a little distance from it but for sure "In Your Room" is one of them. We have tried to bring a lot of variation to the album and like in the old vinyl days we went for maximum 40 minutes, to go to a climax.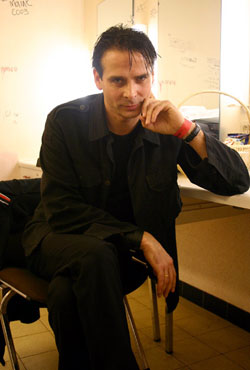 Spin-off EP
What about the future then? Do you have any more plans for The Klinik?
- We will see how the album will do but for sure we're gonna do a lot of gigs and I would like to release a spin-off 12 inch EP of this album real soon.
You were considered shocking and pretty extreme when you started out, with your cold sound and the way you looked on stage. Do you think it's harder to shock these days? Is it even a goal now?
- Everything that's new or extreme is shocking but nowadays people have seen and done so much that it's hard to come up with something new. On the other hand, our image of leather jackets and bandages still works. It's always interesting to see the look of people when we look them right in the eyes and they can't see the expression on our faces. People still feel that it's an unpleasant or uncomfortable feeling.
Looking back, why do you think Belgium had such a creative EBM scene back in the days? Is there still a big scene, do you think?
- We had a very good scene with Front 242, The Neon Judgement, Parade Ground, A Split Second… and as we speak all these bands are still very active. Later on others joined like Suicide Commando but I think the real EBM or wave scene did not grow that much as newcomers musicians moved on towards dance music instead.
Any comments regarding your other projects? I know there's huge 8CD box out for Dive for example.
- Yes, the Dive box contains everything I have ever done under that name and I'm doing gigs to promote that release. With Sonar we released an album last year, and I hope to work on new material with Absolute Body Control soon. And if something works out for The Klinik again, that would be truly great.
Seated Dirk photo by: Sören Jensen
New live photos: Xavier Marquis