Never heard of the audiovisual, electronic Splice Festival in East London? Well to be honest, until about a year ago, neither had I. But seeing that acts as established as Coldcut, Mira Calix and DJ Food played at the last one, including the legend that is Mixmaster Morris DJ:ing – well, how could I resist once Splice time came around again.
So, a little about the festival. It is still young, this is only the 3rd edition, yet it has fast become a hot ticket for those interested in electronic music. Here the focus is the connections between the audio and visual worlds, and all of the blurring of the boundaries between – it really is a feast for the eyes as well as the ears. Spread out over four days, and two venues – the main performance nights were held in Rich Mix in East London, with other events and talks in Stour Space.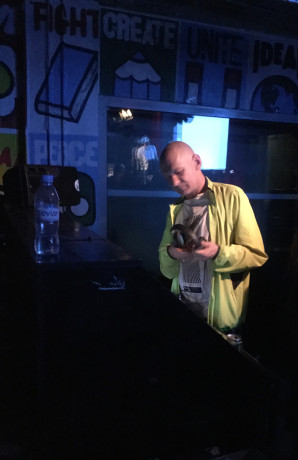 Friday – open mouths and the dismantling of cars
After a Thursday of networking and demoing Friday was the big night, with lots of incredibly interesting and talented artists on show, expertly linked together through the DJ selections of the incomparable Mixmaster Morris (pic). Highlights included the amazing Dutch artist Eboman, creating a cut and paste video show that he seemed to like dancing to as much as the audience did.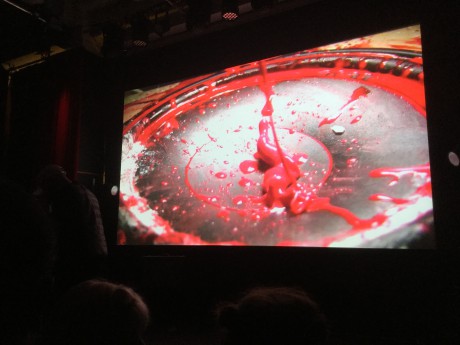 Reeps One, a local beatboxer (an award winning one mind), paired with cymatic visuals (creating images on the fly through recording various liquids poured onto speakers and vibrating units), was particularly amazing, and probably the standout of the whole weekend – the vocal dexterity on offer was nothing short of amazing – many mouths were left open by the end of the set.
Matthew Herbert presented a live set based around the dismantling of a car, a motorbike handle set and steering wheel incorporated into the sound as well as visuals. Leila finished the night, hidden behind a black cloth off stage, so as to avoid public gaze – from the seclusion managing to produce the loudest and most uncompromising set I have heard in a long time. Hip hop murged into acid house and then rave, with Leila seemingly not stopping even for breath as she pounded the dancefloor into submission.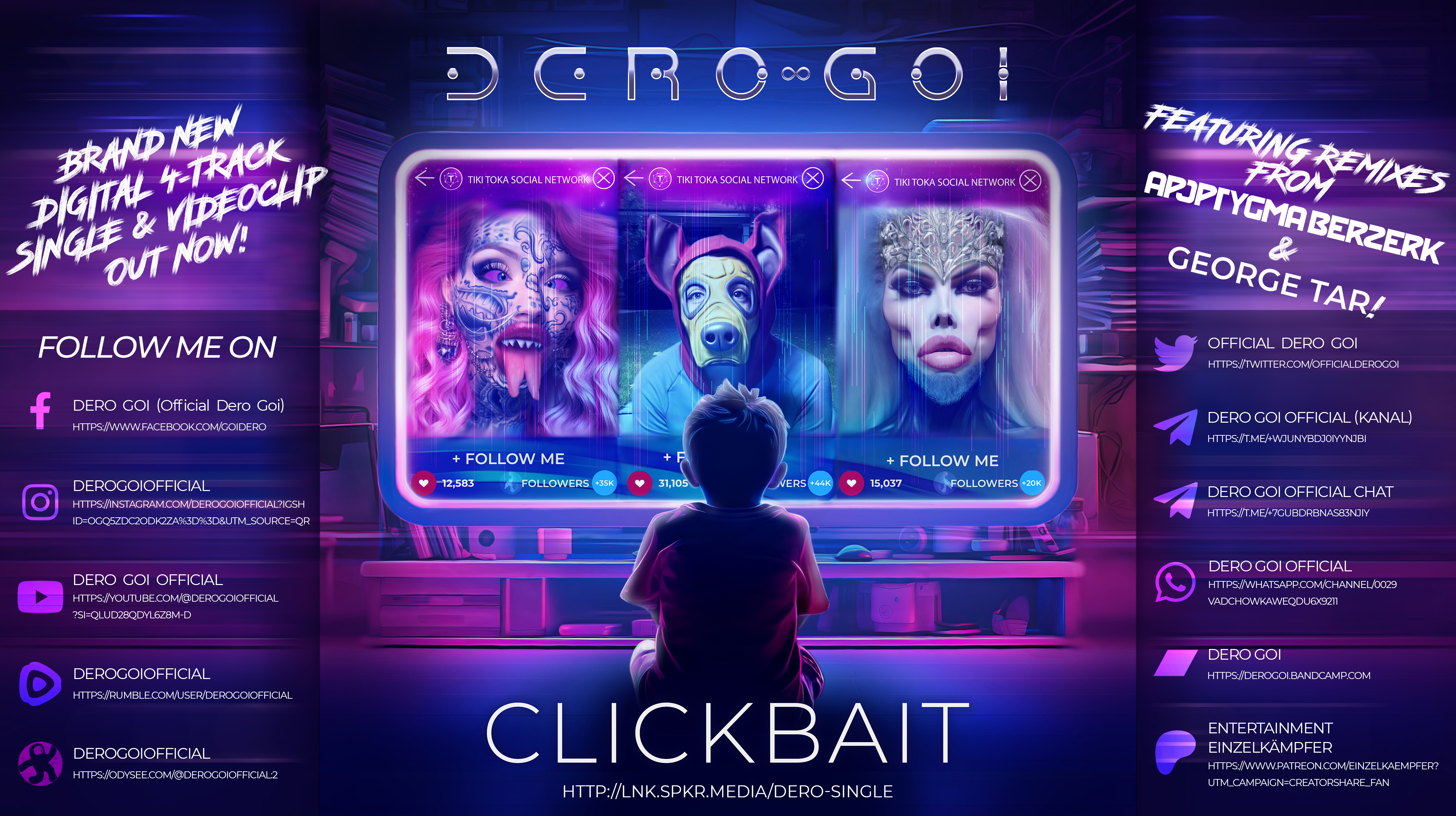 Saturday – Aphex Twin's video artist and nostalgic trips
Saturday was not as full on as the previous night, but still there were delights to be seen – Weirdcore being a highlight. The man behind some of Aphex Twins crazy live visuals, as well as videos for Radiohead and MIA – provided insight into how he goes about his practice, and the audience appeared to hang on his every word, me too.
Joanne showcased her talent for performance using live coding, while People Like Us created a fun and strangely nostalgic trip through film and scores – however, the night belonged to Addictive TV, whose project "Orchestra of Samples", created a moving and fascinating journey through the recordings of improvisations taken by musicians from around the world, then put together to create tracks by impossible combinations of musicians.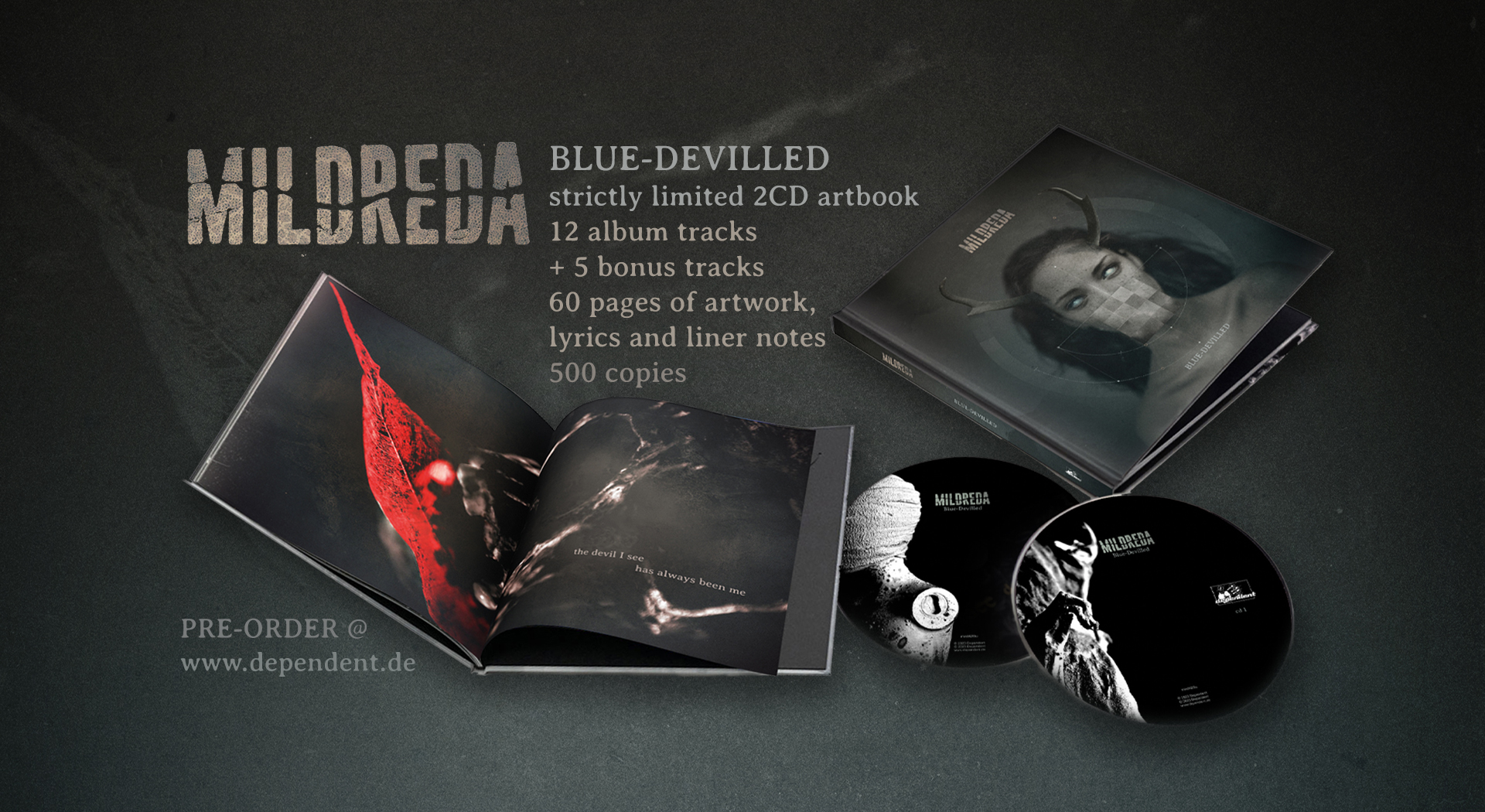 Sunday – experimental ventures and mechanical techno
Sunday and Stour Space as a venue for more artistic and experimental ventures into visual electronics. Mixmaster Morris was back again for DJ adventures, while the crowd were treated to an array of videos and live music. Harmergeddon proved fascinating, with a light and electronics  show that built soundscapes from effects and electricity sources, with Graham Dunning finishing off the festival in style with his mechanical techno project – a live techno mix built up from prepared records and a single turntable, the combination of the sounds creating an uplifting mix that had the crowd throwing shapes late on a Sunday evening.
Overall, great festival with friendly people and an amazing array of talent. Splice is now on my yearly calendar.
Photos by: Mike Whyte (Release)