With the best will in the world I would get to Barcelona for my annual trip around all things electronic – the wonderful and enlightening Sonar festival. This year though proved to be very difficult, even for the organisers themselves. Thanks to a double booking of the venue, Sonar was to be one month later than normal, hence the middle of July rather than June.
Unfortunately, when changes happen, problems tend to follow, so it was with hanging heart that I could only manage to get out to one day of the festival this year – "Super Saturday", as I was to call it.
So, what did I miss? Well, there were a few I would have liked to have glimpsed first hand – namely Arca, Holly Herndon, PROTO, DJ Krush, Underworld and Four Tet. Not drastic, but it would have been nice to catch a glimpse. Actually, the only one here I haven't witnessed live, so therefore am the most gutted about, is Arca, the rest I have caught on my travels, and actually half I have reviewed in this very festival.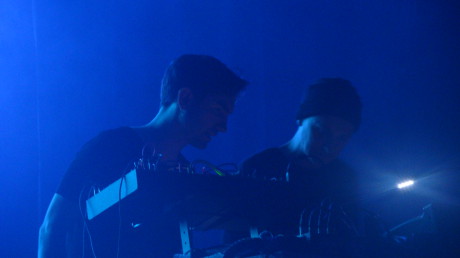 Neon Chambers.
So, back to Super Saturday. Deciding to make the most of it, it was straight to the Sonar by Day venue for midday. Optimistic, but as I had never managed it myself before… Surprisingly, there were more people than I expected, even though it was quite quiet. The thing to remember is that a) it was lunchtime, b) it was midday in July in Spain (so very hot), and most people were still recovering from last night's festivities.
Undeterred by these minor facts I took my chance to have a look around the tech stalls, which I never normally get time to do. There were some fantastic future-forward projects here – a recording device that pitched peoples singing into an orchestra of their voice, which they then conducted like a choir.
The highlight was probably the 360 degree experience though, where inside its dome the only thing you could do was lie down on the floor and take in the breathtaking visuals. Hamill Industries & Shelly provided me with exactly this. In the comfort of the SonarComplex, theatre lasers and lights of all descriptions mixed with visuals and bleeps to great effect, like being at an indoor techno fireworks display.
I had a little explore across the stages before it was time to come back again for Kelly Moran Grand Piano AV Live. It proved to be a stunning piece of work, with visuals inspired by the colours this synaesthetic sees, as the music projected across the space. It was such an emotional experience even Moran seemed overcome at the end.
Stepping into less experimental waters, it was full on party time as DJ Lyzza was followed by Bad Gyal on the SonarVillage stage. Very high energy, but a little too commercial for my taste, I sneaked off to see the likes of Actress and Young Paint Live AI + AV and Max Cooper do their stuff. Both showed amazing use of visuals, and had tunes to match too. My favourite of the day had to be Theo Parrish though, as it is very rare to see people so into their music these days, but he was loving very second, you could tell.
Sonar by Night was again a little quieter than I expected, though things changed once Skepta got into flow. Before that, on my tour of the venue I took in the rather great Deena Abdelwahed with Khonnar Live, as well as Neon Chambers after, both performing on the always excellent Resident Advisor presented SonarLab stage.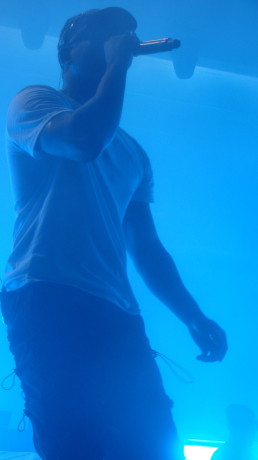 So, Skepta (pic) came next, and literally smashed the whole place up, such was his frenetic one hour performance. Everything about the show was intense, and hea almost seems to have set the standard for other grime acts to come and follow. It was hard to follow that performance, but a little of DJ Kaytranada, and a finale (for me) of Blawan, and that was enough.
Though I enjoyed this year's theme, and the variety of acts on offer, it was relief that I felt when I saw the return to the June time slot for next year. Not that I am a creature of habit, but June and Sonar are like fish & chips to me.
Photos by: Mike Whyte (Release)