Electronic Summer took place August 29-31 in Gothenburg with bands like DAF, Tyske Ludder, Apoptygma Berzerk, S.P.O.C.K and Spark! on stage. Most bands exceeded the expectations and the festival as a whole a great success. As a media partner for Electronic Summer, we asked co-organiser Sebastian Hess a few questions afterwards. We also give you some live pics from our photographers.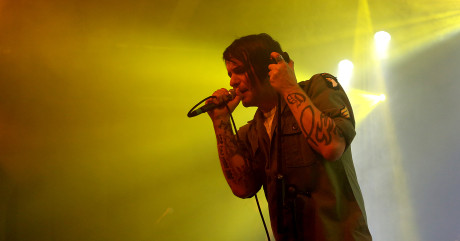 Apootygma Berzerk.
Photo by: Fredrik "Schlatta" Svensson (Release)
It was pretty crowded. How many people actually visited Electronic Summer?
- This year we had 3 days with a smaller pre-party on the Thursday where we had about 350 people. Then we had around 950 people per day on the two "real" festival days. All in all we were really satisfied with that and it all went according to our plan.
Keeping the success in mind, have you already decided there will be an Electronic Summer 2014?
- We have started talking about future plans but as we have Electronic Autumn in October we will focus a bit on that before taking any major decisions regarding Electronic Summer 2014- even though we of course hope to make it happen next Summer!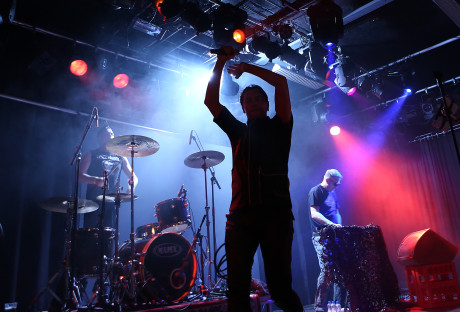 In a surprise move, Tyske Ludder delivered a Kent cover of "Socker" in "Swedish".
Photo by: Fredrik "Schlatta" Svensson (Release)
Could one say that some are referring to the so-called decreasing and dying Swedish "synth" scene in exaggerated terms?
- We think you can say that the remaining scene is quite vivid and enthusiastic but a problem is that not so many younger people comes into the scene and the older people have more and more other obligations in life which makes it harder for them to visit concerts and festivals.
Your set-up with 4 bands per day on just one stage with up to 2 hour breaks between bands – how did that work out do you think?
- We were really pleased with the set-up of this year's festival. We are all for making our events into a nice and diverse experience which includes live shows, DJ-sets, exhibitions and nice interactions with other visitors.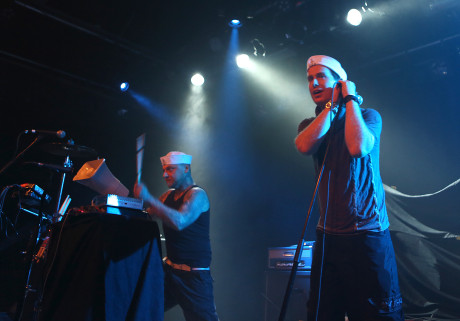 Spark!
Photo by: Fredrik "Schlatta" Svensson (Release)
Swedish bodypop duo Spark! was concerned – would there be enough people present when they played as first band on the Saturday 6 O'clock. But all concerts were well-atteneded and the audience loved Spark!'s gig…
- Yes, we think that this was a result of our set-up, if we can get people there early by offering free food and gifts to early guests the festival will get lively a lot earlier than normal. This is of course great for bands playing early as they will then play for a bigger crowd.
Although DAF in general and "Der Mussolini" in particular have been big quite big in the Gothenburg synth scene since the 80:s, they have never played here for some reason. The concert was stopped during the mentioned track due to faulty security fences and DAF went off stage. They returned after a short break and played "Der Mussolini" once more. Can you tell us more what really happened?
- The security fences are very complicated and if not assembled correctly they can start to move, which isn't very good when hundreds of people are pushing towards them. We think that one section might have been assembled slightly wrong and therefor it started to move and just to be safe we stopped the show and got that fixed. We are really grateful to DAF who took it like the true professionals they are and to the audience who immidiately backed so that we could fix the fence.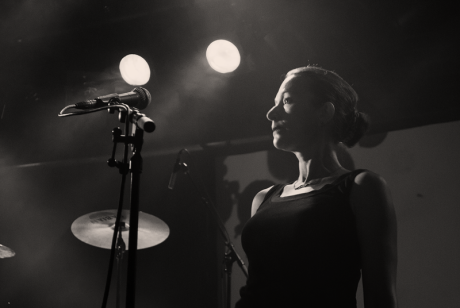 Marina of Page.
Photo by: Jan-Erik Saarinen (Release)
What's your most precious memories from Electronic Summer 2013?
- Yet again we feel like the synth community is such a great community to work with – everybody is happy, everyone is helpful and we didn't have any fights or other trouble. I hold a couple of DJ-sets from this festival high on my list. Ras Bolding from Denmark and Fredrik Strage really got the party started when they played their sets. Being the organizer it's unfortunately difficult to find the time to see whole concerts but checking out Page and S.P.O.C.K playing their classics "Dansande man" and "Never Trust a Klingon", to see Spark! drive the audience to a frenzy before 7 o'clock and to see scene classics like "Der Mussolini" and "Kathy's Song" live was amazing, Sebastian Hess says.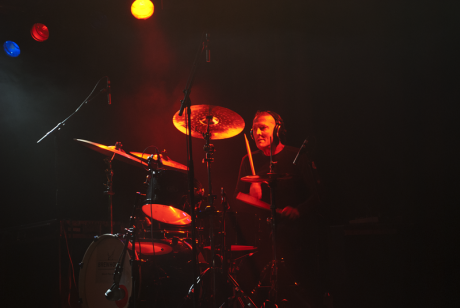 Robert Görl of DAF.
Photo by: Jan-Erik Saarinen (Release)
Finally, we asked co-organizer Henrik Wittgren the same question:
- When it comes to DAF, it was their first show in Gothenburg ever. We are very happy with both just the simple fact having them in town, as well as their very classic setup. After the powerful start with "Verschwende deine Jugend" and "Der Mussolini" they moved into a slower tempo and a more minimalistic set (classic DAF). My biggest memory from the festival is very happy (and wet) Gabi Delgado, sitting on the edge of the stage singing "Die Raeuber und der Prinz" in front of a very excited audience.