Two releases into their career, Stockholm's post-punk and darkwave outfit A Projection have provided listeners with a widely-varying palette from which to draw. After being signed by Hamburg based Tapete Records even before there was a full band setup, A Projection have seen a massive increase in popularity and already played the major festivals on the scene.
We caught up with the band in Cologne, to discuss how they have evolved since their debut album, the difference between synth and post-punk and what they have in store for their increasing pool of fans in the future.
The 2010:s have seen a massive increase in the number of bands and post-punk events in Sweden, in particular in the capital region of Stockholm. The growth not only acted as a source of entertainment for post-punk listeners remembering the heydays of the 1980:s, but also functioned as a platform for young and new artists to go beyond the popular streams of post-punk and its 80:s sound to create a new hybrid of post-punk music.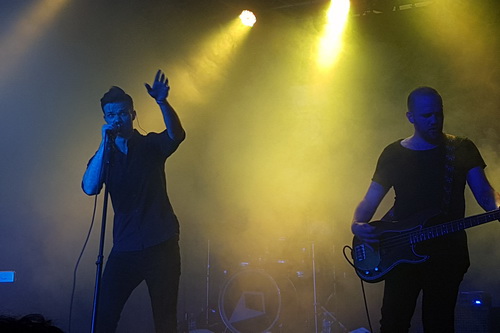 Being described as a "mixture of post punk, indie pop and electronica, with both depth and edge", with musical references to Joy Division, The Sisters of Mercy, The Cure and The Knife, A Projection released their debut album "Exit" in 2015 on Tapete Records. It's close but far enough removed from the "classic" post-punk sound of the 80:s to add something new and refreshing to the scene. "Exit" received positive reviews and by the time popular desire for a follow-up had reached peak level, their critically acclaimed second album "Framework" hit the record stores in 2017, placing A Projection at the upper end on the post-punk ladder.
The last two years have seen the band do shows more frequently, following the release of "Framework" and they've set some ambitious goals for the future in order to conquer the world.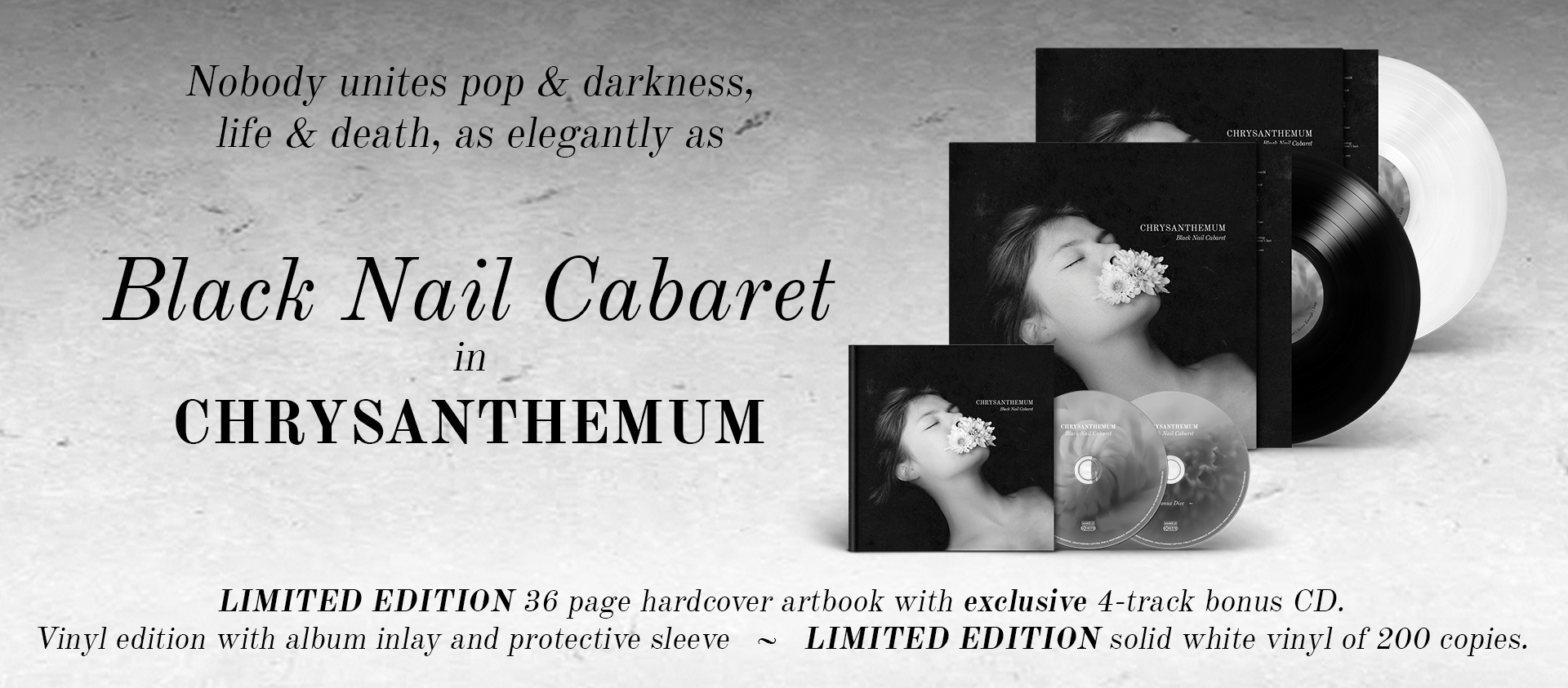 First a record deal, then a band
To start with, thanks for a great show and considering the time of the day it was quite many in the crowd – great to see! A Projection have been compared to quite many well-known bands on the scene. When reading the reviews about the band there are always these comments that you sound like Joy Division and The Chameleons. A German magazine even wrote "A Projection's frontman even moves like Ian Curtis".
- (Laughs) Thanks! That's really nice to hear! And yes, we have a good crowd in Germany that joins us at concerts.
You've made two albums so far that put you in the post-punk category, but the sound is certainly fresh and differ much from those 80:s bands that many reviewers refer to. How do you combine the influences of the old post-punk scene with a modern sound?
- We all love music and that's the thing. Some of us are much inspired by the old stuff as Joy Division and The Cure but in general we listen to quite different music which results in a mash up when we do our stuff, but the sound is ours.
There's no plan behind what we do, it's a mix of music we listen to and combine in the songs. We have quite many different influences and some of us don't listen to Joy Division at all – I [Rikard] do it a lot though (laugh) – and in the end it means that we don't get stuck in something that's already been done.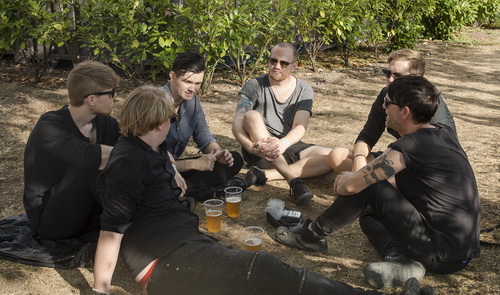 From left: Linus (keys), Gustav (guitar), Rikard (frontman), Robin (bass, session musician), Jesper (drums) and Jimi (interviewer).
It didn't take long before you got signed by Hamburg based Tapete Records, a label with a strong artist roster in general. How did you end up there?
- It happened almost before we started (laugh). We wanted to get a record out as quick as possible and get signed by a label. Two us who started the band, made a few songs and recorded a demo with no expenses spared on the artwork (laugh), did a professional mastering and found a really good frontman. The result was a four-song demo and we sent it to something like fifty different labels, and several labels showed interest, even Swedish labels, but Tapete was the most interesting for us.
When we finally signed the deal it was like "Fuck, we really need to put together a band and make a full album". In a way, we had a deal before there was a band.
It almost sounds like you had to throw in some demos just to get an album ready?
- The four songs on the demo are on "Exit" almost like they sounded from the beginning. Of course the guys in the studio changed them a bit but not much since we were in a hurry and also wanted to record new songs for the album (laugh).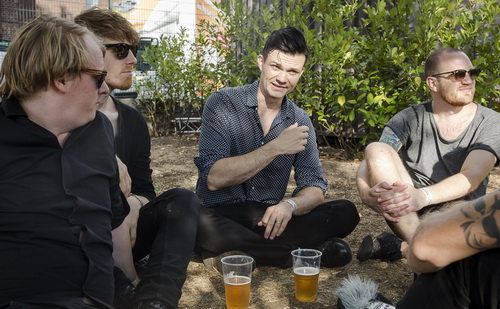 Modern post-punk, not dark music
In 1978, NME journalist Ian Penman reviewed a clutch of singles with cautious optimism after the "fall of the punk scene". Punk, it seemed, was mutating to better bridge the gap between "functions and heart, political abstracts and personal alienation […]". Where punk's fury had burned brightly and briefly, it was hoped that this new underground movement might result in the right manner of "public aggravation"; a sustained and constructive challenge at the levels of music and politics.
There was a sense of renewed excitement about what would be dubbed "post-punk" and its dark lyrics, depressive contents and low vocals. Post-punk's pessimistic assessments of the political trajectories of late 70:s Britain were reflected in lyrics about inescapable social injustices in the society. However, modern post-punk is beyond the harsh political landscape of the 1970:s and 1980:s, and also find its musical influences from contemporary music genres. The question is if modern post-punk is as dark as its predecessor.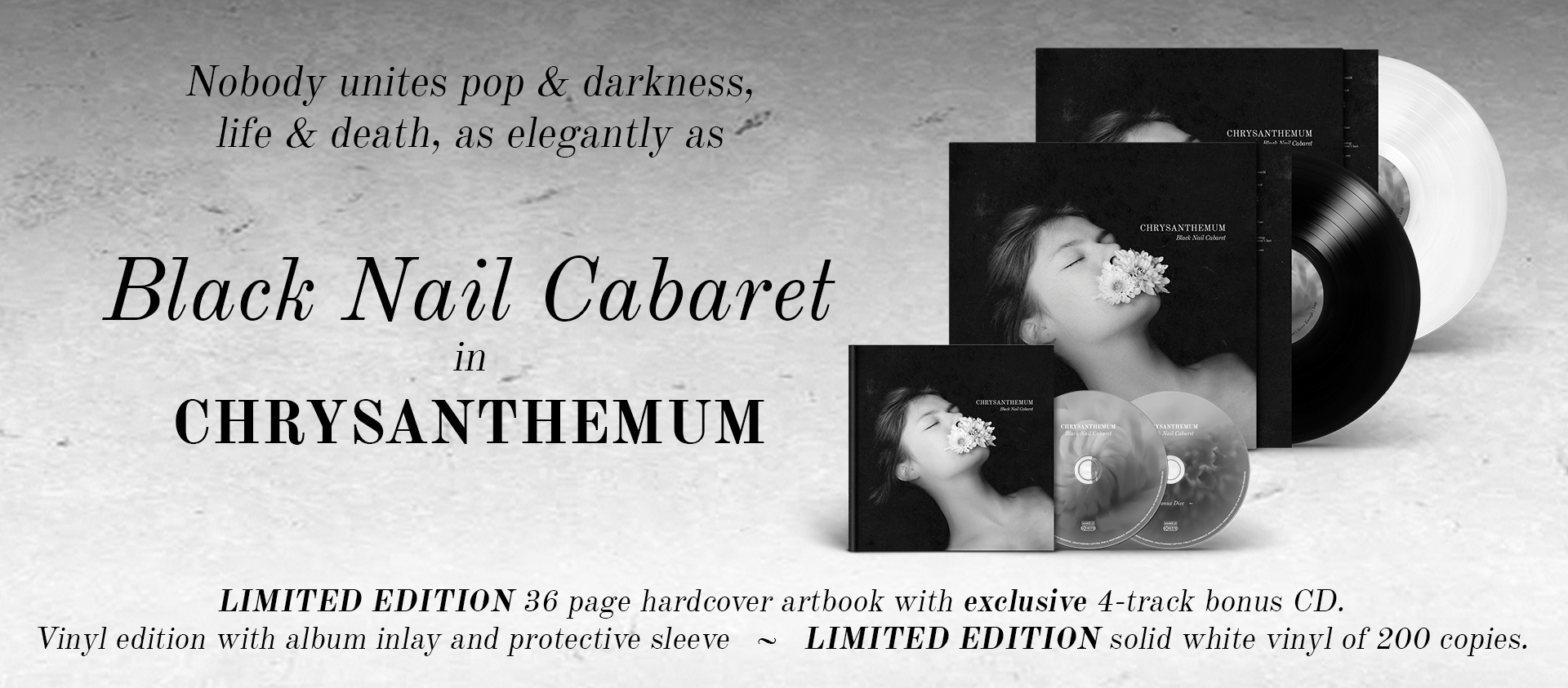 The early wave of post-punk was quite political, which was reflected in the often dark and depressive lyrics, uttered in low-tuned vocals. Does post-punk have to be dark and depressive?
- (Laugh) You get a feeling for when it's right, a point when you don't need to analyse the music or the lyrics, and often the result is melancholic. But if you make something dark just because it should be dark, then you're contriving and it won't work out.
How it turns out is probably dependent on what type of music you listen to. If you listen to Joy Division, The Cure or Editors, or why not The Knife, the result may be dark, because you're used to dark music – and it captivates you since you like to listen to it. But trying to create dark music just because someone told you it should sound like that, it's just pathetic, and we certainly don't want to end up like that.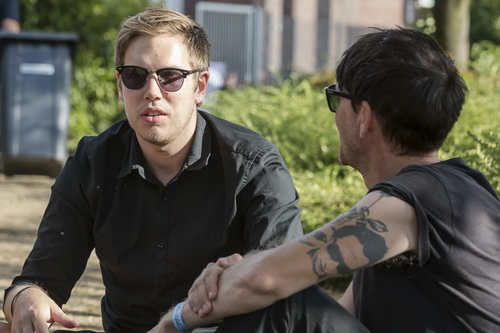 We have actually discussed that our music is dark but also with some sort of light to balance it out, and if you look at our songs quite many of them are played in major keys. There is balance between majors and dark lyrics with low vocals. But at times we can be quite poppy, like punk-pop (laugh). I [Gustav] remember an interview where we were asked if we ever are going to do a song in a major key – and we have quite many in major keys (laugh).
The post-punk scene was reborn again in the 2010:s and many new bands came into being almost at the same time in Sweden: Then Comes Silence, Principe Valiente, Hemgraven and It's for Us, to mention a few. When we interviewed Then Comes Silence earlier this year, they pointed out that modern post-punk is far from the sound of the 80:s and there's completely different influences today. What's your take on that, considering the music you play?
- It's probably because older post-punk is connected to the 80:s electronic scene, although others might have a different opinion on that. And of course the influences must be different; it's a new generation of musicians today listening to music that didn't exist back in the days, and as such the result will be different. Even if you find similarities and references to 80:s post-punk there are many other references today as well.
You also need to consider the fact that more people working in the production process affect how the sound develops; they have their own references. But again, we're not like "Now we really need to get these influences in here, guys". The only time we talked about the sound was when we made the second album and wanted it to sound more electronic. But sure, we get inspiration from old post-punk but in the end, our sound is our own. People can put us in any category, we don't need to label ourselves; some people even call our music "alternative indie".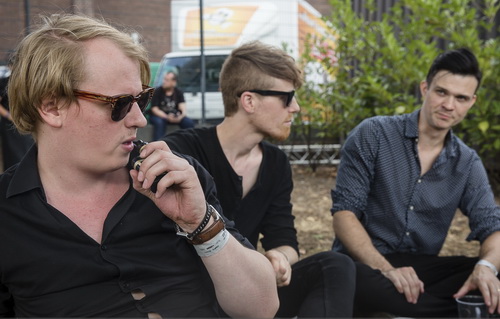 Although the rise of the modern post-punk scene came with a few niche festivals, the genre is often associated with the synth scene. You're playing Amphi today, and that's different from where post-punk bands played in 80:s. What's your take on playing mostly electronic festivals such as Amphi and Wave Gotik Treffen and being associated with the synth scene?
- If you listen to post-punk you hear many simple elements being repeated over and over again. It could be a beat or something played in a minor key, just the opposite to what we just said about this kind of music (laugh), and you use synth strings to create eerie atmospheres much similar to the sound in the synth genre.
Back in the day, the scenes were quite similar and they were inspired by the same bands, such as Kraftwerk. I [Gustav, guitarist] would say it's rather the same musical preferences; if you like Depeche Mode, you probably listen to Joy Division as well. The difference is that post-punk is mechanic, using more drums and guitars in its approach of making music, but otherwise it's pretty much the same. There is this impression that in the early days of punk, people listened to punk, post-punk and synth like DAF and Kraftwerk. So it's not surprising that you get associated with the same scene. And the crowd isn't that different; there's often people at our shows in leather outfits, just like here, but we also mostly play in Germany where this might be more common.
But in Sweden the post-punk scene seems to be concentrated to the Stockholm area…
- The scene grew big in Stockholm because of the many venues and clubs that organised gigs. It's important to keep in mind that we've always had good electronic clubs in Stockholm, at least since the 90:s. And it's not only electronic music on the dance floor, there's quite much post-punk as well.
But the major reason is all these enthusiastic organisers who put their souls into this, and many of those started their own bands. Gothenburg has its Gothenburg scene with bands as Broder Daniel and all the offsprings from that band – and they are many. In Stockholm something similar happened but with post-punk and synth bands.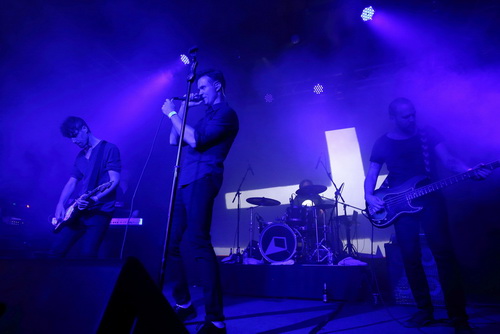 "We want to live off what we do"
Playing live is incredibly important to bands as A Projection and have helped them to build up a fan base. They have a reputation of being a great live act, thus attracting the attention of press and media. And the critics have been more than satisfied. Eerie atmospheric live shows and a singer moving around on stage in a way that brings back the memories of Ian Curtis himself have created a reputation that goes across the borders of the German "Bündesländer".
However, the band is far from done with their live show concept and have recently started to work hard on how to perform their songs in the future.
A Projection have made quite an impression in Germany, especially on stage. The reason I found you was because of our German photographer who said "Don't miss A Projection at Amphi", after she attended your show at WGT. And as I said, you made an impressive show at Amphi's Orbit Stage earlier today. How much do you prepare your performances?
- We have started to work much more with how to perform live and want to develop it even further, in particular which projections we will use and how they could be synchronized, how to combine lights and music. Hopefully there will be something new – a huge change – already next year.
We talk about it a lot, but we need to find more time to actually do it. We always work under time pressure, that's the major problem. Everyone works or studies, it's so fucking annoying (laugh).
When I look at your earlier tours you mostly played in Germany and I can understand that since you're on a German label but you don't consider crossing the Atlantic and doing some shows in America? Scandinavian post-punk bands as The Foreign Resort and Exploding Boy have done quite many shows over there.
- Yes, we're quite often in Germany because of Tapete, that's natural. But we get invitations to play in America but it's a too big of a project at the moment and doesn't work out if we're just offered one or two shows. Our label target German speaking countries, that's where we get promoted but of course we want to play in other countries.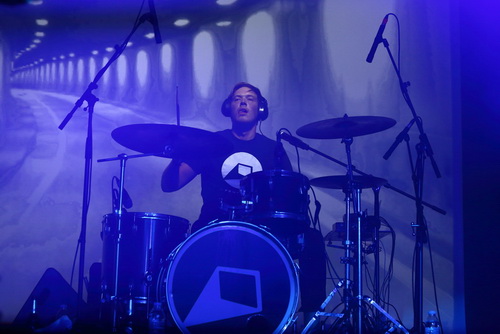 We made a few changes in our band setup quite recently and after this change we got more attention. Before that; again, we worked too much and didn't get on stage as much as we should have but we hope it's about to change now and that it will result in a trip to North America in the long run. We have finally found a good setup, a constellation we feel good about.
It must also be said that since last year we get much more promotion and that has helped us out very much. More people review our albums and concerts and we often end up getting fours or fives [on a five point scale] thus making it even easier to get new gigs. It feels like a lot of things have started to happen now.
"Framework" came out last year and you toured the album quite much since then. However, you're also kind of productive with two albums in three years. When can we expect your third album?
- We're confident to say that it will happen next year but can't promise something for sure, 2019 sounds reasonable though. Every time we've made a new record there's always songs for another record but too much work and studies in combination with our inability to get paid enough for our gigs have caused a situation where we don't even get the money we've spent in return, and that means that we need to work more to earn money to be able to record the next album. But it will change now, we will get our fair share for gigs from now.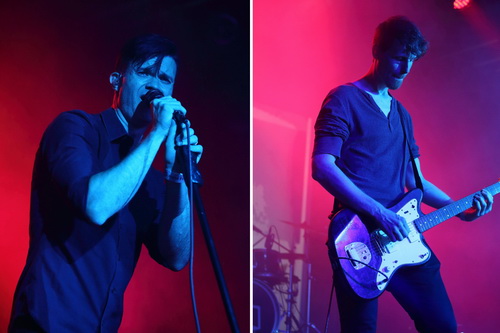 And how will the next album sound like?
- It's too early to say anything about the sound but there's a framework for all the songs already, and we can promise you bloody good songs (laugh). Regardless of the sound on the next album it will be great!
Last question; how high up on the post-punk ladder will A Projection be in five years?
- We've conquered the world! Our first priority is to give people a musical experience similar to what we once got. It might be because of this priority that we didn't charged the clubs enough for our shows. Secondly, we want to be able to live off what we do because then you can be creative in a completely different way. That's where we want to be in five years.
Live photos by: Henric Karlsson
Interview and slider photos by: Mandy Privenau