"Songs of Future Memories" is a combined 3 CD and a 72-page art book, collecting four decades of Twice a Man – pioneers of Scandinavian electronic music. We meet up with Dan Söderqvist, Karl Gasleben and Jocke Söderqvist.
Not a follow-up compilation
The band's roots were originally in experimental synthesizer music and the progressive rock movement, and the first name, Cosmic Overdose, was changed rather early; it was considered too drug romantic by the promotor when the band was invited to play shows in the UK in 1981. They were given a list of suggestions, one of them being Twice a Man (taken from an American underground film).
The new release could be considered their second compilation, the first one then being "Collection of Stones" from 1988. The band points out that the new one is not a follow-up one in any way.
– "Songs of Future Memories" covers our whole forty-year catalogue, from 1982 to 2022, while "Collection of Sones" only focused on 1982-1987, Karl Gasleben explains.
– Also, this time around we decided to exclude tracks from our different works for stages and theaters, Dan Söderqvist continues.
Along with the selection of tunes from the past, Twice a Man also present two completely new songs: "Lotus" and "Dahlia". In addition, there is a new lyric video for the 1984 track "Across the Ocean":
Pick and choose
Since the new release is an impressive 3 CD release, it must have been quite a task to choose tracks from the huge source material of 14 albums.
– It wasn't that hard at all; we had an open discussion. Since I can hardly remember it, it must have run quite smoothly, Jocke Söderqvist laughs.
– We also involved other people; like fans and our record label, Dependent, who gave us their thoughts about what songs we couldn't miss, Dan says.
Are you scared that you would discover some obvious tracks that you've missed, after the release?
– No, not really. I mean; all the other songs are still on other releases, so they are out there already, Gasleben says.
The graphics in the book, pieces of art on their own, was created by the band themselves.
– We are fully responsible for the design and artwork. Karl is the one mastering the tools, like Adobe Photoshop, but we all give him input and ideas, Dan explains.
– We all gathered around my computer, Karl clarifies.
– Actually; Karl was doing the actual work while I and Dan stood behind him, meddling in, Jocke adds.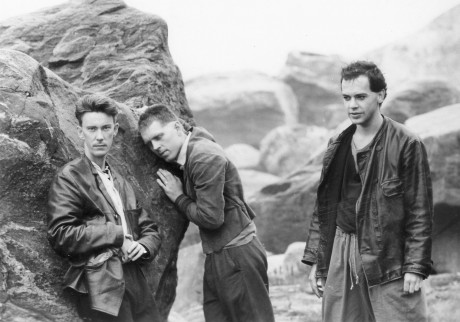 Photo by: Lars Sundestrand
Once there was a time with no computers
Being an electronic band for 40 years obviously means a continuous change in the process when it comes to both recording and producing (and releasing) material. In the early days, before using sequencers and/or computers they had to compose and play the songs together while, today each member can sketch out ideas on their own in different ways, like e.g. on their iPads.
– Since 2010, our co-producer Daniel Kaufeldt has been contributing musically to the songs. He mixed and mastered "Icicles", "Presence" and "On the Other Side of the Mirror", and also remastered all the tracks on "Songs of Future Memories", Dan says.
Twice a Man has never fallen into the gothic and industrial music clichés, but rather maintained a progressive, even semi-punk, attitude. They also never seem to romanticize electronic instruments in the same way as many other electronic acts tend to do.
– The technology aspect has never been an end but more a way for us to express ourselves, Dan Söderqvist says.
– But then again, we still cannot deny that technological development does have a continuous effect on how we create, Karl Gasleben adds.
– Yes, of course, and things happen all the time – leading us to new ways of working. Obviously, we are interested in technology: We've been working with computers for more than thirty years now, Dan agrees.
Dan explains that Twice a Man over the years probably have been more into computers and digital sampling rather than old-school analogue gear. Back in 1987 they completely controlled the music via a computer for the first time.
Another musical milestone was the advent of the E-Mu Systems Emulator II, released in 1984. This digital sampler also had a built-in sequencer, making it possible to program songs rather than jamming them up as a band in the traditional sense.
40 years – and counting
Twice a Man has been around since the birth of electronic music, and while they do not release new material as frequently as before they still release albums and present new tracks, like e.g. the two on this new compilation. Through the years they have also done quite a lot of stage-related work, both for others' projects and their own concerts.
When writing this article, there is no information regarding live shows in order to support "Songs of Future Memories" but they do seem to be up for it:
– We are waiting for the booking people to give us a call, Jocke Söderqvist says.
More
Twice a Man 40 Years video:
Don't miss the English language version of Echi Stieg's Twice A Man Grenzwellen special from January 25th, 2023 at Radio Hannover: