Release writer Sebastian Hess got to experience a rare live show during the Corona pandemic. Niklas Karlsson, who uses Niels Gordon as his artist persona, is a passionate fan of electronic music and the machines that you use to make it.
To celebrate the release of his new album "Land", a live show in Gothenburg was planned but as with all other live events it had to be cancelled and Niklas decided to put on a small show in his garden instead. He invited 20-30 people to experience it live and the show was streamed live on YouTube for others to see.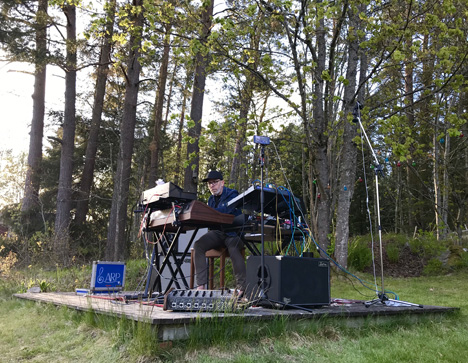 To see an outdoor live show in the woods outside the small village of Sjövik, situated about an hour outside Gothenburg, would be pretty exotic even without the Coronavirus around. Now with pretty much all live music events cancelled or postponed it was even more special.
The contrast of the machines and the woods and farmland surrounding the small stage in Niklas' garden, together with the setting sun, made it a very cosy and well-needed event in these peculiar times. A reminder of sort how important live music is for many of us.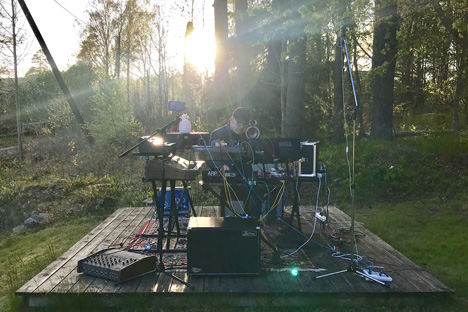 When listening to his music it's easy to understand that some of his heroes include Kraftwerk and Jean Michel Jarre. It's playful yet soulful instrumental electronic music. You can also hear hints of early OMD, a band Niels Gordon got to open for last time they played in Gothenburg.
The audience was well behaved and kept the recommended distance from each other and the nowadays almost mandatory hand sanitizer was there for everyone to use.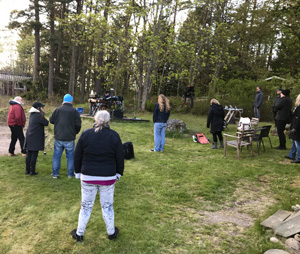 Stay safe and hang in there – soon we'll hopefully be able to go out and see live shows together with our friends again!