Danish EBM legend Leæther Strip will release a huge 10 CD box with all the releases from the now defunct label Zoth Ommog.
The box is called "The Zoth Ommog Years 1989 – 1999″ and includes "The Pleasure of Penetration", "Science for the Satanic Citizen", "Object V", "Solitary Confinement", "Klutæ", "Underneath the Laughter", "Serenade for the Dead" , "Legacy of Hate and Lust", "The Rebirth of Agony" and "Self-Inflicted".
Many of these are classics and very influential in the darker but also catchier part of the EBM scene. Release organized the first Leæther Strip gig in Sweden in the mid 90:s, which was sold-out and made way for many more Swedish gigs.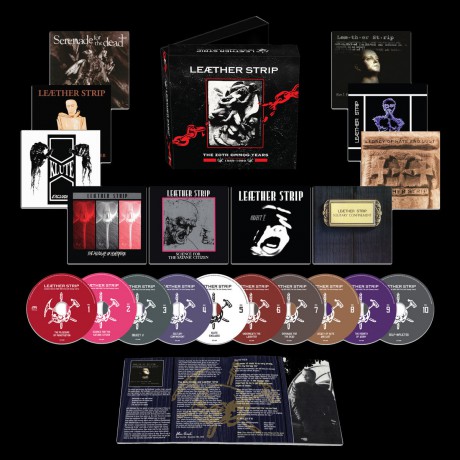 The collection is on CD and is released by Cleopatra Records, and it comes out on December 4. Get it at his Bandcamp or perhaps via Amazon if you're in the EU.
In other news, Claus Larsen aka Leæther Strip has also completed a Skinny Puppy tribute album called "Throwing Bones" which actually comes out before the box, on November 13. It's also available via Bandcamp.
Claus has been very open about the health struggles his life and Leæther Strip partner Kurt has experienced the past few years. This heart-breaking journey came to an end a few weeks ago. RIP.