Industrial metal band Misery Loves Co. took a 19 year break after their last album. We covered these talaented Swedes in the printed Release in the 90:s, a decade full of raving reviews, a Swedish Grammy award and extensive touring with acts like Paradise Lost, Slayer, Machine Head and Fear Factory. Now they're back again, with a strong album of dark and moody rock with industrial influences. Eager to learn more, we asked Patrik Wirén a bunch of questions. "More bands should split up and disappear for a few years! I do believe the break made us a better band", he says.
A millennial bug?
You reunited 2016, but the album wasn't released until 2019 – why?
– That's a good question. And the full story is even more depressing. We actually wrote the first song for the album ("Fell in Love") in 2005. So yes, it actually took us 19 years! Why? In the beginning we didn't think about making an album, we just missed writing songs together so much. So every once in a while we would hit the studio and hang out for a day or two. Then in 2016, as we started playing live again, we definitely wanted to put out that goddamned album but I think we were kind of having a hard time figuring out how to do it. What kind of deal should we aim for? Should we release it on our own etc. So in the meantime we would put out singles and do more shows. The next album will not take this long though…
How did you oput the band together again after all those years?
– In the beginning it was just me and Örjan Örnkloo in the studio, writing some songs. Then after a while Michael Hahne, our guitar player, knocked on the door and we wrote some more songs – as a three piece. Regarding the live shows we asked Jörgen Sandström (Entombed, Grave) and Jesper Skarin (VAK, The Field) to join us – and they both did!
So have the group dynamics and song writing process changed after the hiatus?
– The main difference is that we've worked as a three piece this time. In the past me and Örjan wrote all of the songs but this time Michael Hahne has been very involved in the whole process.
"Zero" is a very strong album, if you ask me. At least in theory, you could spend 19 years on perfecting the songs – was this an advantage?
– Thank you so much! Hm, I don't know… It's not like we've spent 19 years writing songs, it really has been an on/off kind of thing. But I do think it's a good thing to break up, instead of just continuing year after year. More bands should split up and disappear for a few years, don't you think? I do believe the break made us a better band. Although it could have been shorter…
What does the title "Zero" stand for? A new start?
– Yes, it's a fresh start and a new beginning. A chance to become whoever we choose to be.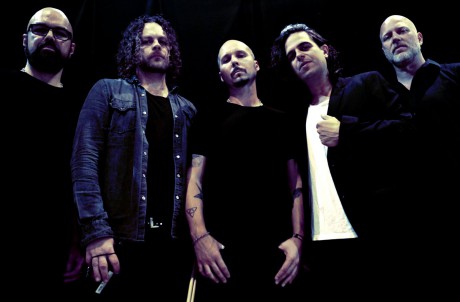 "We're not a metal band"
How would you describe Misery Loves Co. 2019?
– We'd like to think of it as something very beautiful. Sometimes frustrating, but always beautiful. We know it is kind of hard to put us in a specific genre, but that's really just the way it has always been. It is experimental, yet very catchy. It is industrial, but still organic. It is metal, but at the same time we've never considered ourselves a metal band. It is brutal, yet very melodic. And so on.
Despite a big audience there have never been that many industrial metal bands in Sweden. Any thoughts on this?
– I really don't know the answer to that. But I do feel very strongly that we never were part of any scene whatsoever. To me Peace Love & Pitbulls were one of few bands we felt musically connected to at the time. Although even they were doing something quite different from us…
So what are your influences?
– Too many to mention really. But I do have a playlist on Spotify ("Patrik Wirén's Playlist") that gives you some idea.
Some of the "Release artists" on that list are Nine Inch Nails, Ministry, Bauhaus, Joy Division, The Cure, Marilyn Manson, Rein and Fever Ray, but it's really broad.
They are "Only Happy When It Rains"
You include a Garbage cover on the album. What's your relation to that band?
– We really like the song, "Only Happy When It Rains", and felt that we could turn it into a Misery-song without destroying everything that's good about it. Shirley Manson seems kind of cool too.
Have you ever been tempted to use even more machines?
– Sometimes we do and sometimes we don't. It depends on the song. But yeah, I'd like that, to take away the guitars and let the electronics do the talking. On the other hand, we all love to combine the two, so…
You're also a music journalist. Can you tell us something about what you guys do outside Misery Loves Co., music-wise first and foremost?
– At the moment me, Örjan and Michael are 100% focused on the band.
What are your future plans – touring, festivals, EP, videos…?
– We want to do as much as possible but we really live day to day. So as for now we only know that we'll be releasing our first album in 19 years on November the 29th and shortly after that we will open up for Katatonia at Kraken in Stockholm. But there is more to come, I'm sure.
By: Johan Carlsson and Mikael Kahrle