In 2015 Sebastian Hess and Henrik Wittgren from Release interviewed Nicola Sirkis in Stockholm, which resulted in our "Indochine – The Swedish Connection" feature. In 2021 Indochine will celebrate 40 years as a band and we got the opportunity to talk to Nicola again. We also talked to Swedish drummer Ludwig Dahlberg to hear how he ended up in the biggest band in France. 

And as if this wasn't enough, some early photos of Indochine in Sweden surfaced through a newly started Swedish Facebook group. Check them out towards the end.

 The 40 year celebration will include two compilation albums (the first one is out now), arena shows in France and a couple of new songs of which the single "Nos Célébrations" is the first one.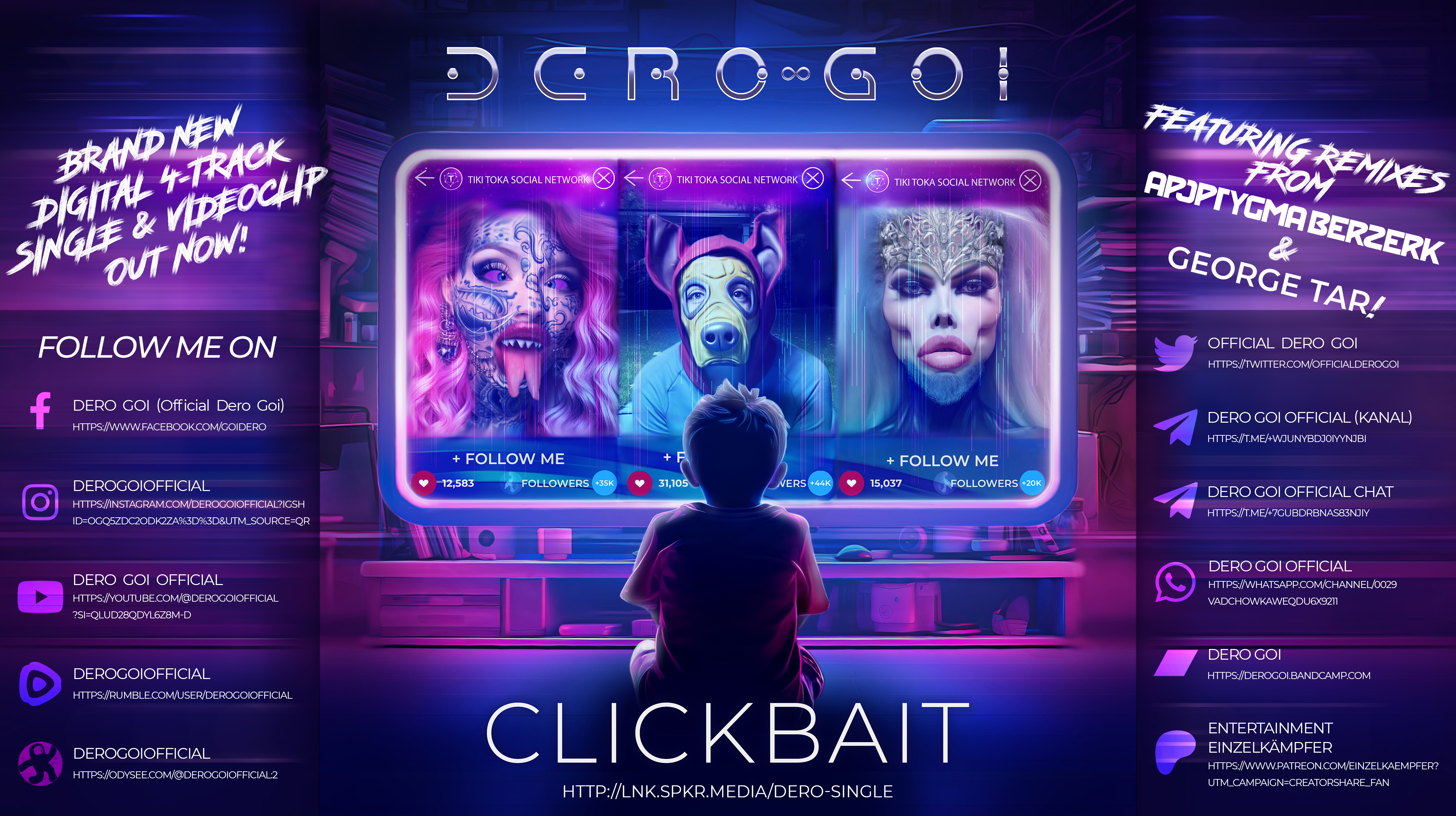 Interview with Nicola Sirkis
When you decided to have this big 40th Anniversary in 2021, did you sit down as a band to reminisce about what has happened over the years?


- No, I actually sat down by myself. I'm very lucky that the band trusts me when it comes to bigger plans and visions for the band. 

I wanted to get away from the classic "album release followed by an album tour" thinking, so with the 40th Anniversary of the band – which is totally crazy by the way – coming up, I thought about some sort of collection of what we have done so far. 

In the past I've been a bit skeptical of compilations. For example I've seen the blue and the red compilation albums by The Beatles and always thought "how can you sum up a band's career on just one or two compilations?". But this time I thought "why not try it?".
Can you tell us something about the new single "Nos Célébrations"? 


- It was a bit strange this time, because now all the focus was on just one song that would be put on a compilation of almost only number one hits from the past. Usually we work with a lot of different songs at once.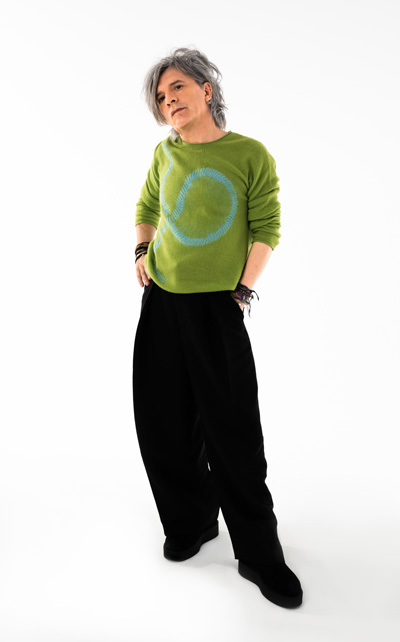 2020 studio photos (this and main image) by: Stéphane Ridard


Yes, you mentioned when we met in 2015 that you wanted to write 100 songs for the album that became "13". Did you manage to do that?


- I do write a lot of songs and I think I got to 66 songs for the "13" album. So quite a lot of the song ideas end up in the trash bin.
As Swedes we were of course proud to see Greta Thunberg in the music video for "Nos Célébrations". Were you personally involved in the making of the video as well? 


- Yes, and Greta is really one of the… no, she's the best thing that has happened for youths in the world today.
It's quite a political video and you have also released very strong and provocative videos about bullying, homophobia and other issues. Has it become more important for you to raise awareness about issues like that and how has the response been? 


- We've been lucky here in Europe that we've been able to live and be creative in very secure and comfortable democracies. However, a risk with democracies is that we open up to lies and to people who lies. This is very clear nowadays when it comes to people like Boris Johnson and Donald Trump. 

For many years I mainly stayed as an observer of all this but lately it has become more important for me to also speak up. 

The video for "College Boy", which is about homophobia and bullying, got a very strong response. A lot of young people got in touch with us to say it strengthened them and gave them courage to go out in the world with their heads held high.
Trigger warning: The following video is about bullying and homophobia and includes very graphic violence.
There is even more Swedish connections nowadays with your new drummer Ludwig Dahlberg, how did you find him? 


- I had heard about him from when he played with The (International) Noise Conspiracy and when I was looking for a new drummer, Ludwig had moved to Paris so I contacted him.
What has Ludwig added to the band?
- It's great to have a non-Frenchman in the band, Nicola says laughing. It's actually true, French people sometime have a quite negative way of seeing things and I think having Ludwig in the band can balance that a bit. And it's also cool to have a foreigner in the band, haha.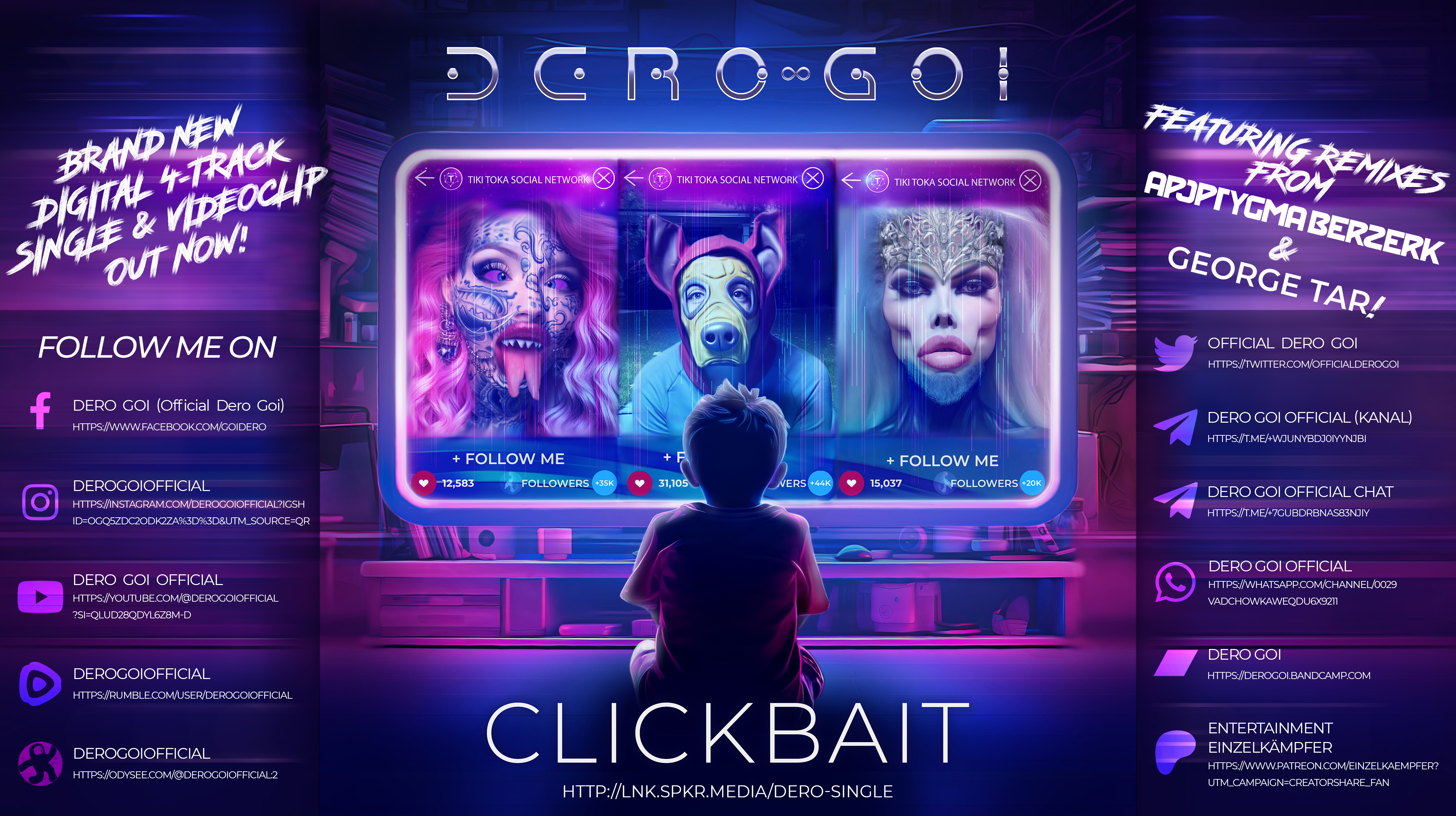 Interview with Ludwig Dahlberg
From Gothenburg via Stockholm to the biggest band in France, how did that happen?
- I moved from Gothenburg to Stockholm when we started The (International) Noise Conspiracy and then I moved to France together with my girlfriend [Ruth Vega Fernandez] in 2011. We met when we both starred in the Swedish TV-series "Upp till kamp" by Peter Birro. The first year, I went back and forth to Sweden for work but after that I got more and more work in France. 

Nicola then contacted me in 2015 and we had a nice meeting where we talked a lot about music and more and after that I got to meet the rest of the band. Then just a few weeks after that I joined Indochine for the club tour that started in Barcelona.
You're a lot younger than the other members [Ludwig was 3 years old when Indochine started as a band] and also the only non-Frenchman, what do you think you've added to the band?
- French people are great at demonstrating and fighting for their rights. But that state of mind can also cause a bit of a critical vibe. So as a Swede maybe I can balance that a little. And I also think it's always good with some new blood and "hunger" in a band, when the other members have been there for many years.
What did you know about Indochine from before? 
- My sister was actually a big Indochine-fan in the eighties. I remember that she had a VHS tape with an Indochine-concert recorded from Swedish television and also some Judas Priest on it. At that time I think was more into Judas Priest though!
- My sister and her family came down to see the Indochine show in Barcelona. It was great to have their support at my very first show with the band. 

Even if I remember Indochine from the eighties, I didn't really know what had happened later. I was quite shocked to see the almost Beatlesmania-like feeling surrounding the band. Everywhere we went the fans were so dedicated. 

I was quite happy that I got to start off with the smaller club tour shows. Then I was at least a little bit more prepared when we played the bigger tour shows and festivals.
- I am really impressed with Nicola and how dedicated he is. Also how good he is when it comes to keep developing the band and he's always be willing to try new ideas. I think that's why the band has been able to attract new fans for so many years.
Interview with Nicola Sirkis continued
You recently did a live-streamed concert from the Paris Montparnasse skyscraper. As you're used to playing in front of big audiences and with a big production how was it do that show? 
- We did shows during the club tour, like the one in Stockholm, with really small production and I have absolutely no problem with that. But playing without an audience was just terrible!

 You go out there and give everything in every song and afterward there is just silence! I hope I never get to experience that again!
When we talked in 2015 you mentioned that you really liked the movie "Fucking Åmål" and the Swedish band Broder Daniel. Have you discovered any new favourite movies recently? Maybe a French "Fucking Åmål"? 
- Hm, not a French one but I can really recommend "Knives out" with Daniel Craig.
Our interview time was now up and we said that we wanted to give him and the band a 40th Anniversary gift. It's a Spotify playlist with 40 songs by Swedish artists and bands that we really think that they will like. We warned him that some songs are in Swedish.
Nicola said "Tack! Tack!" and "Merci bou coup!" and that the Swedish is no problem now that he has Ludwig as his personal translator. He also said that he hope that they can come back to Sweden for shows soon again.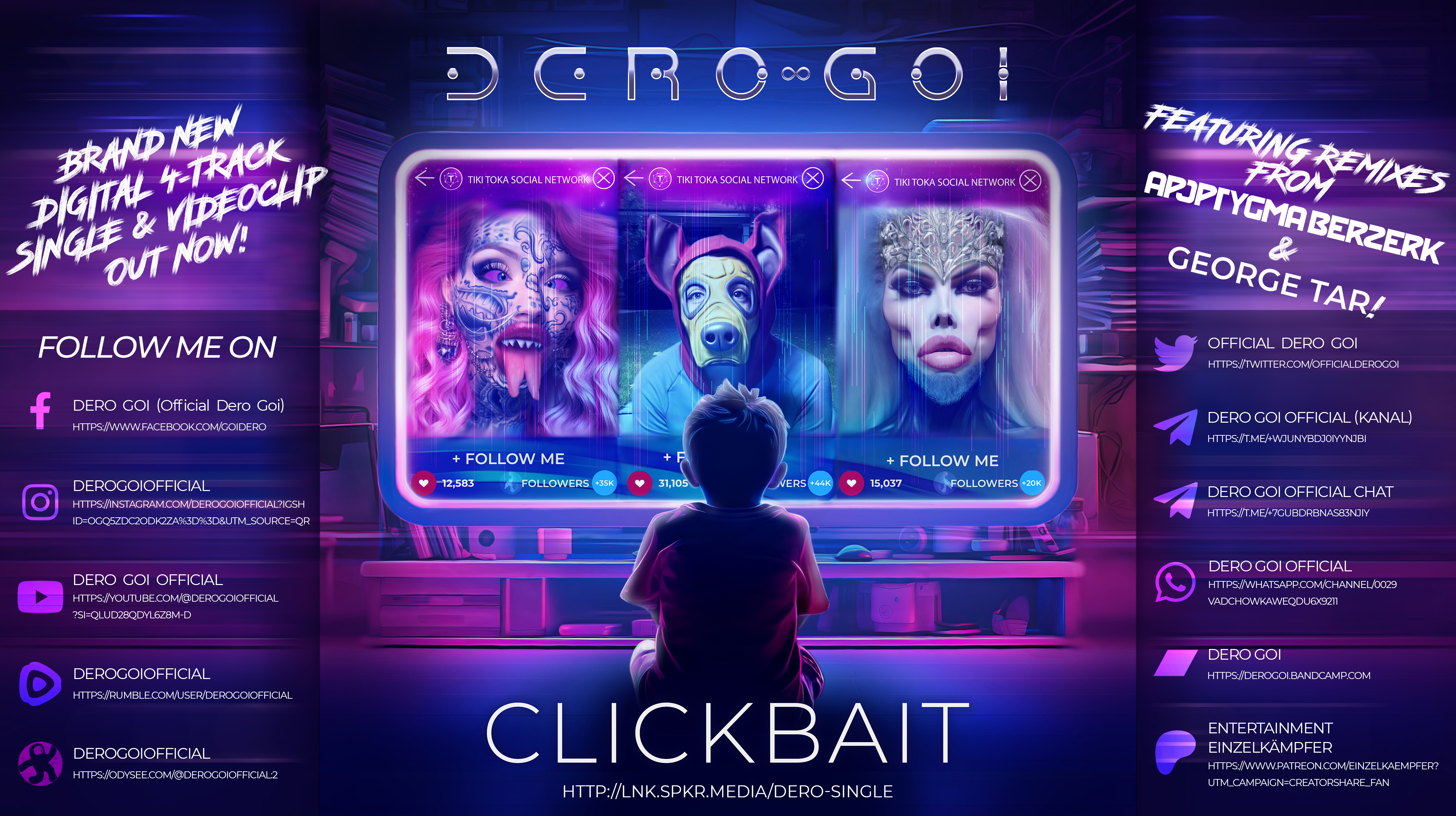 End notes by Sebastian
A Facebook friend of mine in Stockholm, who has followed Indochine since the eighties, recently started a group called Indochine Sverige. Some forgotten info and unique private photos from the band's early visits to Sweden were soon revealed. Here are a few examples: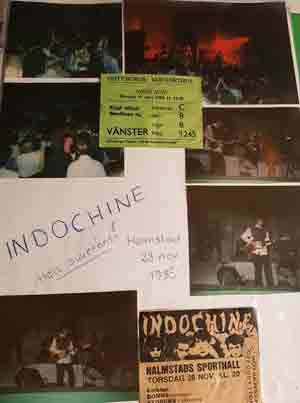 From Carina Gustavsson's memorabilia collection. "Helt suveränt!" is "Absolutely awesome!" in Swedish. Not even hardcore fans like the creator of the group knew the band played in Halmstad in 1985.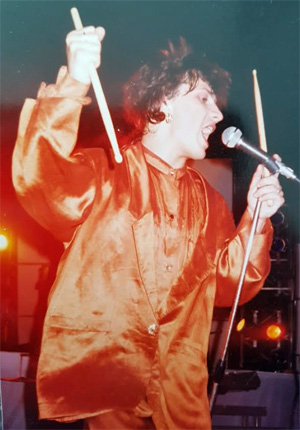 Indochine live in Hultsfred, Sweden November 29 1985.
Private photo by: Annika Lövberg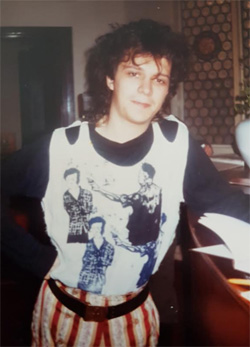 Stéphane Sirkis at the Castle Hotel after the show in Stockholm, Sweden April 18 1985.
Private photo by: Annika Lövberg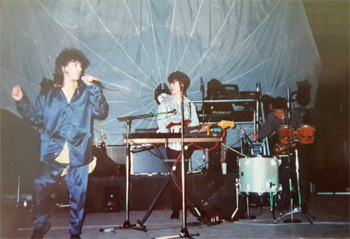 Indochine live at Idrottshuset, Örebro, Sweden April 19 1985.
Private photo by Annika Lövberg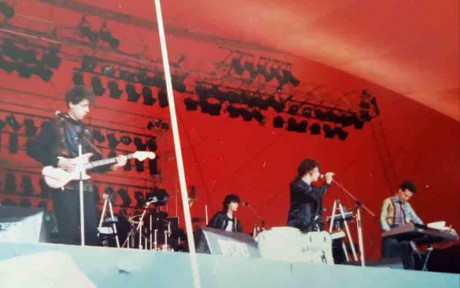 Indochine live Roskilde festival, Denmark June 30 1985.
Private photo by: Annika Lövberg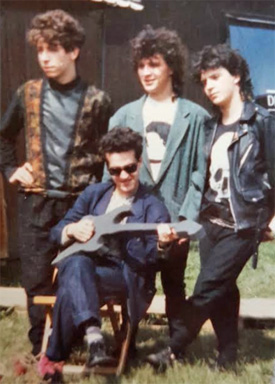 Indochine backstage Roskilde festival, Denmark June 30 1985.
Private photo by: Annika Lövberg
I'll leave you with an anecdote about one of the songs in the playlist we gave to the band. The song "Hela Gråbo e sån ångest" by the band Steget is a very emotional song about growing up in Gråbo, a village outside Gothenburg. I actually grew up there as well. I don't know the band and I was quite surprised when I heard the lyrics for the first time:

 "…våran fritidsgård, den låg här precis som att bussen kör förbi den just nu…" 
("…our youth centre, it was right here as the bus passes by…"). 

It was in that very youth centre I heard Indochine for the first time. The centre used to buy vinyl singles that we could listen to when we went there after school. And that's where I, in 1983-84, heard bands like Depeche Mode – and Indochine – for the very first time.
You can find a 40 song playlist spanning Indochine's whole career here.