Catching up with the current incarnation of former dark goth rockers Klimt 1918 from Italy almost 20 years after their formation was going to be an affair focused to the changing sound, the Italian underground scene and the connection between music and art. The also talk about mixing in Sweden and their love for 80:s bands like Berlin and Duran Duran. Release met up with Francesco Conte and founding member Paolo Soellner after their show at Hafenklang in Hamburg.
Goth rock past
For many readers Klimt 1918 may be unknown, to others too often compared to fellow Italians Lacuna Coil, starting playing around the same year as Klimt. However, where Lacuna Coil found their way in the direction of gothic metal and the broader metal scene, Klimt 1918 built their sound on more traditional dropped b-tuned goth rock and ended up on German Prophecy Productions, pushing Klimt onto the goth rock scenes such as Wave Gotik Treffen. Most Release readers are familiar with Dependent Records – they are owned by Prophecy.
The band's development during the 2000:s would however result in a change in musical direction and with previous album "Just in Case We'll Never Meet Again" they found a distinct shoegaze/post rock sound. The latest release, double album "Sentimentale Jugend" form 2016, is by far the most evocative, reverb-drenched shoegaze/post rock manifestation in their musical biography.
In 2016 you released your first album in eight years, save for the EP "Ghost of a Tape Listener" in 2009. What happened with Klimt 1918 during this very long period of silence?
- We supported "Just in Case We'll Never Meet Again" with some shows in 2008, 2009 and 2010. Then we slowed down a bit and focused more on our private lives, we lost our studio and spent years trying to find a new place to set up our things in and didn't concentrate enough on music.
When that was done we could restart, rehearsing new songs, write new music. And a lot of time was spent on the last album – it was finished already in 2014. The mastering, the production process, took quite much time since we made twenty songs and released a double album and decided to put out all the songs, and on top of that we also changed label. Our label's idea was however to divide the songs over two albums and do like Guns N' Roses and make "Use Your Illusion" one and two (laugh). But basically, we just lost a lot of time mostly because "life" just happened.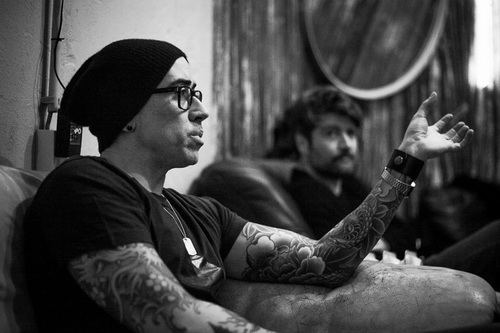 Swedish mix, Berlin cover
What is different on "Sentimentale Jugend" compared to "Just In Case We'll Never Meet Again"?
- We just wanted to get closer to the idea of our music and get back to a sound we wanted to have, with more elements of shoegaze and post-rock, and the soundtrack type of music. The core of the music is the dark gothic side and the punk side, and we just wanted it to sound dirty, not overproduced but rough, which is pretty much the punk idea of making music.
It's also very much about the production. "Just in Case We'll Never Meet Again" was recorded in a room, and mixed and mastered in Sweden at Fascination Street Studios by David Castillo and Jens Bogren, making the sound of "Just in Case" special. We had more or less a similar approach on the latest album but with a different production and a different studio. I mean, Fascination Street is used to produce bands like Millencolin why the sound a bit different; we wanted to be closer to shoegaze and post rock, and the previous album is more a rock album.
I would even say that your early sound to some part sounded like Lacuna Coil. What are your thoughts behind that?
- The first Lacuna Coil album was much better than their last one because they are now more influenced by the American sound and do most of their touring in the US, and has a sound more focused on the American audience today. But their first album was really goth and much closer to our background.
When we started in 1999 we wanted to do something different although we came from the same scene, and we were influenced by dark rock like Katatonia from Sweden but also 80:s pop music like Toto and Tears for Fears so it's more of a mix of influences, a melting pot of music styles.
But most people try to put you into a shoegaze category and although your songs certainly have many elements of shoegaze it sounds to me that there are many references to Mogwai, Explosions in the Sky, Crippled Black Phoenix and similar bands.
- When we started playing like a standard-tuned rock band the sound changed completely and we went in another direction compared to the first albums.
You also covered "Take My Breath Away" by Berlin on the album, what is the idea behind it?
- We really like the melodies which many bands of the 80:s did really well, for example Duran Duran and Tears for Fears. Berlin made this great song that I [Francesco] grew up with in the 80:s. Of course, when you think of the biggest love song from the 80:s you always get back to Top Gun and this Berlin song. We had a discussion and said that we wanted to celebrate our childhood with the main love song theme, and that is Berlin.
Some of us also have a huge passion for movies, especially Marco who works a bit in the industry and we wanted to celebrate that by doing a film music cover. That's another reason for choosing that song – we're really stuck in the past and the feeling of the 80:s. And that's important to point out, that every decision we make whether it's about artwork or a cover song, it's made with thought behind it, and that also includes the lyrics which are based on life experiences and mostly about past experiences.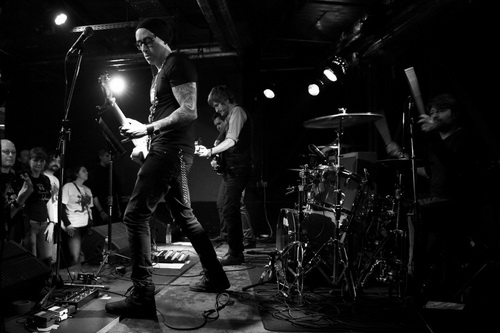 Pushed into the goth scene
During the evolution of the band's musical direction various musical styles have risen and fallen. Goth rock and dark rock metamorphosed into rock and were further developed into a reverberated wall of sound with its roots in shoegaze and post rock.
You are quite popular among goth rock fans and you quickly ended up playing at festivals such as M'era Luna. 
- It was because of our label and booking agency, they were both from Germany and they put a lot of their attention on goth and dark rock because they were big on those kind of scenes and pushed us in that direction. But we have also supported bands as Editors and White Lies; in the end it depends on who is promoting us.
It's also because the sound of our first two albums is more of down-tuned guitars or driving, distorted guitars, much of a metal imprint but after that we started to make music with standard-tuned guitars with "Just in Case" which was a completely different way to approach our sound. The first two albums had lots of 7-strings, dropped b-tuning which is pretty much the imprint of the goth metal/dark metal scene.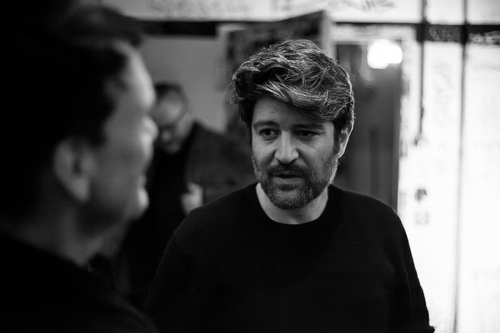 There are quite few well-known Italian bands in the music genre to which Klimt 1918 is often associated with, you have been quite alone on the Italian music scene. How has it affected Klimt 1918 in terms of touring, finding a fanbase, record sales etc.?
- It's difficult because our audience belong to different scenes and what we wanted to do was to find a way to put these scenes together. You will find all these different kinds of people on our concerts so our music is really transversal.
It is however important to say that in Italy bands help each other out. Sometimes we do festivals just because we have friends there and it's just a typical Italian way to approach friendship in Italy, it doesn't matter if you do metal or dark goth – we're all friends.
And it's interesting because as an outsider you don't know much about the Italian underground scene, save for a few bands that cross the border onto the international scene. Italy is much about Eros Ramazzotti.
- And we love him (laugh)! But that's the thing, the big imprint of Italian music on the international scenes is pop music. We export music like Eros Ramazzotti to Laura Pausini, but the reason for it is that it comes from the idea of melody and poetry, words in the lyrics, that has been part of the Italian music culture since the 50:s and 60:s. If you have that in mind, we started to export quite many progressive rock bands in the 70:s from PFM to Il Balletto Di Bronzo and many similar bands. That's the peak of Italian rock music exports.
The point is that the 80:s started with a blank sheet and introduced the Italian pop music just like Ramazzotti but after that the scene became more diversified, in particular a quickly growing metal scene. Today it's much more of a mixture of metal, post rock, indie rock and new wave, all in the same pot.
The main thing with Italian bands is that they play romantic music, there is a lot of passion and feelings in the music – and we have that on our albums as well. We really like melodic music with big choruses and we also sing this dark melodies with passionate lyrics to them. We have the Italian imprint in our melodies as well, it's there with the strong references to the 80:s.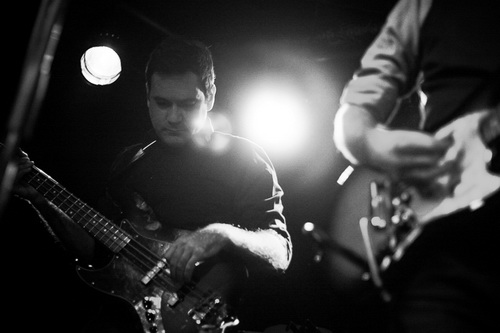 Artwork as a mirror of the music
Whilst it may appear that an album is centred around the music alone, the artwork adorning its sleeve is essentially the equivalent to a book's front cover. As a result, artwork and music go hand in hand. However, in many ways, artwork has been reduced to a formality. Services like SoundCloud and Spotify still require artists to upload some form of cover art along with their music – but its purpose is changing. For Klimt 1918′s founding members, brothers Paolo and Marco Soellner, cover art is as important as the music.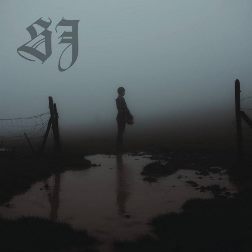 You also have a strong connection to culture and art. Klimt 1918 is clearly a reference to art nouveau painter Gustav Klimt and the year of his death, and I know from an old interview that you point out that that's the year representing something new, due to the end of the First World War. This cultural connection is quite visible in your work and you have for instance an artistic take on your album covers. Do you have a specific idea behind your design?
- They are made of me [Paolo] and my brother. I'm an architect and Marco is a graphic designer and also a photographer, and the covers really focus on transmitting the feeling of our music into an image or in graphics. We want to move people from other aspects than just with music, such as graphic design, and usually we put much effort – really much – in transmitting the feelings from the music on an album to the artwork. For example, the last album cover has a very foggy image which has a strong connection to the heavily reverberated songs on the album.
At the point when we've finished mixing an album we always have this discussion on what to do with the cover, and on the last album me and my brother started in the thought "What came out of the music" and I said "I see fog", and that's basically how it always start. On the last album we used a photographer that takes these great photos of foggy landscapes. On "Dopoguerra" [from 2005] the main colors were black and red because it was a war album with themes as the Israel-Palestine conflict, since we felt much for the situation of the Palestinians. "Dopoguerra" in English refer to the post-war era and we just tried to imagine how the landscape is after the war.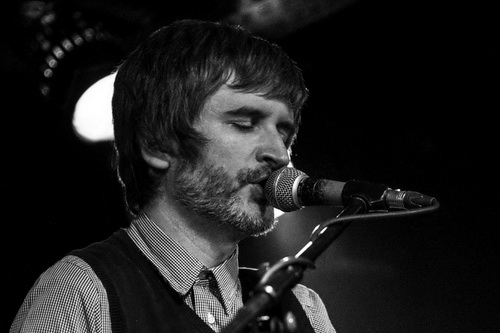 Another important take on it is that bands used to put much effort in making artwork reflecting the music on their albums but that was lost in the 90s, instead it became more focused to the image of bands. We wanted to get this connection between music and artwork back which basically mean that we waste lots of time to decide for the right picture to the artwork (laugh). There are loads of photographers and photos involved before we decide for the right one to our covers. But it's worth it!
We really care about this connection between our music and the cover art because too many bands pay a graphic designer or a photographer and say "Do what you want" and those people may not always be contextualized with the music you play.
Photos for Release Magazine by: © Mario Reich and © Guido Rangnitt