Swedish electronic pop and new wave musician Julian Brandt synched the release of his and Ralph Lundsten's new single "Andromeda" with the electronic music pioneer's 80th birthday today.
"Andromeda" is the name of Ralph Lundsten's studio in Nacka, Stockholm.
- Julian is a talented explorer of the electronic world, he says.
Julian:
- It was exciting to to work with one of the biggest Swedish composers, the first to produce an electronic sound. I made a loop, a nice beat, a synthetic atmosphere – a base for Ralph's sounds.
The single is a part of Julian Brandt's latest project, the upcoming "News" EP, to be relased early next year, where he co-operates with some of the pioneers on the Swedish electronic music scene. "Andromeda" is the third release, after "News Travels Fast in Stockholm" with Tom Wolgers (Lustans Lakejer) and "Stupid Heart" with Greg Fitzpatrick (ex-A&F). All these tracks will be on "News". Watch the "Andromeda" video below.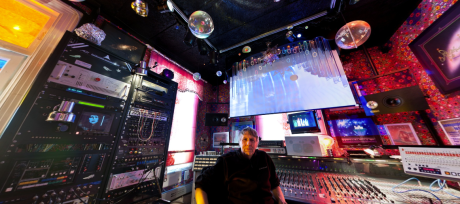 A few years ago, Release CTO and photographer Jonas Carlson Almqvist shot a 360 degrees panorama picture of Lundsten in his studio. You can click and move around in the picture, to see everything.
- A memory for life and a strange feeling to be there. His family and I had coffee and chatted about his career, very nice indeed, Jonas says.