Yesterday, DAF member Robert Görl posted: "Got word today my longtime friend and bandmate Gabi Delgado passed away last night". The cause of death is unknown.
The death of the 61 year old icon has sent shockwaves through the electronic music community. Unfortunately many great artists have left us recently, but the social media activity amongst readers, friends and artists have been something extra in this case. DAF were true pioneers and a played a big part in creating the EBM, industrial and various techno genres, and inspired many readers and artists to join this community. A lot of people also tell stories about meeting Gabi at concerts, clubs, through interviews and collaborations.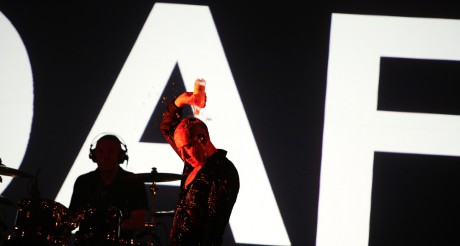 We have crossed paths with DAF several times, and we would like to mention three "recent" occasions.
2014 Fredrik "Schlatta" Wik Clarke from Release brought his camera to Jönköping, Sweden, when DAF played in an old factory. One year later, he also made a photo report from a DAF stage interview (in co-operation with the Goethe-Institut) and concert in Malmö, Sweden.
In 2010, Peter Marchione talked to the band a couple of times which resulted in this Release feature – read an excerpt with some of Gabi's answers here:
DAF is generally seen as one of the pioneers of the EBM movement. How do you feel about this yourselves? Did you ever feel you were creating musical history in the beginning or was all that unintentional? 
– Well, we actually knew that we were doing something special since we were not following the road of Kraftwerk and Tangerine Dream. Our music was not song orientated but rather track orientated like techno music today.
I sometimes feel there is a gap between DAF and the later electronic acts which generally are pretty obsessed with technology. DAF, and other contemporary bands like Die Krupps, always seemed to have more of a punk image than the later nineties ones that often refer to you as the godfathers of EBM. 
– We liked the overall image of punk but never really the musical instruments. You know, when you think about it they were still using the same tools as our grandfathers. We wanted to start something fresh, with a new kind of energy. And, as you probably know, once we got hold of electronic instruments we kicked the other members.

You're now touring with a pretty retro setup. Is this supposed to be seen as a restart of the band or simply a trip of nostalgia?
– The important thing for us right now is that we are enjoying ourselves and we are not planning several steps ahead. We do not have any business plan – we are strictly artistic. Once you start thinking about the business part the artistic idea gets lost. When we started playing, music changed the way you live. Nowadays music has turned into business and may change what sneakers you buy. This is another example of how capitalism works and how it assimilates everything and anything.
Lots of later electronic groups in various genres have stated you as a major force behind inspiring them to start playing. Do you feel that you in return have gained any inspiration from these offsprings? What do you listen to these days?
– I listen to lots of African and reggae music and I am very open to different styles of music. When talking about our own genre we do like many of the offsprings and our favorites are definitely Nitzer Ebb. We are specially proud of them, Gabi said with a laugh.
Now it's up to them and others – and Robert Görl of course – to carry the torch.
Photos by: Fredrik "Schlatta" Wik Clarke