The stream of darkwave, gothic, synthpop and futurepop bands from Germany seems endless. And they all struggle to stand out in the crowd. Alphamay was one of those bands, but they grab more and more time in the spotlight. They've already been awarded twice for best electropop act and best gothic/new wave act at Deutscher Rock & Pop Preise in 2017, play live as often as they can and have just released the new mini album "The Mellow Collie".
Release had a chat with "Cris" Frickenschmidt whom together with singer Henning Hammoor constitute the core of the Ernst Horn inspired Osnabrück band. A band that was born after a car crash.
Paralyzed from the waist down
After releasing four albums between 2014 and 2017, Alphamay were ready for yet another creative period and released single "Black Parasite" and mini-album "The Mellow Collie", both in May. However, where previous releases combine danceable synthpop and 80:s synthlines fraught with fragments of goth and darkwave, the contemporary releases have strong references to Deine Lakaien and much of the composer tradition emanating from darkwave pioneers like Ernst Horn.
Cris explains the evolution of Alphamay, their sound and how the Ernst Horn-like references on their latest album is natural rather than intentional.
For a start; although you have a good set of releases in your discography little is known about Alphamay, in particular of out Germany. Tell us a bit about your background, how you started and what brought you guys together.
- We share a musical history beyond the 25 year limit now and have collaborated on a lot of different musical projects . The most well-known would probably be rock band Rozencrantz, which had one and a half decades of history before it was put on hold last year.
The initial spark for Alphamay was a car accident both of us ended up in together on May 1st in 2012, which is also the explanation to the band name [the day, 1=alpha, and the month, May]. The accident left me paralyzed from the waist down and made me permanently bound to a wheelchair, but it also made me to decide to never wait for things in life to happen that I want to do. Creating electronic music was always one of these things I never pursued but always wanted to do, so I started to do it in 2012 and in 2013 we released the first Alphamay Album.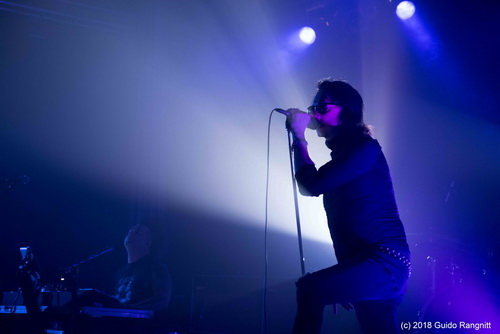 And you also work on other projects?
- Henning, Lucian – an ex-Rozencrantz member too – and me started a new post punk/wave band called Armitage a few months ago, which will release an album in the fall. And Lucian and I also have another minimal electro band called Analoge Stereoide and a few more ambient electronic projects where we combine light and sound and do installations, for example in churches.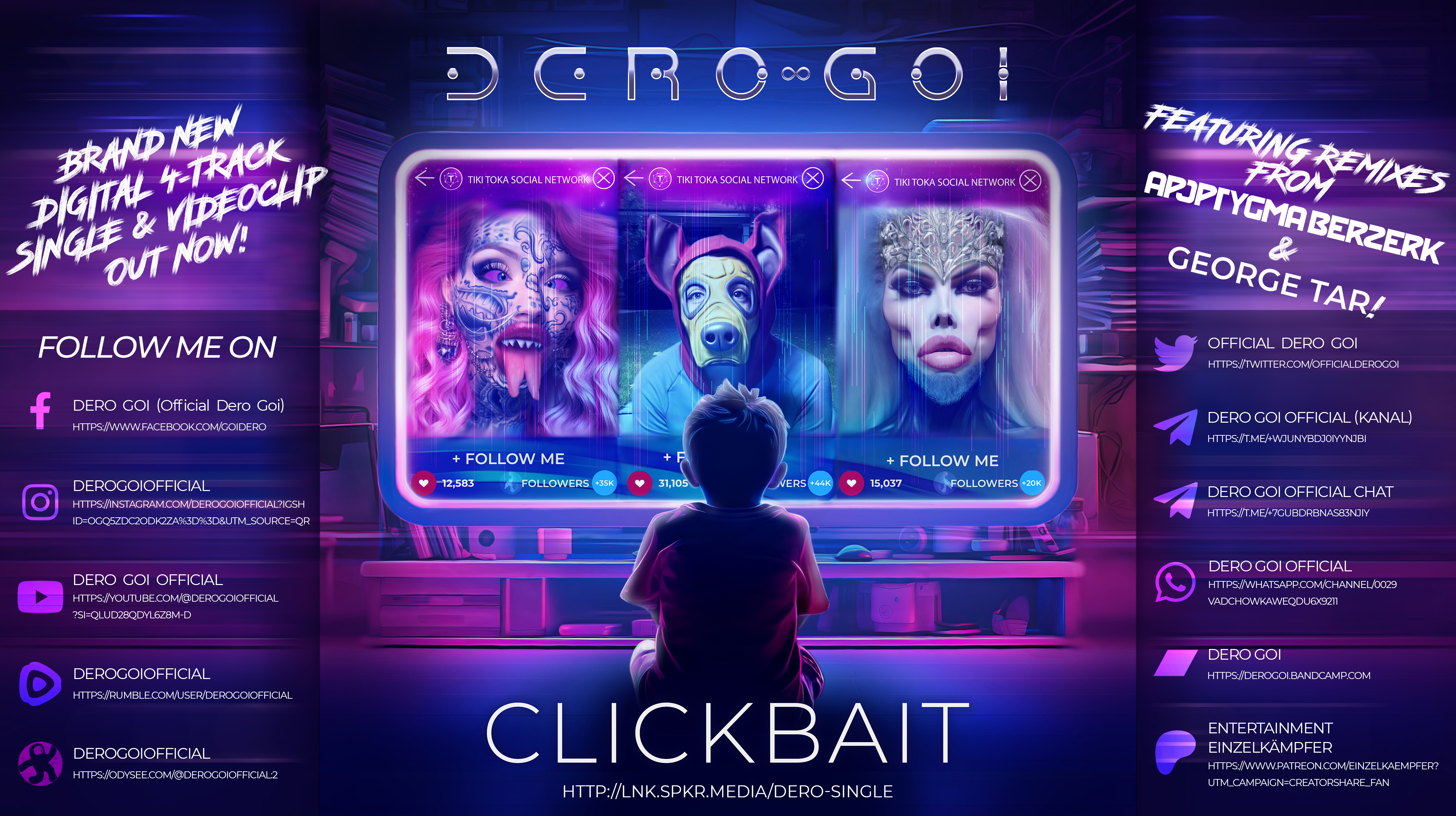 Fans of Clarke, Horn and Numan
When listening on how Alphamay have progressed, your first album, "II III – III III – IIII II" is a combination of synthpop in songs as "Feral Trance" and darker tunes in, for instance, "The Crystal Orphan". Today, n the latest mini-album "The Mellow Collie", you seem to have left the synthpop influences behind and found a much darker sound inspired by darkwave/goth.
What's your take on this development and what is behind the change? Or is it only that you've found a musical direction after four albums?
- The first album had no pre-planned concept, it's just what happened when we first started to experiment with electronic music. The "Dazzle" trilogy that followed – "Dazzle Camouflage", "Twisted Lines" and "The Simulation Hypothesis" – had a common and evolving overall theme, and the music changed along with the viewpoint of these three albums.
The new album "The Mellow Collie" was originally planned to be just a three-track single for our fifth band birthday. But I also have to say that we really don't pay any attention or think of that we might sound like other bands but simply do what feels right. For the first time we didn't try to mask Henning's deep and warm baritone, rather use it directly. We realized that some people later would point out that we try to sound like Deine Lakaien, but it actually just happens to be that Henning's natural voice sounds like this. Henning had health problems and couldn't sing for a couple of months which is the major reason why the new mini-album ended up with five tracks.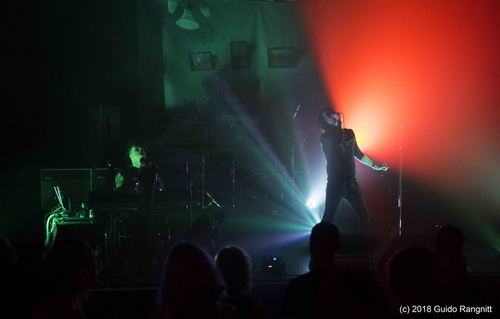 The modern sound of Alphamay entail bits and pieces of Deine Lakaien but you're also known for doing covers live of, for instance, Soft Cell, Silke Bischoff and Yazoo. How would you categorize Alphamay musically?
- I would never deny the influence Ernst Horn has had on my musical development – I love the way he broke all conventions especially in his early pioneering work. This really inspires me to never try to make music that might sell more albums but rather let musical creativity flow freely. That's a trade that is rarely seen today and what I think is a massive overall loss for everybody.
It is hard to shove Alphamay into a single drawer. We tend to give people something different the moment when someone decide to put us in a category. We will continue to create in the direction that feels right at a certain point and not waste time on self-classification. Diversity is the DNA of electronic music. Boredom is just a fashion that is pursued by way too many bands at the moment and we really believe that being different is the only way to leave something behind in the long run.
In light of your covers, are there anyone you'd love to collaborate with in a "if a dream would come true" way?
- Oh yes, that is not difficult to answer at all. My single most celebrated electronic pop artist is Vince Clarke followed by the ever changing Gary Numan and then of course Ernst Horn I told you about earlier. A collaboration with any of them would certainly be a dream come true.
Considering your influences, are you two on par in terms of music taste or do you represent completely different preferences in the production process, meaning that your songs are results of compromises?
- Fortunately we have a long musical history together but also a willingness to work progressively and not waste time, so we'd rather finish what we started and then discuss what to do next. I write the music, so if there was a decision to made, it would be my choice in the end. Lyrically we work very close together and most of the lyrics are actually written together.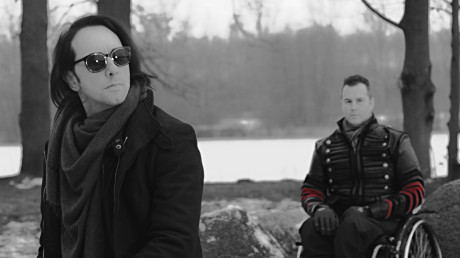 A crowded scene
As we all know, Germany is the pioneering machine music country ever since visionary composer Karlheinz Stockhausen made groundbreaking work in electronic music in the 1950:s. However, incorporating electronic music in the German music tradition has also resulted in a croweded scene where electronic sub genres and electronic acts are launched on an unprecedented scope and scale.
Although the German electronic club scene is gargantuan in terms of venues, the sheer number of bands often surpass the opportunities to get stage time. Even bands like Alphamay, that got some attention for their award win, struggle to get on stage, and Cris explains it by referring to the club situation in Germany in general.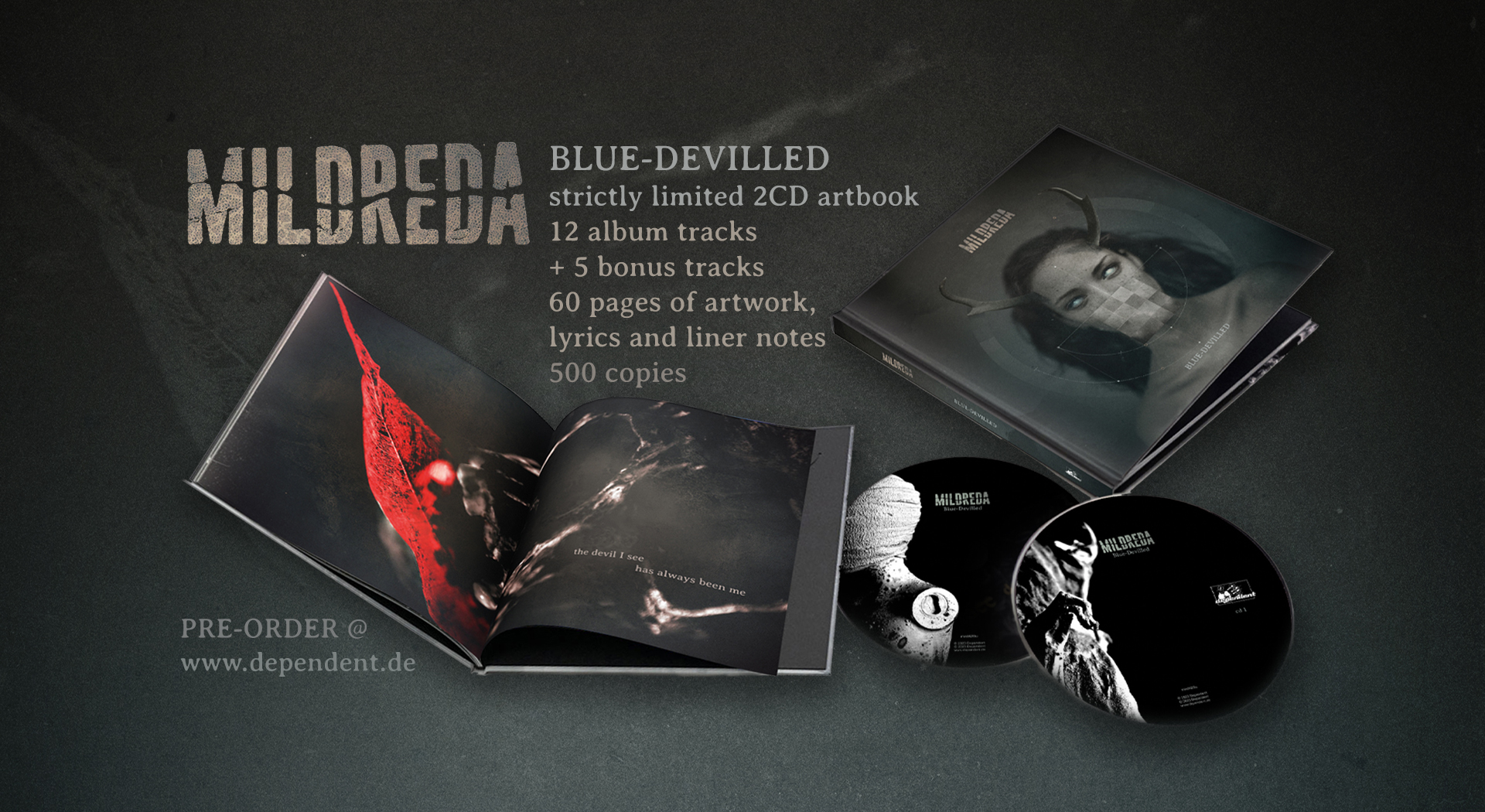 Your scene is fraught with huge competition and there are many bands similar to Alphamay. How difficult is it to get stage time?
- It's definitely really hard for any band. We have a huge problem with the fact that clubs are dying everywhere in every city, which results in a dire status quo. Either you can't find a place to play or you have to rent a club for your show – or even deal with pay-to-play situations every now and then. You really have to work for an opportunity to present your music to an audience of any size actually. There are a lot of electronic bands out there at the moment.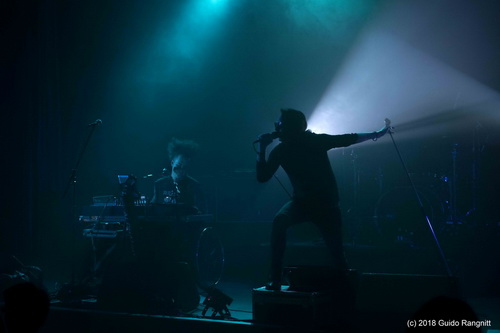 You were awarded best electropop act and best gothic/new wave act at Deutscher Rock & Pop Preise 2017. That must be huge. How have these prizes affected Alphamay's possibilities to gain wider recognition in Germany? Has anything changed since the awards?
- To be honest – nothing really. The awards have created a kind of pressure from the outside the scene, but within it there are no noticeable changes. Unfortunately synthpop/avantgarde is solely underground music here and kind of hard to communicate to a proper audience.
Do you find the scene centralized to a few cities, such as Berlin, Cologne and Hamburg, meaning that it's tough to be from Osnabrück and get gigs in other cities? This is how it is in most other countries.
- I must say that this is something I don't really see here. Of course a bigger city naturally has more bands. But a real centralization to a certain local area is something we've not experienced so far. It's more like it's connected to certain festivals or clubs – but these would be in places that don't really have any correlation to the home bases of the bands.
How many shows have you played outside Germany and do you try to get more gigs abroad?
- So far we have only played the Netherlands. There are plans to go to Finland and Denmark next, but booking abroad is naturally more difficult than in Germany. We are always looking for chances to see new places and do so frequently. At the moment we play about 25 shows per year and are always looking for more opportunities, and we have streamlined our production just to make it easier to travel with the entire band including equipment and lighting in a single vehicle. If we get chances to play more out of Germany we would take those chances for sure!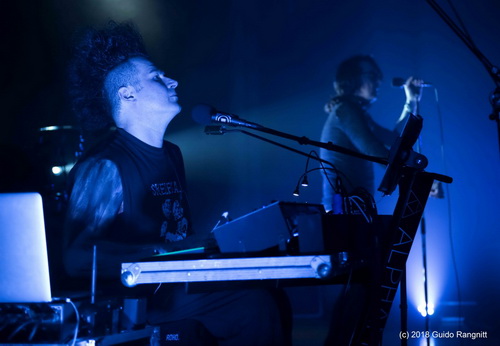 You also seem to put more effort into the visual effects on stage than many other bands.
- In the beginning we used both lighting and videos on stage but then decided to concentrate on lighting. We bring our own stage lights and lighting effects and run a synchronized light show directly from the sequencer. As such we have a better way to create those feelings we wish to communicate to our audience. A lot of the overall experience you get as a spectator is through your eyes. We think a good light show is essential to any concert. Most of the time when you play the smaller venues, you are confronted with very bad or non-existent lighting why we feel that there is no way around using our own lighting set up.
And yes, lighting is expensive and time consuming. Doing lights for a new song is usually a process of 2-3 hours, but the real work is in the research and development of creating a feasible system that you can rely on when going on tour.
Last but not least, will you do any festival shows during 2018?
- Yes, WGT in Leipzig which is kind of a big post on our bucket list. There will be a few more smaller electro-festivals to play in the fall and the winter, and more festival shows are being booked right now. And we expect to play even more festivals in 2019.
Live photos for Release Magazine by: © Guido Rangnitt
Top band photo by: ©  fotogra4bar.de