The last ten years have seen a revival and revitalization of the postpunk scene with loads of new acts raised on Joy Division and Talking Heads. A whole new generation of bands have entered the scene, bands that together have produced countless great albums released in the 21st century. One of the latest additions that have caused something of a stir on the scene is Vancouver four-piece Actors, representing a modern take on the genre by mixing together bits and pieces of classical chorus pedal basslines, darkwave and heavy synthlines. Artoffact (Legend, Psyche, FLA) delivered their debut album "It Will Come to You" in March this year and Actors are heading for Terminus, Infest, Coldwaves and other synth and darkwave festivals.
Germany calling
The day before their major show at Wave Gotik Treffen in Leipzig they came to Hamburg to play Grüner Jäger. Release sat down with Adam, Shannon, Jason and Jahmeel to talk about the revival of the postpunk scene, the dark music culture of Vancouver and making it onto the scenes with debut album.
In the beginning of this year a friend of mine sent two links pointing out something like "right up your alley". For some reason I forgot about the links for a few weeks and didn't open the message until I was on a train to Sweden. I needed to break the monotony of traveling and found singles "Bury Me" and "Hit to the Head", both released as early as 2016. Quite soon I found myself stuck in a dark world of catchy melodies coated in synth-drenched sounds and couldn't get it out of my head.
A few weeks later Actors debut album "It Will Come to You" infiltrated my Release Radar on Spotify and caught my interest immediately because of the modern take on postpunk with those pieces of darkwave to it that creates a fresh feeling, something new and unheard of. Fast forward five weeks and I met up with the band in front of the Grüner Jäger venue and sat down for a chat in a nearby park.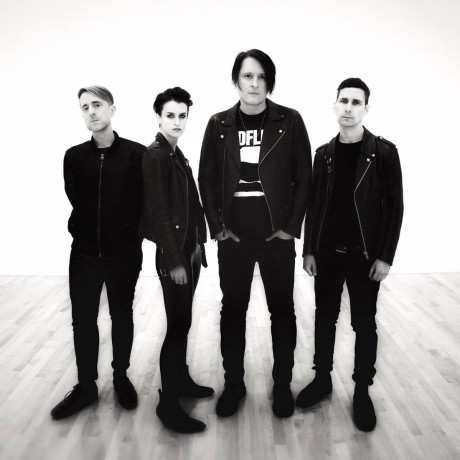 Welcome to Hamburg. Somebody told me though that Berlin has a much better post-punk scene. Are you going there as well?
Adam: We visited Berlin but didn't play.
Jason: What we did was that we had a couple of days off and I thought "Let's go to Berlin to sightsee", and then I went on Facebook and said "Anyone who we're friends with and want to come and meet us, come see us at the club 8mm. We just went there and had some drinks and a whole bunch of people showed up, and we signed some records and they took pictures. It was a lot of fun. We'll do a show next time in Berlin (laughs).
You've been out on tour for a while already, haven't you? With quite many shows in the US, I mean. How has it been so far?
Jason: Tomorrow it will be seven in Europe and before that we toured down the west coast in the US, for the first leg of this tour for this record, which was released March 10th. After we come home from Europe we'll do Terminus Festival in Calgary, we fly out to Manchester and then shuttle out to Bradford for Infest in August and the second week in September we fly over to New York and we'll do the Cold Waves Festivals across the US, all three of them, and then we play Murder of Crows in Brooklyn as well. Then it's JBTV in Chicago – a TV performance – and we'll do Part Time Punks in Los Angeles on the day after Cold Waves, and then we have some more eastern US dates to be announced.
With that in mind do you think this will be a breakthrough year for Actors?
Jason: That's what it feels like. You can only hope.

Dark times are good times for dark, good music…
Last year saw the signing of a deal with alternative/electronic label Artoffact Records and though the band is new on the scene, their combined music experience is way beyond most of those on the scene today.
With band members coming from completely different musical backgrounds, from rockabilly acts as Saddlesores to noise rock/metal band Ken Mode – with some bands still running alongside Actors – friendship brought them together. Jason starts by explaining why there suddenly has been an upsurge of new bands on the their scene.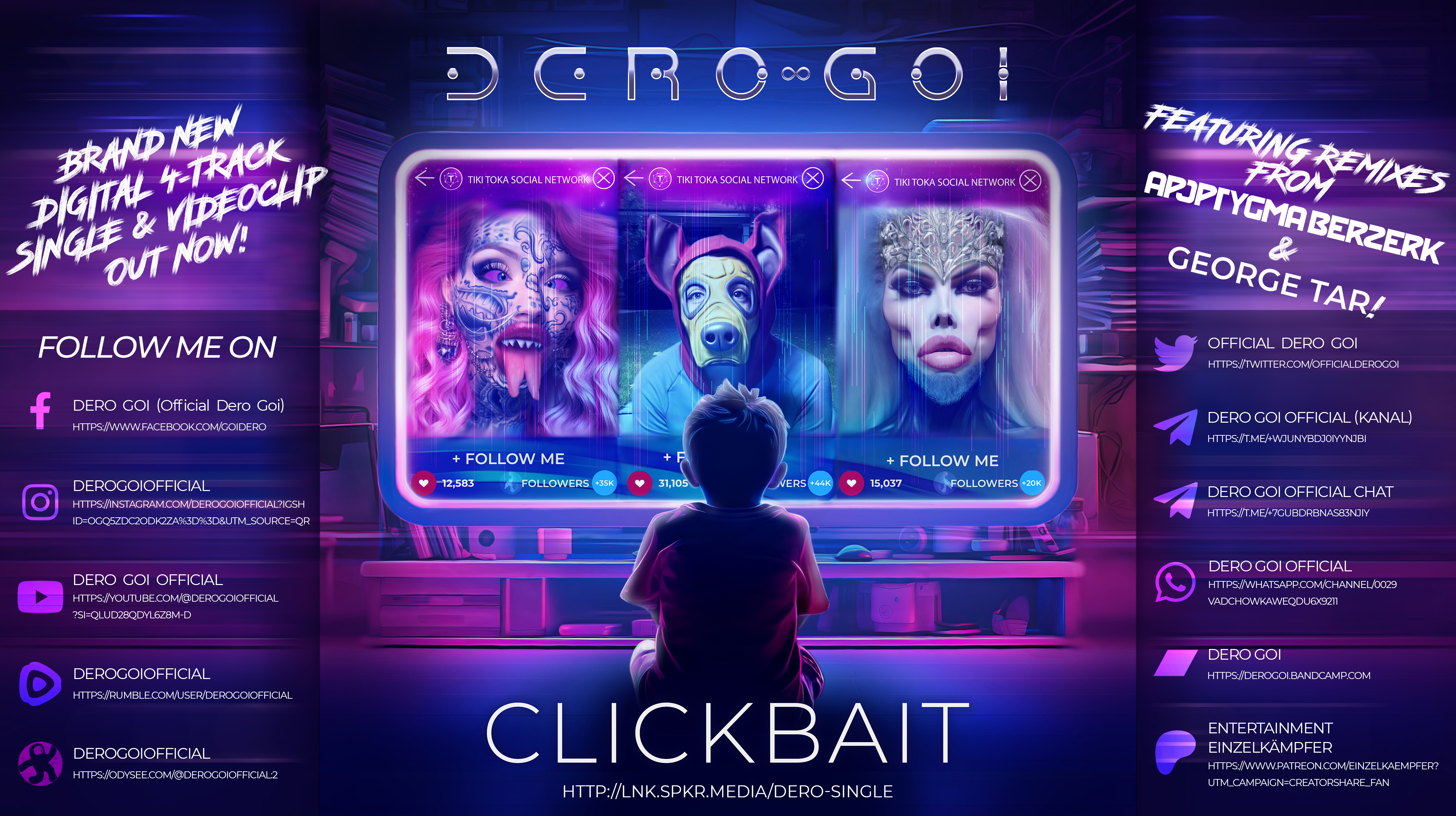 The postpunk and new wave scenes have been, in a way, been revived and revitalized the last ten years with bands like The Foreign Resort, The Exploding Boy, Principe Valiente, Then Comes Silence and quite a few others. Why do you think the this scene has a revival at this point in time?
Jason: Because we are afraid. We're afraid of the end of the world, we're afraid of a cold war turning into a third world war. It feels like how I felt as a kid in the eighties, that we're scared again. Global warming, climate change you know; there's an undercurrent to fear that we're living in.
When I started to look for new bands on YouTube, when Actors was starting up, I could see these bands pop up like Principe Valiente, The Soft Moon, The KVB and different bands like that. They all popped up with videos of 500 to 1 000 likes. I've been watching The Soft Moon from the very beginning. And then you have Cold Cave which I really enjoy. He had that push, the major label push, a few years earlier, but then he branded himself so well with his image and the cult of Cold Cave that he created.
I really don't like to read reviews myself but read post punk.com's review, where they wrote "cinematic new wave that belongs on a Michael Mann soundtrack" and something about an early 80:s U2 connection. That must be a good start, doesn't it? How has the album been received so far?
Jason: It has that minor tonality of darkwave to it, that some postpunk doesn't have. And early U2 (laugh). It feels like the reviews and people's perception of what we do have been positive across the board and it feels like we very naturally have tapped into a formula that works for us, the expressions of the songs and how they sound.
We weren't trying to make it sound like anything, it was just like "How do we do this music we like". Based on people's experiences or how old they are they hear different things. Some people say that "Oh, you sound like a bit of Echo & The Bunnymen" or "That's Killing Joke" or "That's early U2" or "That sounds like a David Lynch soundtrack" so there are these different little bits and pieces.
Thinking of your different musical backgrounds, how have these influenced the sound of Actors? I mean Saddlesores, TV Heart Attack, Pepper Sands, Gang Signs, Hide Your Daughters, KEN Mode – none of the bands have a fragment of Actors in their music, well maybe a little bit in Red Vienna. How do these experiences fit together with ACTORS?
Jason: Saddlesores!! (laughs). Did you actually find some Saddlesores? Wow!
Adam: Gang Signs, that's my band. We just made a new record that will come out at the end of the year.
Jahmeel: I don't think that KEN Mode has any input on Actors (laughs).
Jason: You know what the influences are? It's the professionalism, the skills and our experiences.
Shannon: And chemistry among members too.
Jason: We're all good friends and have paid our dues respectively and have played music for a very long time so when you come together to play these songs it's not hard. We enjoy being with each other, things are positive and always move forward in some respect – everything is fun.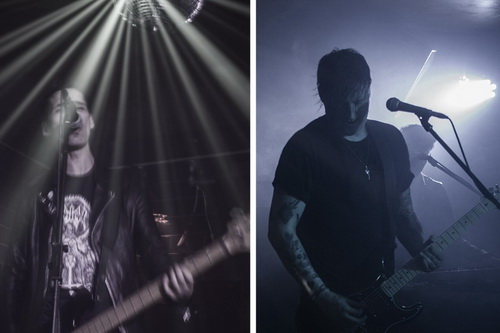 Building on a dark musical heritage
When looking at the musical heritage of hometown Vancouver, alongside 70:s major rock act Heart and successful indie rock band The New Pornographers, pioneers of industrial and electronic music, inarguably have played a role in shaping the sound of the city, in particular the alternative darker sound of the Vancouver scene – and this is just about 230 kilometers north of grunge mecca Seattle. Building on this heritage, the postpunk scene in Vancouver has seen a recent upsurge in bands due to DIY forces as Verboden Festival, but the genre had to make a detour to Europe before it would be celebrated on home turf.
Vancouver has quite a music tradition in particular considering the industrial/electronic scene with bands as Skinny Puppy and Front Line Assembly. When you consider that sort of musical heritage, how does it affect what you do with Actors?

Jason: You have to argue with Toronto about that (laughs)! But no, you're right. With that industrial/electronic side like Skinny Puppy and that, Vancouver is highly regarded.
Shannon: It's not all that has been appreciated directly in Vancouver though, it had to come to Europe to be appreciated and celebrated. It has a more underground following in Vancouver for sure, there is a definite scene for it but it had to travel, it had to leave home, and come back again to get that renowned popularity.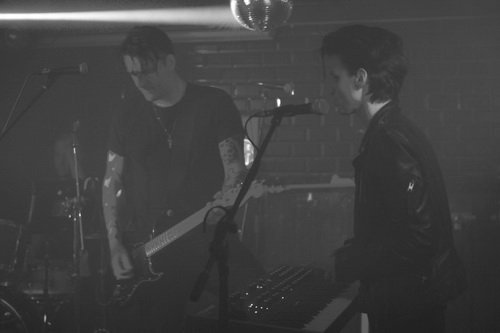 But there's also a vibrant postpunk scene in Vancouver?
Jason: There is. I wouldn't have thought that until coming to other cities and seeing what's happening in other places. We have our own festival called Verboden, it's very grassroots and it's still growing, and every year there are new bands. There definitely is an undercurrent of darker bands that exist in Vancouver.
Culturally you wouldn't think that we could sustain that type of a scene but it does exist there, but it's not like a postpunk mecca. I wouldn't be like "Let's move to Vancouver and start a postpunk band and take over the world" when it rather would be like "Let's move somewhere over here" (laughs).
And more interestingly, it's not so far from Seattle which has a completely different music culture.

Jason: Well, I used to think "Why doesn't Vancouver blow up like Seattle did?" Or like Montreal or Brooklyn, but I'm glad it hasn't because as soon as you associate a city with a vibe and a sound it dies. Just think that you were a grunge band in the 90:s and then three years later you can't get a gig because you're grunge. Unless you're fucking Soundgarden (laughs).
That's the thing with postpunk, "We are postpunk but also not", it's its own thing. We use that term very fluidly just to introduce the people who are understanding it; it's how we dress, it's how we portray ourselves artistically, interpret what we do musically. Let's take a band like The Soft Moon, is that postpunk? I don't know but not really, but someone who likes postpunk would like that.
He calls it "Soft Moon music".
Jason: Soft Moon music? Of course he does (laughs).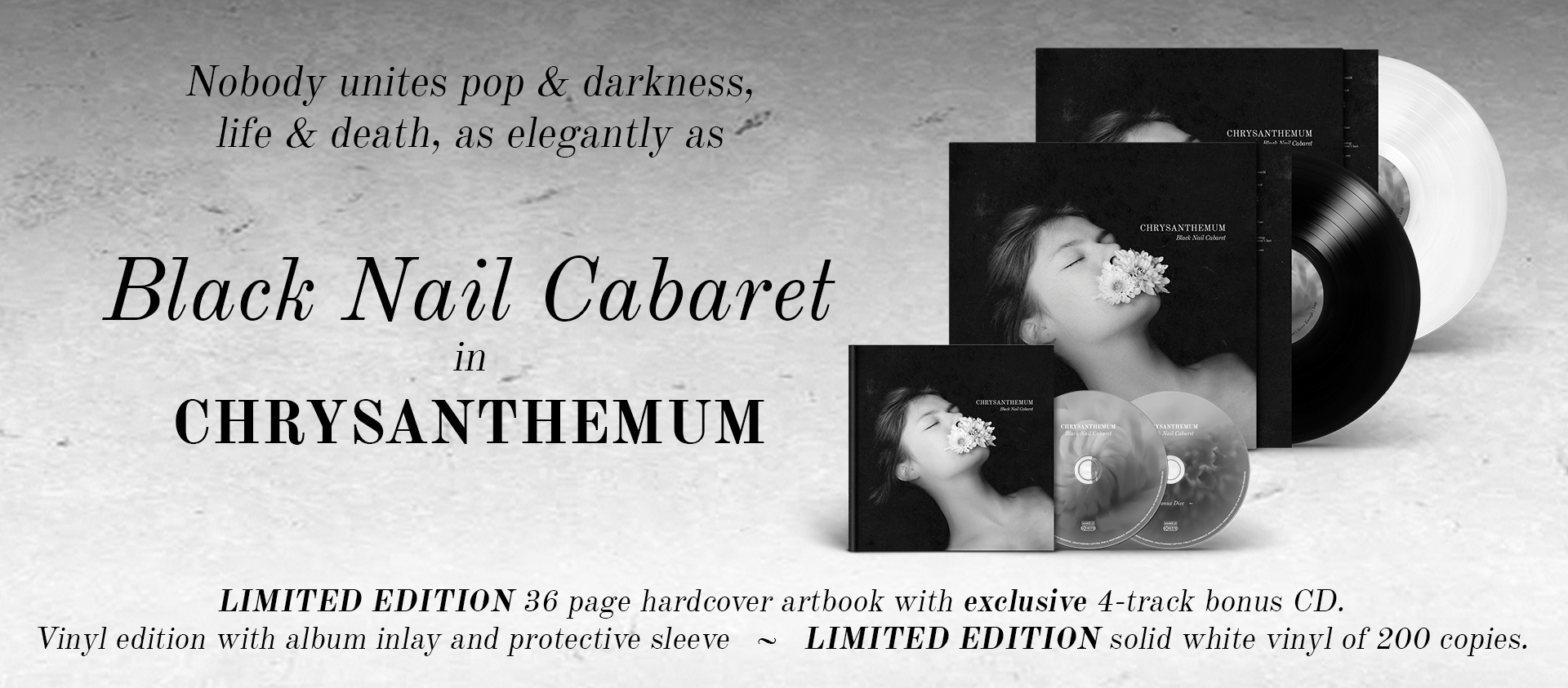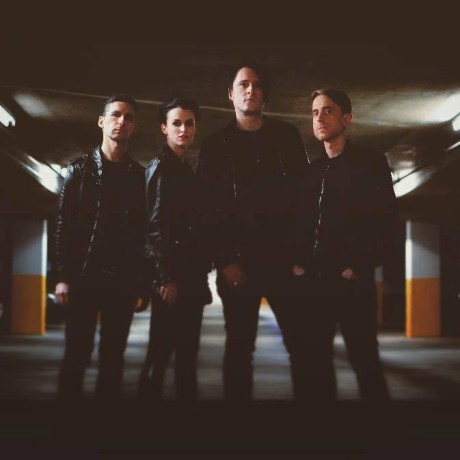 Dressed in black
Actors had already gained some popularity before the release of their debut album, but after "It Will Come To You" the band have seen a huge increase in interest from club and festival bookers, and will already during their debut album year play Wave Gotik Treffen, Infest and the Cold Waves Festivals in New York, Chicago and Los Angeles, to mention a few.
Being a postpunk band is also about ending up in between music scenes. In the UK for instance many postpunk bands end up on the indie rock scene, in Germany you will for sure end up on the gothic/industrial scene, and you will play Wave Gotik Treffen tomorrow, the biggest goth/industrial festival in world, maybe because of Artoffact/Storming the Base. But where do you want to end up?

Jason: We're going to be on Top of the Pops (laughs)! You can pick your music but you can't pick your fans. When I see people showing up at our shows and they're wearing black, that's all I need to see. That just makes me happy and means that we're connecting and relating to the right people.
We played our first festival, which was Terminus in Calgary, last August and I drove up in a van and saw the people out front and said "Ok, let's go home", I didn't want to go in! It was like "These people are going to hate us" because we're postpunk pop. After that show we got our record deal, we got all these show offers like WGT, Infest, Cold Waves – it all just happened. I'm trying to keep an open mind and just be full of love for everybody.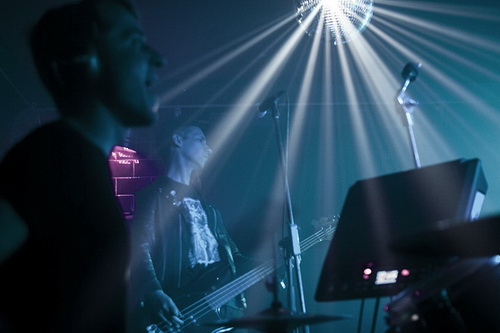 How is it to play North America compared to Europe?
Jason: The audience has been great here.
Adam: It's been amazing. The people here have been so kind and warm and sweet, and very enthusiastic. It's not something that we got a lot of in Vancouver, it's rare in the States as well.
German music magazines have high expectations about your show at WGT tomorrow.
Jason: That's very exciting for us. We saw The Foreign Resort in Vancouver, I helped them do a show out there a year ago, and Mikkel, the singer, said "You should play WGT" and I was like "What is that". So, I went online and looked at the website and I was like "This is crazy", and I sent the link to the band members and said "Would you guys want to do this festival?" and everyone was like "Yeah, can you imagine going to Leipzig, it would be crazy". Then I didn't think much of it. I didn't apply or did anything, and two weeks later I got an email from WGT.
Around that time we signed our deal with Artoffact Records, and that's when I knew that something more than just the usual was happening. We tapped into a little something that could help us reach more people.
What do you expect from your Hamburg fans tonight?
Adam: I don't know about you guys, but I tend to go out on shows with no expectations. If five people come and they're happy, then I'm usually happy. Just thinking about playing the songs properly (laughs).
Jason: Once when I was at a show, years ago, and there were not so many people there and I was disappointed and was like "Fuck, no one is here", my friend got really upset and said "I'm here". It doesn't matter if it's five people here, fifty people or a hundred – you don't know who is there. Every time you play it's funny to go online, on Instagram or something like that, and see that someone has posted about us and I think "Oh, I saw that people there and they looked like they were having a good time" and then I see "Wow, I saw Actors and drove 500 miles to see them", so you just don't know.
Adam: We played a show with the band INVSN and there weren't more than 30-40 people on the show in a larger place on a Monday night, and that guy [Dennis Lyxzén], he played like there was a 100 000 people in that room. That was inspirational, it was so cool to see a band like that, to come all the way to Canada to play on a week night and play as if it were a billion people there. That's how we see it.