Many readers didn't even the original release of Deutsche Bank's high quality, Kraftwerk-esque album "Autopop" back in 2013. On November 10 we're served a German deluxe re-release, remastered and with remixes of each track on top of the original track list.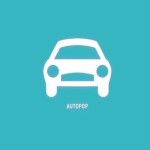 Neubrandenburg label Electro-Shock Records (Robert Marlow, Zeigeist) thinks musician and graphic designer Mats From deserves more attention for this stylistic project. Here is their product page.
Mr From resides in the medieval city of Visby on the island of Gotland, Sweden, and gives his hyper electronic music a Swedish touch, complete with Saabs and all.