---
---
Elvis to Swedish Electronic Music Awards?

No other than The King himself will attend the Swedish Electronic Music Awards in Gothenburg reincarnated through Johan Malmgren (S.P.O.C.K, Elegant Machinery). With assistance from Eskil Simonsson (Covenant) he will do his best to keep the Elvis spirit alive. The project is called Aaron Sutcliffe and the fantastic idea is to make electro covers of old Presley songs. At Swedish Electronic Music Awards they will perform live for the first time. God knows what kind of live offers they will get in the future.
Energy Rekords will release an EP with four covers of the songs "Devil in Disguise", "Moody Blue", "His Latest Flame (Marie is the Name)" and "Money Honey". The EP will be available at Swedish Electronic Music Awards, but the official release date is April 6.
The name Aaron Sutcliffe is taken from Elvis' other first name (Aaron) and "the fifth" member of The Beatles (Stuart Sutcliffe).
The clock is ticking towards Swedish Electronic Music Awards on April 3. Ticket sales are rising as well as the number of votes. You can vote from this very site until March 23. Shortly thereafter we will present the top four positions in each category in random order.
Swedish National radio P3 (P3 Live) and the TV channel ZTV (ZTV Nytt) have now decided that will broadcast from the event.
Finally some news about new Rational Youth releases


Rational Youth live in Helsingborg, Sweden, 1998.
Photo by: Pia Jacobsson-Wolcher.

Canadian synthpop legends Rational Youth will release a long awaited new single in 3-4 weeks on their own label Coboloid. The title of the single is "Everything is Vapour" and it will, aside from this track, contain "Money and Blood" parts 1 and 2 (a track they played live last year) and a remix of the title track. The new album, "To the Goddess Electricity" will be released in a few months time.
After listening to a clip of "Everything is Vapour" I can say that it sounds a bit like "Dancing on the Berlin Wall", but with a more modern and melodic sound. /Niklas Forsberg
Festival organizers threatened to life when they booked Marilyn Manson

Marilyn Manson is the headline of this year's Hultsfred Festival - the leading Swedish rock festival. The organizers Rockparty has been threatened to death because of this.
Mr Manson himself will make several small guest appearances in the new David Lynch TV-series "Mullholland Drive". In the Lynch movie "Lost Highway" Manson played a porno actor.
The single "I Don't Like the Drugs But the Drugs Like Me" is out now.
Coil is back

Coil returns with the album "Backwards" on Nothing later this year. The release is likely to be coordinated with the rereleases of the previous albums "Scatology" and "Horse Rotorator". The release date seems to depend on some problems with Coil's old company Some Bizarre. A new member has joined the band - Tightaul Sandra from Spiritualized. Finally a five CD box called "Time Machines 2" is on the way. /Kristoffer Noheden, Mikael Kahrle
New president of MNW

Music business veteran Peter Yngen is the new president of the largest Swedish indie MNW. He was commited to lead the new company UT Records, but have changed his plans. UT is a new company similar to MNW that consists of Swedish labels like Nons, Dolores, Dot and Vibrafon. Their launch is delayed even further when they now have to find a new managing director.
MNW has two other new skilled members in the board of directors: Rolf Nygren (former md of EMI Svenska AB) and Dag Häggqvist (IFPI, Gazell, ex-Sonet).
KMFDM is dead - long live MDFMK

It seems that KMFDM actually will cease to exist. Front figure Sascha Konietzko will instead launch his new project MDFMK (KMFDM backwards) with an album release on Universal this Autumn. MDFMK is Sascha and the Swede Tim Skold.
S.P.O.C.K invited to the largest Star Trek convention in the world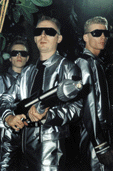 Photo by: Bo Magnusson.

On April 1 S.P.O.C.K kicks off their new tour in Lund, Sweden. The highlight, no doubt, will be a gig at the annual Star Trek Grand Slam Covention in Pasadena, USA, on April 24. The day before they are invited to play at a Hollywood film business party, also in Pasadena. Except for these important concerts they have so far ten club gigs booked on the west coast.
Their new album "S.P.O.C.K: 1999" will be released in USA later this Spring as soon as their record company has found a suitable distributour.
It's rather strange that a band that has built their image on American phenomens like Star Trek, Star Wars and X-Files for eleven years haven't tried harder in the US. One might think that they could succeed easily just by taking advantage of these hugely popular phenomens. Alexander Hofman of the band - and the record company - explains:
- We don't want to be "the Star Trek band". S.P.O.C.K is a real band and now we have established ourselves and are ready for what might come. The US market is very tough and you have to know what you're doing. We tried to release our last album, but our partner crashed. We haven't received any money, but succeded in saving the stock by simply go to their place and get it. We had a similar experience with another partner there. We have had bad luck, that's for sure. This time we try hard to avoid trouble. We have launched a US office for our company SubSpace Communications to secure total control.
So far, at least, Germany is S.P.O.C.K:s most important market. In the end of last year some 25 000 people saw them live when they toured with And One and S.P.O.C.K has toured Germany many times before. Naturally they will go there again on their new tour.
- Germans are funny, Hofman thinks. The are so fascinated by cars and their "Autobahns" that they stand on highway bridges to watch the traffic. For example, at a Sunday afternoon you can see whole families standing there looking. So now, we have painted "S.P.O.C.K" on all sides of our tour bus, like a police bus, and get free advertising.
Alexander Hofman loves to be on stage. But when it comes to photos and videos he has a different opinion.
- I hate posing for press photos or acting in videos, he says surprisingly. It just makes me feel silly. We haven't made any new videos. It's too expensive, especially when we our image demands that we do something special - not just jump around.
The new live show will be quite similar to what we're used to, but some things are different.
- We have new songs, a new line-up and we have the new suits and synthezisers with a space/silver look. Me and Christer Hermodsson went shopping machines the other day when we found a new Roland. Christer thought it was a nice instrument, but I, who don't care so much about these matters, said it was perfect for our new live show because it had this silver look. Christer is a keyboard wizard and he playes real solos live. This has really improved our live show, even though some people don't like when we change the music and increase the live feeling. Few synth bands of today can really handle a keyboard live. Finally the guest appearances on stage from science fiction-characters like a Klingon and a Borg that we introduced last year will continue.
S.P.O.C.K is constantly touring. They feel more comfortable by doing some concerts here and there more often rather than doing one huge tour and then wait two years for the next one.
- We will only do a few gigs in Sweden and Germany this time. Then we will do festivals this summer and also tour during the Autumn at more places in these and other countries.
Yet another magazine with problems

The Swedish alternative music magazine Akasha has stopped their activity. They might return, but they say they need some time to think about it. Akasha is a bit special - it's made by girls only.
---
Read previous news entries:
March 2 1999
February 18 1999
February 12 1999
February 6 1999
January 28 1999
January 15 1999
January 5 1999
December 29 1998
December 14 1998
December 6 1998
November 28 1998
November 18 1998
November 10 1998
October 28 1998
October 14 1998
September 29 1998
September 13 1998
August 24 1998
August 15 1998
August 3 1998
July 27 1998
July 20 1998
June 2 1998
May 13 1998
April 30 1998
April 15 1998
March 22 1998
March 4 1998
February 24 1998
February 7 1998
January 23 1998
January 19 1998
January 15 1998
December 22 1997
December 10 1997