---
---

Marc Almond and Dave Ball have announced that they will make a new Soft Cell album, scheduled for a late 1999 release.
First, Marc Almond will release a new solo album entitled "Open All Night" on March 29. The album will be preceded by a single in the beginning of March, called ""Tragedy"" featuring two exclusive tracks. Marc Almond regards the new record as the best one he has ever made. The album is said to be very dark and contain elements of everything from trip hop to latin. Among the songs are two duets, one with Siouxsie Sioux (Siouxsie and the Banshees, The Creatures) and one with Kelly Dayton of Sneaker Pimps. /Kristoffer Noheden, Mikael Kahrle


In the Nursery appears Cyberware's anniversary compilation.

Cyberware Productions is something as unusual as a Finnish electro record company. Now they celebrate their five year anniversary with the double compilation "Five Years of Electronic Tears". One CD offers the Cyberware artists and one artists licensed to Cyberware for the Scandinavian market. Among the artists included are In the Nursery, Swamp Terrorists, Terminal Choice and the strong debutants Kintetic.

Even though the recordings of the new Ministry album "The Dark Side of the Spoon" have been finished since late last year, the album release has been delayed once more. The new dates are June 4 or 7 (we have heard two dates from Warner) for Europe and June 8 for USA.

Mesh will tour in Germany in April. In the end of February they will visit Sweden and Norway. Even though Mesh are British, they will only play one gig in their home country in May.

The forthcoming Pig album will, as we reported earlier, be called "Black Brothel". The release has however been delayed due to the fact that Raymond Watts, mr Pig himself, has done some remix work for the labels Wall of Sound, Invisible and Cleopatra. /Kristoffer Noheden

Richard James a k a Aphex Twin will release a new single entitled "Windowlicker" on March 22. /Kristoffer Noheden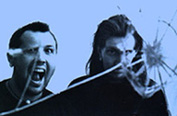 The Swedish EBM-duo Tolchock released their debut CD last year. They are currently working on their first single, which will feature the album tracks "A Practice for Hell" and "Kicks".

The next Lustans Lakejer single will be "Vackra djur". Their new album "Åkersberga" has been well recieved.

The Warp artists Autechre, Boards of Canada and Black Dog have released EP:s with performances from the John Peel radio show, all of them simply entitled "Peel Session". /Kristoffer Noheden
---
Read previous news entries:
February 12 1999
February 6 1999
January 28 1999
January 15 1999
January 5 1999
December 29 1998
December 14 1998
December 6 1998
November 28 1998
November 18 1998
November 10 1998
October 28 1998
October 14 1998
September 29 1998
September 13 1998
August 24 1998
August 15 1998
August 3 1998
July 27 1998
July 20 1998
June 2 1998
May 13 1998
April 30 1998
April 15 1998
March 22 1998
March 4 1998
February 24 1998
February 7 1998
January 23 1998
January 19 1998
January 15 1998
December 22 1997
December 10 1997