---
January 5 1999
---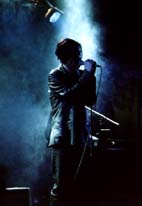 Statemachine live at Virtual X-Mas recently.
Photo by: Anders Ekne

Statemachine are now signed to SubSpace Communications and has left October. "Battered and Bruised" is the title of the new single (March 1) and "Short and Explosive" the title of the new album (planned for this autumn).

Dark rock band Left Hand Solution are working on their next album. Their first studio session for the new album was finished the day before Christmas Eve. The album is scheduled for a March release.

This spring, the new Blind Passengers album "Bastard" will show up. Five finished songs on a promo copy we've got proves that the German crossover electro quartet will make a logical continuation of the last album.

Still, we don't know for certain that The Jesus and Mary Chain have split up. Rumours indicate that both Jim and William Reid are planning solo records for 1999. William's record should be first in the line to be released. Jim continues to work with his project that now carries the name TV Eye.

On April 4 there will be a Black Easter Festival in Gent, Belgium, with 6-7 bands. Goethes Erben and VNV Nation are already booked. For info, contact The Invitation who organizes this festival as well as lots of club nights and electro/gothic concerts in Gent and Leuven the months ahead. For example Die Form and Welle Erdball (new album out now) will play on March 13.

---
Read previous news entries:
December 29 1998
December 14 1998
December 6 1998
November 28 1998
November 18 1998
November 10 1998
October 28 1998
October 14 1998
September 29 1998
September 13 1998
August 24 1998
August 15 1998
August 3 1998
July 27 1998
July 20 1998
June 2 1998
May 13 1998
April 30 1998
April 15 1998
March 22 1998
March 4 1998
February 24 1998
February 7 1998
January 23 1998
January 19 1998
January 15 1998
December 22 1997
December 10 1997