---
July 20 1998
---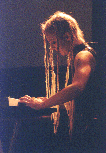 Cat Rapes Dog live in Gothenburg in April.
Photo by: Tomas Engin

In December (or late November) a new synth festival will take place in Stockholm, similar to The Subspace Encounter in Lund in September. All Subspace Communications bands like Cat Rapes Dog and S.P.O.C.K will perform as well as one surprise band. These are preliminary facts from the organizers Dieters Synthbar/Necronomicon.
There was another, larger, electro festival In Stockholm scheduled for October, organized by the Bunker club and with Front 242, Dive, Funker Vogt and In Strict Confidence in the headline. But now it seems that it is cancelled (before it went official) due to a change in Front 242:s tour plans from October to December.

The release of the forthcoming Nine Inch Nails album have been surrounded by a great deal of rumours and mystery. But a mid-November release is actually confirmed by Nothing Records. The album will probably be called "The Fragile". Five months is however a long time and much can still change. /Erik Almgren

The industrial rockers Drown has a new deal with Slipdisc/Mercury Records and their new album "Product of a Two Faced World" will be in stores August 4th 1998.

S.P.O.C.K are currently working their next album - "S.P.O.C.K: 1999" - scheduled for a February release. A new single will show up sometime this autumn.

Bomb the Bass will warm up the audience at the fortcoming Depeche Mode gigs. It is logical since Tim Simenon from Bomb the Bass is Depeche Mode's most recent producer. The Swedish dates are almost or completely sold out and extra dates have been added throughout the tour. Not in Scandinavia, though.
We have now listened to the new single "Only When I Lose Myself" and can tell that it's sad, modern and quite calm.

The Arvika Festival 1998 on July 10-11 was sold out days before the festival thanks to the strong line-up with bands like The Sisters of Mercy, Moby, DAF.DOS and Apoptygma Berzerk. Rammstein cancelled their gig and was replaced by the Swedish soft-pop-weirdo DiLeva (!). Read more in a short report by our new writer Sussie Pettersson.

A new Apoptygma Berzerk album will be released this autumn and a single before that. The first taste, the techno pop single "Paranoia", has been out for a while in connection to the band's touring activities.


This is how the new Rational Youth single "Three Remixes for the Cold War" (with old tracks) looks like. It will be out soon on their new, own company Coboloid.

The British gothic rock band Children on Stun has split up. The guitarist, Simon Manning, has started a new band called The Spares. They will release their debut album this autumn. /Johan Astemark

There are two small, Scandinavian gothfestivals on the way. First Det Svarta Staketet organizes Day of the Lords in Uppsala, Sweden. Funhouse, Malaise and Mist of Avalon will play at Fredmans at October the 10th. Two weeks later the Oslo club Gotham Nights plans a minifestival with a o Theatre of Tragedy at So What.

MNW ILR and the new record company Palm Pictures recently initiated a close collaboration. The owner of Palm Pictures is Chris Blackwell, former owner of the hugely succesful record label Island Records. The new record company will be an independent label, just as Island Records was in the beginning. The ambition is to sign both established artists as well as new and MNW will be the only represent of Palm Pictures in Scandinavia. /Erik Almgren

---
Read previous news entries:
June 2 1998
May 13 1998
April 30 1998
April 15 1998
March 22 1998
March 4 1998
February 24 1998
February 7 1998
January 23 1998
January 19 1998
January 15 1998
December 22 1997
December 10 1997