---
March 4 1998
---

Now The Hultsfred Festival have released their first wave of bands for this year's festival on June 11-13. The only really big name so far is Black Sabbath and the program seems pretty weak, at least in Release's perspective. But this is only a small part of the total program. Among the interesting artists so far are Lydia Lunch, Kent, Robot, Olle Ljungström, Mobile Mob Freakshow and several techno artists.
An interesting event this year will be a demo band stage in collaboration with Jimmy Fun, where unsigned bands will be given the chance to show themselves. So send your demo and presentation to Jimmy Fun now, if you're in a band. See "Links" to find Jimmy Fun.


From left: two members of Skinny Puppy - the now gone Dwayne Goettel and Cevin Key - as well as Rave Ogilvie, shot by Jennifer Jeffery when they visited Detroit for a live gig 1992.

Rumours say that Cevin Key and Nivek Ogre of Skinny Puppy have discussed new plans for the legendary band.

Dieter's Synthbar is a new place in Stockholm to visit. Every wednesday they open the doors at Bröderna Olssons Källare (Folkungagatan 84) with free entrance. There will be no live bands and only a small dance floor. Info

Oh no! A new Depeche Mode tribute is on its way. But this one - "For the Masses" seems quite intersting with bands such as Smashing Pumpkins, The Cure, Gus Gus, Apollo 440 and God Lives Underwater.

Massive Attack will tour Sweden in May after the release of their new album "Mezzanine" in April. Check On Stage for further info.

Week 14 Swedish national radiostation P3 will focus on the synthpop genre in Musikjournalen somewhere between 18-19 O'Clock monday-thursday. This is the same week as the Swedish Electronic Music Awards will be held in Gothenburg.

A new band is signed to Mute Records: ADD N to X. Head of Mute, Daniel Miller says: "I sign very few artists but when a band like this comes along it's totally irresistible".

S.P.O.C.K and Cat Rapes Dog will tour Germany in May.

The Jesus and Mary Chain will now come back, after a looong break, with both a new single, album and live activities.

The Swedish gothband Dark Side Cowboys will soon deliver a new MCD: "UnfortuNathalie". They are also included on the new "Subsoil II" compilation, out soon.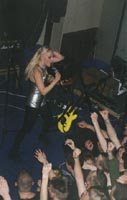 Cat Rapes Dog played at More Than a Party. Photo: Anders Wahlbom.

February 14 was the date for the More Than A Party Uppsala Electro Festival. This was the largest arrangment for the local organization Det Svarta Staketet so far and everything went well. Bands like Cat Rapes Dog and KieTheVez played and two of the bands - Children Within and Project X - ended the festival together under the name Children X, as a surprise extra show. "Lots of surprises in store. This wasn't a party. It was a whole lot more."

---
Read previous news entries:
February 24 1998
February 7 1998
January 23 1998
January 19 1998
January 15 1998
December 22 1997
December 10 1997