---
February 7 1998
---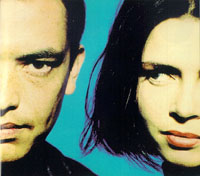 Curve.

Curve is finally to release a new album this spring. It's been five years since their last album "Cuckoo" was put on the market. The record will be co-produced by Tim Simenon of Bomb The Bass and guests included on the record is Justin Welsh of Elastica, Skylab's Toshi Nakanishi and and the ingenious producer Flood. The album will probably be called "Come Clean" and is expected to be quite different from their 1993 album.

Ritalin is the name of a new collaboration between Skinny Puppy's Nivek Ogre and Pigface founder Martin Atkins. It will be Ogre's first full-length recording since Puppy's 1996 album "The Process". Ogre's presumed project, WELT, seems apparently to be postponed or even shut down. Lately he has also been touring with KMFDM. Ritalin's debut album is schedueled to the end of the year.

The Swedish Grammis Awards will be held on February 16. As usual Kent are nominated in several categories: best pop/rock group, artist, album and text composer (Joakim Berg). The Scottish band The Supernaturals have invited Kent to tour with them in Great Britain, after being impressed by their music even though nobody outside Scandinavia understands a word of Kent's Swedish lyrics. But there is an English recordning of the band's latest album "Isola", to be released outside Sweden later on.
More about the Grammis Awards: Antiloop and The Lords of Svek are nominated in the modern dance category and two interesting hard rock releases are nominated: Tiamat's gothic "A Deeper Kind of Slumber" and Misery Loves Co's dark "Not Like Them".

Page's new album will be out on March 16 and is titled "Helt nära". In November the first single "Ibland" showed up with a sound that reminded of Jacob Hellman. Release has listnened to the album and it's sound is not guitar pop at all, like some rumours have stated. Old Page fans will recognize typical Page ingredients even though this album of course not is entirely similar to the previous ones. A second single, "Ingenting kvar", will be released this month. Page is invited to the club Romo Night in Gothenburg in April.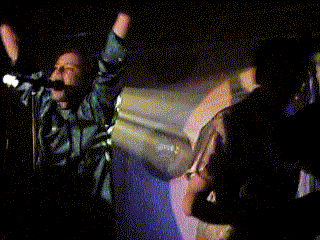 Saft.

Two other Swedish synthpop bands are on their way with new albums: Saft's strong debut "Paranoia Erotica" on February 20 and Vaccum's follow-up "Seance at the Chaebol" in March. The single "Tonnes of Attraction" with a o mixes of Antiloop was just released in Sweden and will be released in other parts of Europe on March 8. The record company claims that the video was recorded in Bangkok and Kuala Lumpur, but the video we saw just showed the band and a partying crowd indoors and you don't have to go to the other side of the world to shoot that?

We just want to say that we have not seen any sign of the planned The Sisters of Mercy releases and naturally we are not surprised. But one could guess that the record company won't put down so much effort this time, so maybe it is hard to get information.

Energy Rekords have three debutants. The typical EBM-duo Project X is here with a maxi single, consisting of a o Men Without Hats and Spice Girls covers. Proxy's "The Key EP" will be out soon, but Tolchock's first single have been delayed.

The new six-track KMFDM single "MDFMK" is out since February 3 with mixes of three album tracks and the fortcoming radio single track "Anarchy" (February 16). The mixes have been made by KMFDM people and Talla 2XLC. The band is resting from the ten week sell-out tour they have made in the US and Europe together with Pig and Rammstein.

Janus Stark's album "Great Adventure Cigar" is now scheduled for an April 20 release. See our very first News entry for more info.

The German crossovers Oomph! are back with "Unrein" on Virgin (March 2). At the same date and the same company Sven Väth's new album "Fusion" is listed.

Also on Virgin, Michael Cretu (Sandra, Enigma) makes covers of old disco classics on the Transatlantic Airwaves album "The Energy of Sound" (March 16).

Marilyn Manson's upcoming album will be produced by The Dust Brothers and Billy Corgan. The Dust Brothers have previously collaborated with a variaty of artists ranging from Hanson (!) to The Rolling Stones . Billy Corgan is the singer of Smashing Pumpkins (new album on June 1). The album will prelimanary be released in May and is supposed to be more melody-oriented than "Antichrist Superstar".

Three new releases arrived from the US synthpop label Synthphony this week: albums from No Decay and Sequential as well as the compilation "United Synthpop of America".

In a press release the dark metal band Covenant's company Nuclear Blast inform media that they should not mix up this band with the electronic band Covenant - from Belgium! We must admit that Covenant defintely sounds Belgian, but... The Norweigian Covenant surrender in this name battle and promise to change their name before they release their next album.

White Zombie's leadsinger Rob Zombie is a very busy man. He is not only overseeing the third "The Crow" movie - he is also involved with casting, composing the score and compiling the soundtrack for the same movie. Zombie is also launching a new label, Zombie A Go-Go, and if that wasn't enough he's just started recording a new solo album. Ex-Nine Inch Nails member Charlie Clouser is one among others who is helping him out with the record. No release date is settled.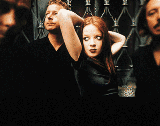 Garbage.

The much acclaimed rock act Garbage is to release a follow up to their succesful 1995 self titled debut album. The release date is set to February/March. They were also one of the very first bands to be booked for the Roskilde Festival 1998.

The american semi-industrial act Filter has entered the studio again. If you were hoping that the sound would take off where the collaboration with The Crystal Method (for the Spawn soundtrack) ended you'll probably be disappointed. Reports say that it will be more song and guitar oriented. The album is expected to be in the stores by mid 1998.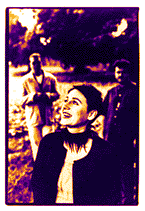 Cocteau Twins.

The ground breaking trip-hopers Massive Attack is soon to release a new album, but no release date is set. The sound is expected to be much darker than their previous records which the current single "Risingson" indicates. "Teardrop" is the name of the next single (March 23). The new album features reggae veteran Horace Andy on vocals. Cocteau Twins' Liz Fraser will also guest on vocals and Everything But The Girl's Tracey Thorn may contribute as well. A longer tour is expected in connection with the album release.

Dion Fortune has re-released the wave pop band Passion Noire's sold out 1992 album "As Times Goes By".

---
Read previous news entries:
January 23 1998
January 19 1998
January 15 1998
December 22 1997
December 10 1997