---
January 23 1998
---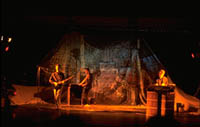 Twice a Man during a "The Sound of a Goat in a Room" performance.

The 1982 Twice A Man cassette release "The Sound of a Goat in a Room" is now released on CD on the german label Yellow. In December Twice a Man presented an unusual show at Pusterviksteatern in their hometown Gothenburg. It was a multimedia event called &quotUrsa Major&quot with music, dance, computer graphics and theatre. And some time before that Twice A Man made two anniversery retro concerts - one in Sweden and one in Germany.

In February Das Ich will be back with a new album, "Egodram&quot on the label Face Down. Obviously their old, own record company Danse Macabre is gone. It was known for high quality gothic and dark wave releases.

The finnish company Cyberware Productions has released two maxi-CD:s with new bands from their country. First there is Romantic Vision with "Build Me a Life". They are a duo from Tampere that claim that they mix early 80:s synthpop with the 90:s sounds and attitudes.
The second single is "Act One: Sacrifice" by Dei Six, which is the solo project of Tim V from Shade Factory. He is also ex-bass player of the finnish gothic band Two Witches. Dei Six is a parallell project to Shade Factory and the music is "angst, grind and pop". An album is on its way.

A synthpop festival is preliminary planned for the beginning of the summer in Norway. Mostly norewegian bands will play, such as Sweep. We get back with more info later on.

The New Age legend Kitaro, who released a new album last year, will perform in Copenhagen on March 21.

Rumours say that the goth legends The Fields of the Nephilim is reformed and that Carl McCoy and the others will present a new record later this year. So if we're lucky goth fans can expect new albums from both Fields... and The Sisters of Mercy this year, which might inject some fresh energy into the gothic scene?

We have told you before that the swedish swedish band Octoberland is signed to the german EBM-label Zoth Ommog. Now they are heading for the studio where they will spend the next seven weeks. In May we can hopefully expect their debut album "Mindhaven", with ten tracks of heavy electronic music.

The productive English band In the Nusery's is now booked to the Swedish Electronic Music Awards-festival in Gothenburg.
We have written earlier that their music is featured in the new TV-series "La Femme Nikita" now showing throughout Europe (in Sweden on TV3, thursdays). The tracks used is "Precedent", "Woman" and "Mandra" from the album "Deco" and "Carroussella" by their side project Les Jumeaux. Now, the The ITN track "Bombed" is currently being used to advertise Francis Ford Coppola's new movie "The Rainmaker". And "Feathercut" has been used for the trailer to the independent US feature "The Sweet Hereafter".


Gillian Anderson.
In The Nursery have also provided a new version of the Gillian Anderson featured track "Extremis" for a forthcoming re-mix album by HAL.
ITN is working on a new album called "Lingua", scheduled for an April or May release. The album examines language - its development, phonetic styles along with our understanding and use of words. The new works will incorporate a whole selection of worldwide vocal collaborations including Hispanic, Japanese, native Mexican, Friulano (an ancient Italian dialect), Yugoslavian and many more.
The ITN albums "Sense" and "Anatomy of a Poet" will be re-released in Europe soon. Both CD:s have been extensively re-designed, digitally re-mastered and contain extra tracks.

---
Read previous news entries:
January 19 1998
January 15 1998
December 22 1997
December 10 1997