---
December 10 1997
---

After all different kind of rumours, there are now some real new facts about The Sisters of Mercy. The final CD on the band's record company Eastwest, made mostly to get rid of the contract, is now planned for January. It will be a double-CD with more technooriented music. About the same time Andrew Eldritch release the first record on his new, own company - a new The Sisters of Mercy-single, from another forthcoming album on his own label. We just have to wait and see if all this will really happen, because you never know with Mr Eldritch.

Finally Depeche Mode decided to make a world tour the second half of 1998. This tour will be shorter than the last one - which lasted for as much as 18 months. The record company in Sweden guarantees that the country will be included in the tour plans. Sweden is one of the bands strongest support countries - the new album "Ultra" proved that by making it to the number one in the official sales charts. Depeche Mode have declined a generous offer to play at the Roskilde Festival 1998. They want the tour to be up and running, if they are going to attend to any festivals. They will simply not be ready in the end of June.
The long awaited follow-up to the compilation &quotThe Singles 81-85&quot is now scheduled to be released in connection with the tour. Martin Gore is currently writing new material that will result in at least one new single. If everything goes well, we can expect two, or maybe more, new tracks. Anyway - it will be hard to make room for all the singles on the new compilation.

Eddie Bengtsson (Cpt Kirk) has left the space pop band S.P.O.C.K. His live apperance at the swedish Arvika Festival in July was his last with the band. He will not even write new songs for the band, even though this was first his intention. This might be troublesome for the rest of the group, since Eddie always has been the most important composer in S.P.O.C.K. The two remaining members Alexander Hofman (Android) and Johan Billing (Plasteroid) have now recruited a new member. His name? Crull-E.
Eddie Bengtsson's old project Sista Mannen På Jorden (swedish for Last Man on Earth) will now appear on a record of their own for the first time ever. An EP in limited edition will be released by S.P.O.C.K's own record company, Subspace Communications, in the spring. The EP will include the track &quotEgen Rymddr&aumlkt Finnes&quot, which starts with the original Star Trek signature. Eddie is also busy working with the new album with his main band Page. It will be released in March, but a brand new single is already spinning on swedish radio - &quotIbland&quot (Sometimes). Track two on the single is a cover of Bachman Turner Overdrive's classic "Hey You". In swedish that is &quotHej Du&quot. The line up of Page - Eddie, Mikael Thornqvist and John Liljestrand - and their record company Pool Sounds is the same as on their last album.

Barry Adamson is planning for a new, more poporiented album, named &quotWhat It Means&quot. It will be out in April and then he will tour, alive and kicking again after his illness.

The productive englishmen In the Nursery experienced success with their &quotsoundtrack&quot album for the old cultfilm &quotThe Cabinet of Dr. Caligari&quot and now they release a similar CD for the german film &quotAsphalt&quot, which was rediscovered and restored from film archives five years ago. ITN is now touring in UK-theatres with the film. You can also hear music from the band in the television serie &quotLa Femme Nikita&quot (!).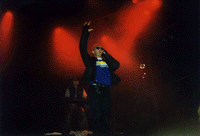 Patrick and Richard of Front 242 on the Arvika Festival in July 1997.
Photo by: Claes Nordling

Front 242 have surprisingly been busy touring this year. For example, the have visited both the swedish Arvika Festival in July and Stockholm Synth Festival in November. Although they are obviously alive and kicking, no definte plans for a new album are made. Jean-Luc De Meyer can be found on the debut album of C-Tec (Cyber-Tec), "Darker". Two of the other Frontmen, Daniel B and Patrick Codenys, are working under the name Grisha Zeme. They have made a remix on the Empirion single &quotBeta&quot and another one on Funker Vogt's &quotTake Care!&quot.

Subspace Communications is now much more than S.P.O.C.K's own record company. They have now signed the hard electro band Covenant for Scandinavia. Off Beat will work with them in other parts of Europe, as usual. Covenant will release a new single late this year or in the very beginning of the next one and their third album &quotEuropa&quot are scheduled for late winter/early spring. Cat Rapes Dog are now on the Subspace Communications label as well and have left Energy Rekords. They are currently working on an album with their new singer John. It will be released about the same time as Covenant's.
John is also a member of the band Slug, together with people from among others Forevergreen and Medicine Rain. Slug plays music similar to Skinny Puppy's and they are hoping to get themselves a record contract soon.

A new annual swedish festival is born. Swedish Electronic Music Awards on April 4 in Gothenburg. The half million city Gothenburg has had lots of electronic/industrial/gothic music clubs and concerts throughout the years, but never a festival like this one. Eight bands will apear over one night: Five well-known on a main stage and three unsigned bands on a smaller stage. The whole venue, K&aringren, will be open which means three floors and six bars. The readers of Release Music Magazine will vote for the best artist, album, song, live act and newcomer of 1997 and the winners in these five categories will be presented between the main bands at Swedish Electronic Music Awards. Of course, they will also be presented in issue 2/98 of Release. Readers vote through a form in the new issue of Release, 3/97.
There will also be at least two dance floors with four different DJ's, competitions and several merchandise stands. You must be 18 years old, and please note that the amount of tickets is limited and that Swedish Electronic Music Awards may sell out.
We invite people of the music business as well: This will hopefully be an annual meeting point for people dealing with electronic/industrial/gothic music. Please contact the festival for more details. Furthermore, bus trips are organized from among others Stockholm and Malm&ouml/Lund/Helsingborg. We present Swedish Electronic Music Awards together with local club organizers Romo Night and the company John Glenn Inc.

Despite all the usual rumours Kraftwerk have not scheduled any releases for the nearest future. Something will be released, but we don't know when or what yet. You just never know with these guys, do you? But their record plans feels more promising now, since the have played live three times this year. The last two apperances was recently in Karlsruhe (Germany) and Linz (Austria). Kraftwerk performed three new, but (still?) instrumental tracks.

The german gothic band The Garden of Delight have now ended their career, as planned (!). In the very beginning they decided to make seven records over a time of seven years - and then quit. Now the seventh album &quotParadise&quot is here and their last concert is performed. Good bye.

New Horizons is the name of the legendary Alphaville's fan club and now a swedish part of the club exists since one year. It was born at an Alphaville convention in Berlin. Clubs also exists in among other countries, Turkey, USA and Holland. Phone to swedish New Horizons: +46-322-18881.

The old electronic wave band Clan of Xymox from Holland are back with a new line up but with their old name. For several years they succesfully released slightly more commercial records under the shorter name Xymox. The new album &quotHidden Faces&quot follows the tradition from the band's early years influnced by the sound of today. It is produced by Dead Can Dance-producer Dave Allen and The Sisters of Mercy and The Cure-producer John A Rivers. He has also produced the new CD from This Ascension &quotSever&quot. It will be out on the same company that is the home of Clan of Xymox, Tess Records, in the early days of 1998.

The band English Dogs have been forced to change their name, due to a slightly odd cause. They discovered that the use of the name &quotenglish&quot in officially registred names and trade marks must be approved by the Queen herself. English Dogs, with The Prodigy's live guitar player Gizz Butt, tried this but it did not work out very well. Now, they have thrown their old name in the trash can and their new name is Janus Stark. The name is taken from an old obscure comic character. When the debut album shows up depends on when Mr Butt can make the time from the live fanatics The Prodigy. As often as they play live, that make take a while one might say.

New signings. Tolchock, formerly Tolchock 14, celebrates their ten year anniversary with their fresh record contract (!). Release wrote about this swedish dark electro band in issue 2/88. Energy Rekords is the company and the debut album will be released 1998, probably in the beginning of the year. Another new hard band is signed to Energy at almost the same time. Their name is Project X have already released a tour-CD - in a limited edition.
The Stockholm label Stroke Records is the new home for DAF, or DAF.DOS which is their new name. Stroke have now also signed the swedish electronic pop band Lorelei De Lux. Stroke, which also is a concert- and festival organizer plans a two day festival, probably in Stockholm, where only small, yet unsigned synthetic bands will play. So they are apparently looking for more bands to sign.

The modern cult composer Karlheinz Stockhausen made a slightly different kind of performance some while ago. It was an old dream of his to let four helicopters hoover with three violonists and one celloplayer. Stockhausen mixed their music with the noise from the helicopters in front of an audience in Amsterdam. Actually he wanted to do this "gig" in Salzburg, but he was not allowed because of the enviromental problems.

Finally the finnish label Cyberware Productions have made a record deal with the heavy american electro band Crocodile Shop. The album &quotPain&quot is out now. It is their third, but the first on Cyberware.

The swedish record companies Energy Rekords and October have not surprisingly merged, although little will show on the outside. The synthpop label October, home of among others Statemachine and Children Within will continue to exist. One of Energy's founders H&aringkan Ehrnst, also formerly editor of the swedish edition of the magazine New Life, has left Energy for the telecom business. Then the only other founder left in the company was Per Faeltenborg, who also is the man behind the music company Hot Stuff. There the owner of October, Dennis Berggren, worked and Per and Dennis have now made Energy and October one company. At the same time Energy have hired Torny Gottberg (plays in Project X and publishes the fanzine Sauna). Got it..? This was the short version.

A few years back The Mobile Homes was the largest scandinavian synthpopband, but now they have been inactive for quite a while. The story continues. Now they have left their old record company Hawk for SPV. SPV is the home of ex-Kraftwerk-member Karl Bartos' cancelled project Electric Music. Karl is now working with the new The Mobile Homes-record. Maybe as a complete member (but this is not confirmed). But the terrible speed of The Mobile Homes is not increased because of this either. The album is now postponed to 1998. Is anyone sursprised? Grand old man Bartos will also, believe it or not, be playing the guitar on future The Mobile Homes concerts.

The female-fronted indiepop group The April Tears are no longer on Memento Materia and the follow-up the the critic-acclaimed debut &quotStrange Paradise&quot (got ten out of ten in Release, for example) is still delayed.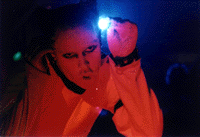 The Prodigy's Mr Flint in action.
Photo by: Jens Krause

Loads of singles. Here is some of the new singles out now: The Prodigy have released the first single to show up from &quotThe Fat of the Land&quot after the album release, &quotSmack My Bitch Up&quot. It is coordinated with their current tour.
DAF.DOS have made a new, but only slightly different version of the dancefloor classic &quotDer Mussolini&quot. It is one of four tracks on the EP &quotNordisc&quot. An album is in the making process.
The alternative rock band Souls ends their all-too short career with &quotCello EP&quot, where we can find two extra tracks. The female singer of Souls, Cecilia Nordlund, performs on the new Blue For Two-single &quotSkin&quot, from their new album &quotMoments&quot.
Depeche Mode have now delivered the fourth and final single from &quotUltra&quot - &quotUseless&quot. Unfortunately there is no extra song on the single, but computer video-clips of &quotBarrel of a Gun&quot and &quotIt's No Good&quot (for both PC and Mac), and as usual several remixes of the single track.
The Stockholm duo Restricted Area plays EBM with vocals in french on their new single &quotElle Respire&quot. Daybehavior vocalist Paulinda Crescentini is assisting, but not nude on the cover, we guess.
About the same time Erasure visited Scandinavia, they released the single &quotRain&quot with the extra track &quotFirst Contact&quot. The Scandinavian leg in the end of their tour came as a surprise. Now it seems that Andy Bell and Vince Clarke will take a break, before they make a new record. Perhaps their dream about making a musical will now come true.
The swedish smash synthpop newcomers Saft now delivers the follow-up to the debut radio hit &quotSuperstj&aumlrna&quot - &quotUnderbar&quot with an extra song. Their album is postponed to 1998.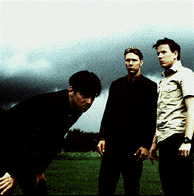 Statemachine including their new member Rickard Gunnarsson.
Statemachine's re-recorded &quotNegative Feedback&quot is now released as a single, after a long delay. The song has a modern electronic synth sound. Statemachine have also been busy helping Children Within on the same label (October) with their single &quotWalkabout&quot.

There is also loads of best of- and singlecompilations out in the shops right now. Here is some of them, and most if them is actually justified - not just a desparate attempt to make more money.
Good old The Cure have recently released &quotGalore: The Singles 87-97&quot and it is obviously a strict single compilation including the brand new &quotWrong Number&quot. A video compilation is made parallell to the CD. And again Robert Smith has said that The Cure will quit, this time he stated that they will only be a memory after the year 1999.
If you want to be nostalgic, run and buy &quotThe Best of Spandau Ballet - Centenary Collection&quot.
About the same time Morrissey's new &quotMaladjusted&quot came out, &quotSuedehead - The Best of Morrissey&quot was released on another company than his usual. Here we find as much as nineteen old tracks on one CD, but he does not write long songs, does he?
Now Front Line Assembly have released their first "best of" at the same time as their new album &quotFLAvour of the Weak&quot. Old hits as &quotProvision&quot and &quotMindphaser&quot is of course included and five of the tracks are in remixed form. Third Mind/Roadrunner have released the compilation and this is also the company that have released most material with FLA, but they have released far from everything. Neither the bands first material, nor the last two albums are from Third Mind/Roadrunner and therefore nothing from these records are included. The compilation is suitably named &quotReclamation&quot...
Machinery Records are doing the same thing with And One's best of-compilation - maybe Machinery's last release ever. And One's new album &quotNordhausen&quot is out on Virgin, and no new tracks are on the best of-CD. But the record is also released as an interesting double-CD in a limited edition. The second CD is a "best of" Machinery and Dynamica Records. Dynamica is Machinery's sister label for harder and more metal oriented electronic music.
Paradise Lost have currently delivered their &quotThe Singles Collection&quot - a box with five singles.
If we take a look into the future we discover the already mentioned Depeche Mode-compilation as well as &quotThe Best of Nick Cave and the Bad Seeds&quot. The releasedate is April 13. They will also release a videocompilation at the same time.

For those of you who are looking for records and gigs with the popular hard electro band Covenant, voted best band 1996 in Release Music Magazine, watch out for the metal band with the same name on Nuclear Blast. The band consists of members from among others Mayhem and Cradle of Filth and have recently released their second album &quotNexus Polaris&quot.

Old electronic music heroes Tangerine Dream have released a new live album &quotTournado&quot on their TDI label. The concert that has been recorded without studio dubbing afterwards is one from Poland in April this year.