---
February 24 1998
---

Pack your bags: Kraftwerk is going to perform at the Roskilde Festival in June! Among the other new released bands is Death in Vegas, Moonspell and Spiritualized. Check On Stage for the up-dated band list.

Now the new Covenant single is here. It contains the strong "Final Man" in two versions, the nice trip hop-ish extra song "Control" and the instrumental noise-techno-track "Sample Start". Their third album "Europa" will be out on March 30 and the band told us recently that they are extremly satisfied with the material and that the studio time has been really fun and fruitful. They are now making a living out of the music and gives 110%. Check On Stage for live dates.

Now the program for the Swedish Electronic Music Awards-festival is complete. The following bands will appear on the three stages: Covenant, In the Nursery, Cat Rapes Dog, Vacuum, Saft, Komputer, Sista Mannen På Jorden, Project X, Dresscode (a local pop band), FKK Jugend feat. Disko Diktatör (a project from Johan Billing of S.P.O.C.K) and Lazer Stefans (will play four sets with Mute-covers - Erasure, Nitzer Ebb, Depeche Mode and one mixed set). Unfortunately And One will not come, since they are forced by their record company Virgin Records to complete new material in the studio, for the "Maschinenstürmer EP&quot, we guess. They send their regrets to their Swedish fans. But Swedish Electronic Music Awards will have eleven bands on stage, instead of the earlier promised eight.
Some new details are also released. The first 1000 visitors will get a compilation CD for free, with new tracks from different Swedish record companies. And the first 100 visitors can also lay their hands on a Recoil promo-CD.
The music technology and instrument magazine MM will present vintage synthezisers and a new analogue synth in a special MM-room. They will also give a price to the best Swedish synth innovation of 1997.
It's wise to be there in time. The doors will open 17:00, the first band will play at 17:30 and the bar prices will be at a very low level in the beginning of the night. It's also possible to buy food at low prices the whole evening.
Check the Swedish Electronic Music Awards-homepage and you will find all the basic information as well as maps, details about youth hostels, travelling, the bands, time schedule etc.

Two of the large Swedish summer festivals will release the first wave of bands within two weeks from now. We're talking about the Hultsfred Festival in June and the Arvika Festival in July. Arvika Festival announces that this years festival will be bigger with the capacity of 8000 visitors, instead of 7000 at the sold out 1997-festival. 80 artists will perform at 4 stages and there will be 24-hour non-stop dance activities. Tickets at the price of SEK 450 + pre-pay fee is going to be avaliable from March 1. Check their homepage and On Stage.

Douglas McCarthy, former member of Nitzer Ebb and guest vocalist in Recoil is now in the studio with the electronic dance act Empirion (on XL, the same company as Prodigy). He is singing on several tracks on the forthcoming second Empirion album.
- I know one of the Empirion-guys from school, says McCarthy to Release when we talked to him last thursday. This guy called me when I lived in America, because they were looking for a singer. I got a DAT-tape and went to a studio in USA to record. Now we are continuing the studio work in England and tomorrow I'm going to the studio together with the guys again.
McCarthy is also singing on the new Recoil-single "Stalker" and a few days ago the video was recorded. It's in its final editing stage now. Douglas is of course included in the video, but...
- Only my mouth and one hand! And Alan Wilder is not in it at all. But the video is really brilliant and cool, I think.
Read much more in the next issue of Release where Douglas also speaks about what really happened to Nitzer Ebb and about his new calm life as a Cambridge student (!).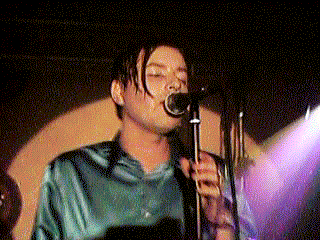 Saft.

We watched a nice live show with Saft in Helsingborg last friday, where they played together with Children Within who as usual made an energetic performance which ended with half the audience dancing on the stage... Now Saft's debut album "Paranoia Erotica" is out and it's likely to be one of the most popular synthpop albums of 1998.
- We are very pleased with the result, says a proud Kent in Saft. We have worked really hard with every small detail on the album - from the first second to the last.

Gary Numan is heading for Scandinavia! The living legend will visit Stockholm and Copenhagen in March. He is mostly known for his old classics, but his most recent album is "Exile" from last year. A new single, "Dominion Day" is on its way.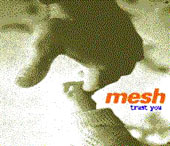 Mesh new single "Trust You" is on its way, but a release date is yet to be set. Tracks: "Trust You" original version + mix, "The Purest People" and "My Defender" - all new tracks. The band will tour Germany in early May supporting De/Vision.

The latest news about the latest band in the universe, The Mobile Homes, says that their "new" single will be released on March 9.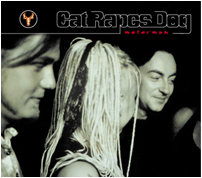 Cat Rapes Dog comes back with their brand new single "Motorman", which sounds typical Cat Rapes Dog but with a modern touch. It features the band's new singer John Wreibo and contains an original, a S.P.O.C.K and a LCD version of "Motorman" as well as the extra track "Glory".

LCD, by the way, have just released a new single - "Disco Inferno" - in their tradition of electronic dance music in Chemical Brothers-style. Their record company, Energy/Cascade, claims that their last album "Heavy Rockets" sold 12 000 copies in the States, where they toured 1997. A live track from Las Vegas is included on the single. A full length album with the same title as the single is on its way.

Finally the new Curve album "Come Clean" is here, with a more electronic, chaotic and dancable sound than before.

The Swedish music magazine Stereo has ended its existance, due to lack of interest from the market.

Pitchshifter have released a new album "www.pitchshifter.com". They call their own music "strum'n'bass" and "breakbeats'n'punk".

Garbage's new single now has a name - "Push It" - and a release month - March. The new album has the working title "Sad Alcoholic Clown" and is scheduled for an April release.

The experimental culture society The Nursery will organize Nursery Injection 98 during the whole of June in Stockholm as a part of the Stockholm Cultural Capital of Europe 1998. The festival will be located at the German boat M/S Stubnitz, well known for its commitment to and support for the experimental underground scene (and for being an interesting venue in itself). M/S Stubnitz will visit Stockholm throughout the entire festival, and will be stationed centrally along the shores of the town.
There will be appr. 20 events, including concerts, lectures, workshops and exhibitions, the Nursery society claims they will present the most interesting and challenging acts within experimental underground culture. The primary focus will however remain on music, examplified by genres such as noise, isolationism, experimental techno, drum'n'bass, ambient, ethno, tribal, post/space rock, industrial, electronica etc. Check On Stage for the currently booked band and more.

Robert Halfords, ex-singer in Judas Priest has stepped forward about being gay. His new solo record is produced by Trent Reznor and is released on Reznors company Nothing.

---
Read previous news entries:
February 7 1998
January 23 1998
January 19 1998
January 15 1998
December 22 1997
December 10 1997