---
March 22 1998
---


This is how the new Page-album looks like. It's called "Helt nära" and will be followed by a tour this spring, which is in the planning stage right now. Göteborg, Stockholm and Malmö are already in the schedule.


And this is another brand new album - the English Kraftwerk-fans in Komputer release their delayed debut "The World of Tomorrow" on monday. The album is inspired by people's ideas about the future in the sixties. An American different version of the album was released last year. If you can stand the Kraftwerk elements in Komputer's music it's a great record to listen to now when Kraftwerk themselves haven't released anything in years. But otherwise...

The new Front Line Assembly single &quotComatose" has been delayed and is now scheduled for a mid April release. Another single is also on the way, but this time a strictly limted 12" with remixes of "Colombian Necktie" for club purposes. The trance label M.A.S.H. is the company behind this release.

We almost can't believe it - we are holding the new Mobile Homes-album in our hands. So now it is more than just talk, talk, talk... It is called just &quotMobile Homes&quot, which is a quite boring title. But everything is better than the working title &quotSport Olympics"? It is going to be released in the end of April or the beginning of June. Their new record company is the German SPV, and in Sweden they are licensed by Arcade/CNR. The single &quotYou Make the Sun Shine" is spinning on radio stations now and it is going to be officially released on April 14. There is also a video for the song, which was recorded last August in Sahara.
Karl Bartos has been deeply involved with the album and is said to be a part of the live band when they hit the roads after the album is released, with preliminary booked shows at a o the Roskilde Festival.
After listening to the album we must say it is very, very commercial and radio friendly, but of course you can hear both typical Mobile Homes - and Karl Bartos elements in the music. Hear for yourself soon.

Kraftwerk's stop at the Roskilde Festival is the last one of eight tour dates in June. Except for Denmark, Kraftwerk will play in Japan and USA. Still no word of any record.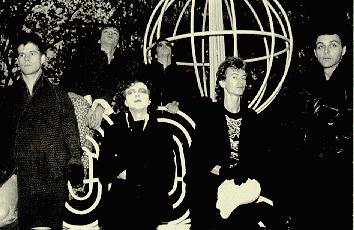 Legendary Pink Dots.

Legendary Pink Dots will tour Sweden, Denmark, Norway, Germany and their home country Holland in April.

Front 242 are going to USA for touring activities from July 20 to August 20.

We have listened to the new and third Covenant album "Europa" which will be released shortly and must say that it will probably not disappoint any fans, even though it is very simplistic. Like the two previous albums, "Europa" grows after you listened to it several times. It's also a little bit less extreme than we are used to. But with this record Covenant remains one of the leading heavy and hard electro bands of today. In April they will tour Germany and play one date in Sweden and one in Holland. On the German "Europa"-tour they will play together with the new act VNV Nation. Covenant's record company Off Beat has also joined forces with the metal band Covenant's label Nuclear Blast to avoid name misunderstandings.

On April 27 Love Like Blood delivers a new album - "Snakekiller". One of the leading goth bands of the nineties is back, after a three year break, with a conventional and typical goth rock album which shows their experience and skills. Nowadays Love Like Blood consists of only York and Gunnar Eysel, but as much as seven guest musicians have been involved with this album - members from bands like Lacrimosa, Silke Bischoff, Gorefest and Moonchild. Love Like Blood are now signed to the Swiss label Hall of Sermon. Last year the band celebrated their ten year anniversary and "Snakekiller" is their fifth studio album. You don't have to wait until the album is released to hear new music with the band - the "Love Like Blood E.P." is out now. And finally, the band is eager to play live and will do so very soon on an extensive tour.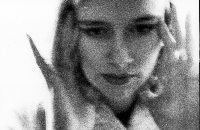 Lisa in Doris Days.

The Swedish band Doris Days, who plays their own kind of trip hop, are now signed to Dorado and has a new EP out, based upon the old track "To Ulrike M". It contains remixes of a o Tosca (Kruder & Dorfmeister) and has been single of the week at Swedish National Radio P3:s Musikjournalen Dans.

The experimental music company Multimood has a new compilation on it's way, called "(X) Apokalypsis Explicata", celebrating their ten years as a label. There's a wide range of music presented here, from the complex atmospheric minimalism of Asmus Tietchens; the electronic/industrial art-damaged funk of Peter Frohmader; the sensual, deep-space electronics of Vidna Obmana to the technoid electronic rhythmscape of English veterans Oil in the Eye.
Multimood is also planning for two more releases in the near future. First Brannon Hungness' solo project Face with his second album "My Spine Is the Bow That Breaks" full with electro-acoustic sound sculptures. Secondly, there is a reissue of the 1987 Controlled Bleeding LP "Between Tides" on the way later this year, remastered with additional material.

People either love our hate the Swedish smash newcomers Saft. Now their debut album "Paranoia Erotica&quot has been out for a month. They are planning to release the track "Undantag" as a single in April, together with the new song "Tillbaka till noll" and two remixes. A video for "Undantag" will be out two weeks before the single. Saft have been travelling all around Sweden on a promotional trip, which ended last friday in Stockholm at ZTV and TV4.

At the end of April electro veterans Klinik will show us a new and pefected sound on the new album "Blanket of Fog".

Numb, Click Click, New Mind and Individual Totem will be the four artists behind "O-Files 3" - four singles on one CD out in April or May.

---
Read previous news entries:
March 4 1998
February 24 1998
February 7 1998
January 23 1998
January 19 1998
January 15 1998
December 22 1997
December 10 1997