---
April 30 1998
---

The Electrocute festival in Stockholm on May 2 is cancelled. The organizer Stroke informed us on April 29. Stroke says that they will pay back the ticket money for those who have bought tickets in advance and apologize. They still intend to arrange the second Stockholm Synth Festival on November 7.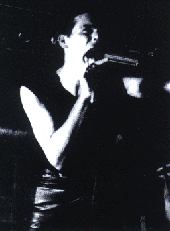 Dive.
Dirk Ivens (Dive - one of the acts that was scheduled for Electrocute) asked us to publish the following text. We have e-mailed it to Stroke and given them the chance to reply.
"Open newsletter from Dirk Ivens/Dive
In January 1998 I have been contacted by Stroke Music, run by Nils Nilsson, to play on the Electrocute festival in Stockholm on 02.05. I cancelled a gig in Paris on the 01.05 because I really looked forward to play in Sweden again. As stated in the contract, signed agreed and sended back to me in February, Stroke Music would send an advance amount at least one month before the festivaldate to book the flight tickets, which they never did.
Every fax or phonecall I did for information since then would be ignored. The last 3 weeks I was constantly in contact with Psyche and Dance or Die who were in the same position, not knowing what to do anymore as we found out from different sources that tickets still were selling. After 2 months of complete silence I received a fax on 27.04 from Stroke Music, this time another person named Christian was involved, saying the money for the tickets was on the way.
On 29.04, three days before the festival, I received a final fax from Stroke Music telling us that the festival is cancelled, no explanation, nothing.
It must be clear that Dive, Psyche and Dance or Die were hoping until that last fax to play on this festival and are very unhappy with the situation. We would like to warn people not to do any business with Stroke Music again in the future.
Hopefully we will have the possibility to work with a professional organization to come to Sweden very soon, until then we say hello to all our Swedish fans.
A lot of greetings
Dirk Ivens"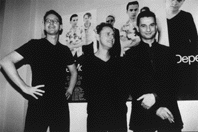 Depeche Mode at the recent press conference in Cologne where they presented their new tour.
Photo by: Hayley Madden

We published the Scandinavian Depeche Mode "The Singles Tour 86-98" dates in September the same day they were released, here on this site, but here are some more info:
They will play in Helsinki (Hartwall Arena, capacity 11 500 people), Copenhagen (Multi Hall, capacity 10 000), Gothenburg (Scandinavium, capacity 9 400) and Stockholm (Globen, capacity 12 000). The plans for a smaller tour this time with maybe just one or two Scandinavian stops were thrown away. The tickets are released on May 18.
In Gothenburg, the club Romo Night will launch a pre-party the day before the gig.
It is now around five years since Depeche Mode did their 15 months "Devotional" tour, which was visited by as much as two million people. But even more impressive - they have sold over 35 million albums throughout the years.
The compilation "The Singles 86-98" is scheduled for October, but a brand new single will be out when the tour starts. The new tour takes off in Scandinavia and continues through the rest of Europe and at the end of the year Depeche Mode goes to USA. See the Mute homepage at "Links" for a full tour schedule.

The Swedish synthpop duo Daily Planet are no longer on Energy Rekords and are looking for a new record contract.

The Smashing Pumpkins will come to Sweden and Stockholm on May 25. That is four days before the new album release for "Adore". The single "Ava Adore" will be released one week before the gig. The band will also play at, for example, The Red Square in Moscow.

The Swedish cult new romantic band Lustans Lakejer have talked about a new album for many years, but this autumn it will be released. A single is planned for the end of May. They might go on a tour after the release.


Now it is decided that there will be a Lollipop festival, also this year. In the end of July as usual, but the festival has moved to Ågesta, 20 minutes from Stockholm. Check On Stage for the artists released to date.

The electro metal band Pouppée Fabrikk have been away for a long time, but recently they played together one weekend to produce music for a Clive Barker horror drama in a Stockholm theatre called "Djävulen" ("The Devil"). Their record company Energy claims this is instrumental, pure electronic music similar to their sound in the old days. They will probably release it on a limited edition CD.
Otherwise the seven new songs Pouppée Fabrikk recorded in Sunlight Studios two years ago is so much metal that Energy have been looking for a more suitable rock company to license the album. Now they will record the rest of the album and probably release it themselves after all.

A report from Alan Wilder's management:
"Alan has again been asked to translate Recoil to the live arena, this time for 2 festivals in Scandinavia. As flattering as this is and as much as he would love to please his fans, Alan feels that the Recoil project is too complex, with it's four different guest vocalists and extended-length tracks, to take on the road. For those of you who may be disappointed, take heart in the fact that one of the main reasons live performance is not possible at the moment, is that Alan's already back in the studio working on the next Recoil album."
Soon the Recoil website "Shunt" opens. We have been asked by Wilder to translate our 3/97 cover story for usage there.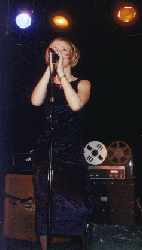 EnCounter at the More Than a Party Festival.
Photo by: Anders Wahlbom

We have listned to the new EnCounter single, "Automobile", from their debut album "Kontakt". It will be released later this spring with several good mixes, a nice old song "Grounded" in a new shape and a computer videotrack. EnCounter won the best newcomer 1997 award at Swedish Electronic Music Awards.

The EBM-band Red Butt Closeup have just delivered their debut in a limited edition of 200 copies through Moriensis Productions. Smart move since debutants in this genre seldom sell more. Moriensis have chosen to burn the CD's themselves. With this new technology we have to re-define "releasing a CD"...

A "best of"-album with OMD will show up some time later this year.

The Swedish electro group Octoberland will have to wait until June before their delayed debut album is going to be available, because their record company Zoth Ommog has moved and changed their distribution net.
Octoberland have been asked to do a remix for Leæther Strip.

---
Read previous news entries:
April 15 1998
March 22 1998
March 4 1998
February 24 1998
February 7 1998
January 23 1998
January 19 1998
January 15 1998
December 22 1997
December 10 1997