---
May 13 1998
---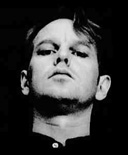 Release has made an interview with Andy Fletcher.
Photo by: Anton Corbijn

As a great fan of football Andy Fletcher from Depeche Mode visits Stockholm for the Chelsea v/s Stuttgart final play of Cup Winner's Cup on Råsunda Stadium.
- Me and some friends try to get away and follow our team Chelsea around in Europe. It is really a good way to relax and get together, says Fletch and seems to enjoy his stay in Sweden.
Chelsea-fans haven't got the best reputation but Andy comments:
- It's not really like what they write in the press. In England we bring our children along to the arena and it's not really any riots going on nowadays. The sad thing is, when a few fans get too much to drink they loose control and make a mess for everyone. I hope there will be a good game tonight without incidents.
The new Depeche Mode single will be named "Only When I Lose Myself". The band has made two more new songs, of whom one is an instrumental.
- The new single song will have a medium beat and is a beautiful lovesong. The sound will be similar to "Ultra" and Tim Simenon is the producer as well.
Andy is enthusiastic about the forthcoming tour starting in September, and he thinks it was a good idea to take such a long break without any concerts.
- The Devotional-tour nearly killed us all and now we will be back with greater strength and we are ready to give our fans a show they really will like with a lot of old material as well as the latest songs. There will also be surprises, for example songs that we haven't played for a long time.
There will be a Depeche Mode feature in Release Music Magazine 2/98 and a short story in the coming issue 1/98.

Blixa Bargeld from Einstürzende Neubauten recently visited Stockholm to perform two shows of his experimental project "The Execution of Precious Memories". The project relies upon the paying guests filling out a form with questions about their most important memories. Blixa reads the answers out loud, together with actors or writers from the country where the show is taking place. At Fylkingen in Stockholm Blixa read his part all in Swedish (!) and among his guests on stage were Swedish actor Amanda Ooms, notorious poet and writer Stig Larsson and avant garde sax player Dror Feiler. The result was an enticing mixture of poetry and music.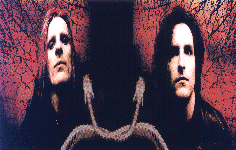 The goth duo Love Like Blood's new album "Snakekiller" is out now and they are currently in the middle of their tour through Germany, Austria and Poland. The singer Yorck Eysel has a new band together with AC from Lacrimosa - Kronos, who plays gotic metal. Lacrimosa just released the double CD "Live". Yes, good guess: It's a live CD...

The organizer Stroke has now sent us a statment regarding the cancellation of the Electrocute festival in Stockholm. They say that Electrocute was cancelled beacuse of problems with the police and fire authorities. These didn't approve the number of visitors Stroke had planned to let in. Stroke tried to make them change their decision and also looked for a new venue. They didn't succeed and therefore cancelled the festival at such a short notice. They feel sorry for the disappointment and the trouble this has caused for the visitors. They also say that there only was around 20 persons outside the venue, who wasn't informed that Electrocute was cancelled. Stroke claim that they have started to pay back pre-paid tickets and welcome everybody to Stockholm Synthfestival in November.

Another cancelled festival: The Stockholm Lollipop festival is cancelled but will be back 1999. The reasons are that the foreign artists have became to expensive and the organizers don't have the necessary time. Further more, moving the festival to a different location has turned out more expensive than expected.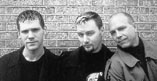 Rational Youth has a new line-up and a new single is on its way.

The synthpop legends Rational Youth has two new full time members: Dave Rout and Jean-Claude Cutz. They were recruited in the wake of the unfortunate departure of Bill Vorn. Front man Tracy Howe says:
- I was very sad to see Bill leave and I wish he could have stayed in the band, but I am very, very excited about our new line-up and I'm sure our fans will be too. Dave and J.-C. are both analogue synth geniuses, and judging by the way we are working together, the quality of our new material, and the potential of this line-up as a live act, Rational Youth are going to be better than ever.
Unfortunately, the time constraints associated with Bill's academic and electronic art endeavours would not permit a continued membership, so with Bill's blessing and support, Tracy recruited a new Rational Youth line-up in Toronto from among that city's underground electronic music scene.
Dave Rout was a long-time Rational Youth fan who is an accomplished electronic musician with numerous recording credits to his name.
Jean-Claude Cutz (A.K.A. Pupka Frey), has released three albums and has appeared on numerous compilations under the name DIN. He is also a former member of Digital Poodle.
The trio are currently hard at work on their new album, the working title of which is "To the Goddess Electricity", and they hope to have at least a maxi-single out this summer.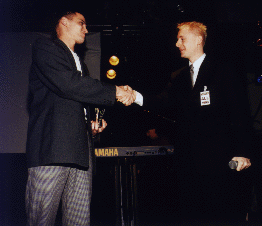 Elegant Machinery got the award for best live artist at Swedish Electronic Music Awards. Here Robert Enforsen receives the award from Alexander &quotAndroid" Hofman. Elegant Machinery will play, possibly their only gig this year, at the Tivoli Festival in August.
Photo by: Anders Ekne

The new Rational Youth line-up will make its official live debut at the Tivoli Festival in Helsingborg, Sweden, on August 1.
This new electro festival will also include Dance or Die from Germany, Covenant, Elegant Machinery, Sista Mannen på Jorden and Statemachine. The festival will have an outdoor stage, if there is a large audience and will remain inside the Tivoli venue if few tickets are sold.

Leæther Strip is currently working with "Yes I'm Limited III", a box and a new album which will be out this autumn.

On June 1 Underworld will deliver the compilation "A Perspective" - a double CD with old tracks and remixes they've made of other artist's songs. Their new album is delayed to the autumn.

Equinox is a new project of Bill Leeb and Chris Peterson. The album "Holon" is released by Zoth Ommog.

Bands always seem to find new ways to get noticed. Spiritualized plan to make a concert at Spitsbergen. Recently they played in a high tower in Toronto and they wish to make a performance in Sears Tower in Seattle, the world's highest office building...

The Massive Attack track "Angel" will be released as a single on July 6.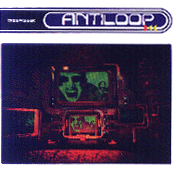 Stockholm Records has delayed two of their forthcoming albums: The new ones by Vacuum and Antiloop will not be released until the end of the summer, at the earliest.
The new Antiloop single "Tresspasser" is out now. They have cancelled their show at the Arvika Festival.

The best of-CD with OMD now has a release date: September 7.

---
Read previous news entries:
April 30 1998
April 15 1998
March 22 1998
March 4 1998
February 24 1998
February 7 1998
January 23 1998
January 19 1998
January 15 1998
December 22 1997
December 10 1997