---
June 2 1998
---

Front 242 are signed to Music Research/Zoth Ommog in Germany and today the contract was signed for a license deal to Energy Rekords for the Scandinavian market. The live album "Re:boot" will be out in the middle of July and a new single with remixes of "Headhunter" will be out in the end of the summer. Front 242 are currently working on new material and preparing new live shows.


Christian Death - a band in trouble.

On April 1 former Christian Death-singer Rozz Williams tragically hang himself. First drugs were suspected to have something to do with it, but Williams has been clean for two years. And just recently present Christian Death-drummer Steve tried to kill himself as well, but was stopped in the last second. He is being treated for psychological problems. Finally Christian Death guitarist Flick has drog problems. Christian Death are currently on tour and visited Scandinavia last week.

A rumour says that Carl McCoy, the Fields of the Nephilim vocalist, will do guest vocals on the forthcoming Dimmu Borgir album. Dimmu Borgir is a Norwegian black metal act. /Johan Astemark

The experimental/alternative/industrial record company Cold Meat Industry has started a new label called Death Factory. Three acts are signed to the label: Slogun, Sutcliffe Jügend and Anenzephalia.

Juho Korhonen, Henrik Forslund and Kim Boman have left the Swedish gothband Malaise to restart their old gothic band Beyond the Infinite who will release an album titled "Pitch Black" this autumn. The forthcoming Malaise album "World of Broken Images" will be released during or after the summer. Malaise will play at the Swedish Arvika Festival and the English Zeitgeist. /Johan Astemark

The Zeitgeist 98 festival in Morecambe on June 19-20 also features Gene Loves Jezebel, Marionettes, Sensorium and The Damned among others. Unfortunately both Rosetta Stone and Die Laughing have cancelled their visits. /Johan Astemark

We asked the Swedish Warner office about The Sisters of Mercy. They confirmed that the relations with the band are bad and that they probably won't promote their July Arvika Festival gig or release any material. They haven't actually released the "side project" either, designed to end the bands contract with Warner. Rumours say that the forthcoming Sisters of Mercy single will be titled "Summer".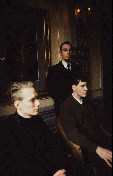 Covenant.
Photo by: Anders Ekne

The planned Swedish P3 Live radio transmission of Covenant is postponed until June 22.

The largest concert/tour organizer in Sweden, EMA Telstar, has bought the smaller organizer Motor.

This year's Zillo Festival (in Hildesheim, Germany) will take place on August 15-16 and among the headlines are The Cure, Rammstein, And One, Click Click and Wolfsheim. A line-up with 40 bands - all in the Release field of music - is impressive to say the least. More info - On Stage.

It appears that Wayne Hussey has struck up a releationship with Cleopatra Records; what that entails is not clear as of yet. He recently appeared on stage with Gary Numan, guesting on guitars. Hussey is busy producing solo-material which might appear in some form next year. /Johan Astemark

---
Read previous news entries:
May 13 1998
April 30 1998
April 15 1998
March 22 1998
March 4 1998
February 24 1998
February 7 1998
January 23 1998
January 19 1998
January 15 1998
December 22 1997
December 10 1997