---
July 27 1998
---


Dance or Die is one of the main acts at the Tivoli Festival on Saturday.
Photo by: Marcnesium

Just a reminder: The Tivoli Festival with a o Dance or Die, Rational Youth and Covenant is on Saturday at The Tivoli in Helsingborg.
Dance or Die's new album is called "Dehumanizer" (Polydor Germany).

Front 242 is heading for this year's Virtual X-Mas festival in Lund. To match Front 242:s tour plans the festival is moved to December 5. Energy Rekords and the organizer 33-45 have joined forces to make Virtual X-Mas even better.
33-45:s new Numbers Festival, only for heavy electronic music, will be held in October. No details are confirmed.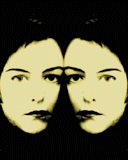 Hayce is a Swedish female trip hop project that recently signed to Memento Materia. The debut will be released shortly.

The 1998 edition of the Roskilde Festival took place on the 25th to 28th of June. The unusually strong line-up included acts like Kraftwerk, Garbage, Beastie Boys and Tori Amos. A pleasent surprise was the unexpected appearance by The Sisters of Mercy. They were the replacements for The Verve (not too popular among organizers all over Europe nowadays).
Sadly Marilyn Manson cancelled their show due to sickness. Some nasty germ had knocked out their drummer.
Kraftwerk didn't disappoint their fans and made a very appreciated appearance. The show was visually impressing and the crowd went crazy as the famous robots entered the stage at the end of the concert. But the most crowded concert was undoubtedly Beastie Boys. Though the circumstances were chaotic, their show was very enjoyable. /Erik Almgren

Marilyn Manson's new album will be released on the 15th of September. The album will be called "Mechanical Animal" and is the follow-up to the hugely succesful "Antichrist Superstar". At the same time the band's guitarist, Zim Zum, is reported to have left the band. He is about to start his own career and assures that there is no conflict between him and the rest of the band. /Erik Almgren

Sista mannen på jorden will release their debut album "Ligg tyst ett tag med" on October 26.


On September 4 Saft will deliver the single "Ditt namn i min mun" with two remixes and a live track from their Hultsfred Festival performance. This is the fourth single from their success debut "Paranoia Erotica" (which gets ten out of ten in the new issue of Release!). Four singles from one album is rare for an independent company (Eternity Records), but then again every song on the album is a potential single...
Another Eternity pop band, Float, will also release a new single in September - "The Best of You" - with a new track and a US remix.

DAF.DOS has left Stroke and are now signed to TCM in Germany and Subspace Communications in Sweden. A new single is scheduled for November 16.
Two new other singles from TCM/Subspace Communications: Cat Rapes Dog: "Down and Out" (October 19) and Covenant: "Tension" (October 26).

Front Line Assembly's new "Re-wind" is a double album with remixes from Front 242, Eat Static, Collide, the Scottish techno legends Finitribe and more. FLA will go on tour later this year.

---
Read previous news entries:
July 20 1998
June 2 1998
May 13 1998
April 30 1998
April 15 1998
March 22 1998
March 4 1998
February 24 1998
February 7 1998
January 23 1998
January 19 1998
January 15 1998
December 22 1997
December 10 1997