---
September 29 1998
---

Marilyn Manson are going on tour and they will play in Copenhagen, Oslo and Stockholm in December. Their new album "Mechanical Animals" is a success and has made it to number one in US sales charts and number six in Sweden, for example.

Finally, Elegant Machinery's new single is on its way. "Words of Wisdom" will be released on October 19, according to Energy Rekords new release schedule. The single will contain two mixes of the new title track, two re-made old songs and two exclusive songs. The compilation "Decade of Thoughts" is scheduled for November 9 and will contain ten re-recordings of old songs with a rougher edge than the original versions and three new tracks.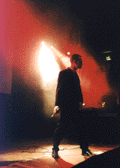 Photo by: Tomas Engin

Covenant's new "Euro E.P." and S.P.O.C.K's new single "Dr McCoy" will be released by Subspace Communications on October 26. S.P.O.C.K:s old record company Energy Rekords will re-release the compilation "A Piece of the Action" in a limited edition (2000 numbered copies) on the same date.

This is yet unconfirmed: Vince Clarke is producing a new disco-oriented dance album that includes vocal contributions and excerpted words from Tori Amos, B-52's and Reeves Gabriels. Vince Clarke is currently looking for a record deal for this project.

What does KMFDM, Berlin, Nivek Ogre, Bananarama, Rosetta Stone and Heaven 17 have in common? They are all likely to appear on "Virgin Voices: A Tribute to Madonna", to be released in February.

Nivek Ogre also appears on the new KMFDM album, just like he did on the last one. The new album is recorded but we haven't heard of any release date yet.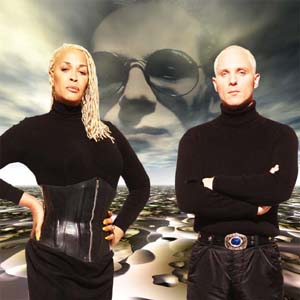 Photo montage by: Steve Double

On October 19, The Shamen's last album will be released.

Recently the second Music Fair was held in Gothenburg and it was very successful. At one of many showcases the Hultsfred Festival released their first names for next year's festival, a o Yvonne (who also performed live at the presentation), Flesh Quartet and The Cardigans.

On October 26 we can expect the re-release of Depeche Mode's: "The Singles 81-85" - re-masteted with a new cover and two new songs, according to the their record company. We suppose they mean old tracks that didn't appear on the original release of the album.

Good, old Kraftwerk are still doing concerts. Three new concerts are booked for South America in the middle of October.

William Reid of The Jesus and Mary Chain left the stage in the middle of a gig recently beacuse he thought his brother Jim Reid was too drunk. Rumours state that he has left the band permanently, but this is not confirmed.

The new band of Cevin Key (Skinny Puppy, Download) - Plateau are working on new material. They have released one album called "Music for Grassbars" as well as a double a-side single for the songs "Dutch Flowers" and "White Widow".

---
Read previous news entries:
September 13 1998
August 24 1998
August 15 1998
August 3 1998
July 27 1998
July 20 1998
June 2 1998
May 13 1998
April 30 1998
April 15 1998
March 22 1998
March 4 1998
February 24 1998
February 7 1998
January 23 1998
January 19 1998
January 15 1998
December 22 1997
December 10 1997