---
November 18 1998
---

On April 3 next year, the second Swedish Electronic Music Awards will take place in Gothenburg. Release is one of the forces behind Swedish Electronic Music Awards and the awards are based upon our readers poll.
The live program is released here and now for the very first time! A large part of this News edition is dedicated to Swedish Electronic Music Awards because of this. The Swedish Electronic Music Awards press release will not be sent out to other medias until Friday.
A dozen strong bands will perform during the Swedish Electronic Music Awards night: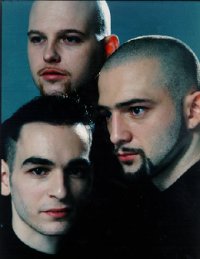 And One cancelled their visit at the last Swedish Electronic Music Awards and they will show up next year instead. They have the new album "9.9.99 9 Uhr" out since this summer. And One is an impressive live act with an impressive song catalogue with music ranging from hard EBM via catchy synthpop to beautiful ballads.
DAF.DOS is dead - long live DAF! It's the classic line-up with Robert Görl and Gabi Delgado that will visit Swedish Electronic Music Awards and play good old hits. The short reunion in connection to the rereleases of the three DAF albums "Alles ist gut", "Gold und Liebe" and "Für immer" sparked a definite reunion. So now, the real DAF is back on track again working with new material which they hope to release in the beginning of 1999.
Another classic band is back - in their case after a long, long sleep. The legendary Swedish pop duo Nasa gained huge success in Sweden back in the eighties with hit singles like "Paula", "Take off Your Clothes" and "The Bird". Just like DAF Nasa woke up in connection to rereleases of old material. Earlier this year Memento Materia released a compilation called "Echos Down the Hall" and the band members have now started to produce new material for a new album to be released in a few months time. Except for one small club gig recently the Swedish Electronic Music Awards performance will be their first in many, many years.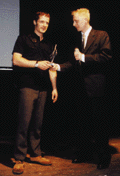 S.P.O.C.K recieved the best album 1997 award.
Photo by: Anders Ekne
Nasa was the largest synthpop group in Sweden back during their time and the largest synthpop group of today will show up as well. The band behind the best album 1997 S.P.O.C.K is an obvious choice for a party like Swedish Electronic Music Awards. This gig will be probably be their first after their new album is released next year.
Statemachine is a new star on the Swedish electro scene. They try - and succeed - to make really modern electronic pop music. They mix ordinary dark synthpop with the high-tech rock sound of bands like Garbage, U2 and The Smashing Pumpkins. Statemachine's debut album in a second, updated - heavier and harder - version is out now and they are currently working on the follow-up.
We also want a local band to play and invited the Gothenburg quartet Kiethevez to play. Like Statemachine they make their modern version of synthpop, but with a bit calmer sound. And yes, they are also working on a new album which we hope will be out before Swedish Electronic Music Awards.
Headtrip Inc will try to satisfy those who love heavy, rough electro. Even though industrial music in the tradition of Nine Inch Nails and Skinny Puppy is big in Scandinavia, few bands play this music. Headtrip Inc do. The experienced members play/have played in bands like Cat Rapes Dog, Lisa Gives Head and Forevergreen. Headtrip Inc have no record contract and we want to give demo bands the chance to perform in front of lots of people, record companies and media.
Another small band is the extreme powerful noise/industrial band Institut. They will play at scene 3 together with a yet-to-be-booked band.
Release is much more than just electronic music and a new part of Swedish Electronic Music Awards next year will be gothic music. Three of Sweden's best goth acts will play and at least the little more poppier Funhouse can surely be appreciated by lots of electro people. Their new album "The Second Coming" is out soon. The other two bands are veterans Dawn of Oblivion and newcomers The Mist of Avalon.
You Release Music Magazine reader and/or website visitor are most welcome vote for best album, song, live artist, artist and newcomer of 1998 in the next issue of the mag. And a new thing: you will be able to vote fast and easy here on this site through a form from January 1. Unlike lots of other year poll organizers we want the year to end before the voting starts... As usual we will give away 15 Swedish Electronic Music Awards entrances and 15 CD:s among those of you who vote! It's all you people out there that decides who will win - not any silly expert jury of music business people. Don't miss this chance!
On request we will this time release position 1 to 4 before Swedish Electronic Music Awards take place - not in order, of course. The exact positions will be presented at Swedish Electronic Music Awards and the winners will recieve the award from Marina Schiptjenko's hand. Marina is a member of Vacuum, was a member of Page and runs an art gallery in Stockholm.
Like this year, another magazine, Musikermagasinet - MM, will give a price to the best Swedish synth innovation and there will be lots of other activities like disco, merchandise, music cinema with classic and rare video clips, give-aways etc in three floors at the venue Kåren. We hope that the whole electro scene will meet and party like this year. Except for all people almost every Swedish record company, band, organizer, media etc in the genre will attend.
Swedish Electronic Music Awards tickets are on sale from November 30 at the price SEK 280 (plus fee). The amount is very limited and last year's Swedish Electronic Music Awards was completely sold out. Soon detailed info will be published at the official Swedish Electronic Music Awards site. Here at Release On Line we will publish news and changes, but not every practical detail - except for the voting of course.
Swedish Electronic Music Awards is organized by John Glenn Inc, Romo Night and Release Music Magazine.

A new record company is born. Dependent is built by Stefan Herwig (ex-Off Beat) and one member each from Covenant, VNV Nation, Suicide Commando and Velvet Acid Christ. These four bands will be the company's repertoire to start with.
Dependent will focus on quality and not quanity. Stefan Herwig explains:
- The strategy of mass release campaigns of most of the companies around, hurt the market significantly, and created a confusing flood of mediocre products. Therefor we will rely on ourselves to do the opposite of what most of the independents do, thus the name...
On the other hand his old company Off Beat announced the same policy when they started. Their latest label compilation contains 27 bands...
The first Dependent release due to be out on January 25, will be a limited compilation titled "Septic" with the four label bands as well as Click Click, Wumpscut and Numb. Following this on March 1, Dependent brings out its first album release, "Fun With Knives" from the US act Velvet Acid Christ. This release will include a limited edition comic, from Bryan Erickson, the mastermind behind VAC.

American label Invisible Records have recently released "Origin of the Species", the first in a series of three double CD:s intended to document the 1988-1992 acid house epoch of Psychic TV. The compilation contains some previously unreleased remixes and live recordings.
Invisible have also released yet another live album by the Martin Atkins led collective Pigface, this time with the subtle title "Eat Shit You Fucking Redneck". It was recorded during a recent North American tour, and among the participating artists are Chemlab vocalist Jared, Martin King of Test Dept, F M Einheit and Genesis P-Orridge. /Kristoffer Noheden

---
Read previous news entries:
November 10 1998
October 28 1998
October 14 1998
September 29 1998
September 13 1998
August 24 1998
August 15 1998
August 3 1998
July 27 1998
July 20 1998
June 2 1998
May 13 1998
April 30 1998
April 15 1998
March 22 1998
March 4 1998
February 24 1998
February 7 1998
January 23 1998
January 19 1998
January 15 1998
December 22 1997
December 10 1997