---
Oktober 14 1998
---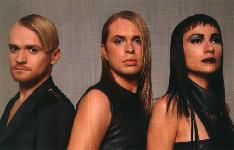 Vacuum's second album "Seance at the Chaebol" will not be released this year, although the recordings have been finished for a long long time. The band want to make some changes. There might be a single out in November or December and the album will show up in January at the earliest.

On October 23, And One's new tour starts in Nordhausen, Germany. S.P.O.C.K will play a short set before all the 25 gigs.

Even though the trend with electronic music compilations has faded, these CD:s do show up now and then. Next week, the small record company Mellotron's new compilation CD "Identities" will finally be out. Established bands like Mesh and Beborn Beton share the CD space together with newcomers like Project X and Le Passage. All the nine artists appear with two tracks each.

In the last News entry we spoke about the re-issue of Depeche Mode's "The Singles 81-85", to be released on October 26. Now we know that the two extra tracks, not included on the original version, are "Just Can't Get Enough" Schizo Mix and "Photographic" from the classic "Some Bizarre" compilation - a hit, at least live, even though it never was released as a single. The compilation will be avaliable in CD, double vinyl and MC formats.
At the same date Mute re-releases "Some Great Videos 81-85" with a selection (thank God!) of ten videos from that era. The charming "Just Can't Get Enough" video clip is the only one from the first two albums.

Covenant returns to USA for a 14 gig tour between this Friday and November 7. In connection to the tour, the new "Euro EP" will be released with new mixes of "Tension" and "Go Film" as well as the new track "Consumer". Covenant - and Wumpscut - have also made remixes on the brittish EBM-duo VNV Nation's new "Solitary EP" released by Off Beat (and Energy in Scandinavia). The story tells that it was Eskil Simonsson of Covenant that recommended VNV Nation to Off Beat.

The productive KMFDM has completed a new album, which is said to have a radically different sound than the last one. As usual there are several guests on the album. This time Nina Hagen, Nivek Ogre, Tim Skold and Bill Rieflin have contributed. KMFDM has left Wax Trax and must find a new home before any release date for the album can be set.
In the meantime there will be two compilations on November 17: "Agogo" that contains previously unreleased and hard-to-find material and "Retro" - a kind of greatest hits 1986-1995 compilation.
Another release: Next year KMFDM:s debut album "Opium" (which was originally only released in cassette format) will be pressed in CD format and re-released.
Finally, rumours indicate that KMFDM has helped Spice Girls to record a track in their Seattle Studio X.

---
Read previous news entries:
September 29 1998
September 13 1998
August 24 1998
August 15 1998
August 3 1998
July 27 1998
July 20 1998
June 2 1998
May 13 1998
April 30 1998
April 15 1998
March 22 1998
March 4 1998
February 24 1998
February 7 1998
January 23 1998
January 19 1998
January 15 1998
December 22 1997
December 10 1997