---
December 29 1998
---

The famous Swedish new romantic band Lustans Lakejer will release their first album in many, many years on February 5. The album called "Åkersberga" is recorded and we have recieved a preliminary copy. The music is best described as modern, at the same time retro sounding, romantic pop in the classical Lustans Lakejer style. The single "En natt som denna natt" came out last summer and the song is included on the album, as well as the new single "Kylan ligger över hela stan".
There are also plans for CD re-issues of the first albums, with remastered sound.

Eternity Records (Saft, Float) has signed a new band called Sizzy Prozak. Their music is like a heavy mixture of two very different band's: Marilyn Manson and Depeche Mode.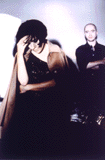 Mono.

Check out the dark and cool soundtrack for the new "Psycho". Gus Van Sant has made his version of the 1960 Hitchcock cult classic. Among the artists included on the CD are Mono ("Madhouse"), Rob Zombie ("Living Dead Girl"), Pet Shop Boys ("Screaming"), Lamb ("Fly"), Lionrock ("In the End") and Howie B ("Once Is Not Enough"). Several songs include samples from the original Bernard Herrman score.

Another fresh record deal: The major company Telegram (Warner) in Sweden has signed a band called Backlash. Backlash is two young men from Lidköping in Sweden. They try to develop the electro sound with break beats and dance elements. Their music is instrumental, but they are currently looking for singers. We have heard the debut four-track EP which will be released in the end of this Winter. Look out.

Heard of the Gothenburg dance label Dot? There is actually another Swedish Dot - the Örebro based record company who works with christian music.


Steve in And One on their latest German tour.
Photo by: Jens Krause

S.P.O.C.K and And One have completed their German tour with around 20 gigs. The last one was in the soldout Berlin Columbiahalle with 3000 people in the audience. S.P.O.C.K will play at least two gigs at the Venue festival days and has now continued to work with their fourth album "S.P.O.C.K: 1999".

There will be a second More Than a Party festival in Uppsala, Sweden next year (February 20). Mobile Homes will headline the event. The band is currently working with their new album "Sport Olympics" in the classic Polar Studio (Abba) and they hope to deliver a new single sometimes during the first months of 1999.

The Brittish record company Warp has shared their future plans with us. On February 22 the new Jimi Tenor album "Organism" arrives. Nightmares on Wax will be back with a new album 1999, but no release date is set. Another dance label, Ninja Tune, gives us Coldcut's new "Let Us Replay" on January 26 and CD:s with The Herbalier and Funki Procini sometimes next year, probably during the first half.

News from the American atmospheric music label Project: In January, Black Tape for a Blue Girl's new "As One Aflame Laid Bare by Desire" will be out. In February, Attrition returns with "The Jeopardy Maze". Project will also release the compilation "A Cat Shaped Hole in My Heart" with artists doing songs about their kitty cats (!).

---
Read previous news entries:
December 14 1998
December 6 1998
November 28 1998
November 18 1998
November 10 1998
October 28 1998
October 14 1998
September 29 1998
September 13 1998
August 24 1998
August 15 1998
August 3 1998
July 27 1998
July 20 1998
June 2 1998
May 13 1998
April 30 1998
April 15 1998
March 22 1998
March 4 1998
February 24 1998
February 7 1998
January 23 1998
January 19 1998
January 15 1998
December 22 1997
December 10 1997