---
December 6 1998
---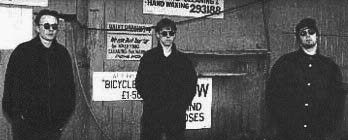 Here is the release dates and titles for two forthcoming Mesh releases. February 1, "People Like Me (with This Gun)" (single) and February 22, "The Point at Which It All Falls Apart" (album). The single will contain "People Like Me (with This Gun)", "Trust You" in a mix and one exclusive song, "Waiting for Someone".

SubSpace Communications (S.P.O.C.K, Covenant) will open a US office in Miami and a US website on January 1. SSC has involved four people to run their business in North America.

The "new" Front 242 "Headhunter 2000" in all its different configurations has been out for a while, but the future of the band is very uncertain. The four band members will meet now in December to discuss the situation.
The Front 242 sideproject Nude has been a part of a Hugo Boss tour in USA and central Europe together with the drum'n'bass-DJ:s/-acts Grooverider and Terranova. Boss is planning some more similar shows in Scandinavia for next year, but no definte plans are made.

"Profits of Doom" is the working title of the next, tougher, Type O Negative longplayer. No release date is set yet.

"The Greatest Commandments - a Tribute to Camouflage" is about to be released after many delays. It contains 15 bands that pay homage to the famous German synthpopband. Equatronic, Daybehavior, Kliché and Novelty are included together with lots of (even) lesser known bands.

Live recordings of And One and Elegant Machinery will be broadcasted by Swedish National Radio P3 on December 21.

Members from Fear Factory and Rage Against the Machine will appear on the next Atari Teenage Riot album.

A new label and a new band. The American Brain Surgery Music celebrates their launch with the first release from the Baltimore techno/industrial/electro duo Urania. Urania is George Hagegeorge from Under the Noise and vocalist Melissa Sharlat. The album "Initiation" is out now.

---
Read previous news entries:
November 28 1998
November 18 1998
November 10 1998
October 28 1998
October 14 1998
September 29 1998
September 13 1998
August 24 1998
August 15 1998
August 3 1998
July 27 1998
July 20 1998
June 2 1998
May 13 1998
April 30 1998
April 15 1998
March 22 1998
March 4 1998
February 24 1998
February 7 1998
January 23 1998
January 19 1998
January 15 1998
December 22 1997
December 10 1997