---
January 28 1999
---


KMFDM's Sascha Konietzko issued a statment last Friday that the band is dead. They will give no further statements until March 1, a date that would mark their 15th anniversary. Their last (?) album "Adios" will be released on April 13.

Mute Records will rerelease lots of Throbbing Gristle albums. During their existence from 1975 to 1981, the classic industrial band recorded five highly influential studio albums, but their true powers always lay in the live performances. They recorded all 36 of their live appearances (!) from which four CD:s was complied using the best recordings. These and other CD:s (a total of 13) will be rereleased on May 3.
Now in January the new book "Wreckers of Civilisation - The Story of COUM Transmissions and Throbbing Gristle", is released. Written by Simon Ford, it tells the story of the two interconnected groups: the performance art group, COUM Transmissions and the band Throbbing Gristle.
Psychic TV featuring former Throbbing Gristle member Genesis P-Orridge, Alex Fergusson and friends will be appearing live in London on May 1. There is a chance this evening also features the original line-up of of Throbbing Gristle.

In the latest News edition we talked about New Order's side projects. Here is some more details. The new The Other Two album will be released shortly and has the title "Superhighways".
Bernard Sumner will be a guest on the next The Chemical Brothers album as well as Noel Gallhager. The album is scheduled for a May release. His Electronic will first deliver the single "Vivid" in March, before the new album.
Monaco have already booked some festival dates for this summer like Reading in England.

The new Ministry album "Dark Side of the Spoon" will arrive shortly. People who have listened to the album say that it's strong and the sound is more similar to the one of "The Mind Is a Terrible Thing To Taste" and "Psalm 69", than "Filth Pig". We have no exact release date, but it will probably be in February or March followed by a tour. It's not a wild guess that Ministry will appear at some festivals this summer as well.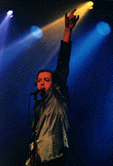 Photo by: Tomas Engin (Release)

The next Saft album "Bypass" will not be released until April, but 10 songs are recorded. A track we have listened to, "Formalin", shows that their sound is similar to the one on their debut, but has become more conventional with drums and guitar and less electronic.

The major company merger between Universal and Polygram is moving closer. This is one of the largest corporate shakeups in music business history. Seagram that ownes the Universal Music Group with Geffen, Island, MCA, Mercury and others has newly purchased Polygram Music. Now Seagram has announced that they will restructure heavily and hope they can create the strongest record company in the world with something like 25 percent of the world's music market. Few details have leaked out, but rumours talk about that artists that can't sell 200 000 copies of an album and 3000 employes will be fired.

Trent Reznor continues to make remixes and work with other artists instead of doing what the alternative music world is waiting for - a new Nine Inch Nails album. The latest Reznor project is a song collaboration with Sister Soleil for the movie "Stigmata". Reznor has also been asked to mix some material from The Good, the Bad and the Ugly.

The new Alphaville mega box "Dreamscapes" is a huge project: 8 CD:s with 125 tracks - 9,5 hours of music. 43 tracks are previously unreleased. Lots of demo versions, live recordnings, solo experiments and mixes are included. The band, nowadays only a duo, have made everything themselves including the cover. The box is released in a limited edition of 1000 copies and can, so far at least, only be ordered from their homepage.
The single "Flame" was released in USA this month. The band is currently on tour and after that they will start preparations for their next album.

---
Read previous news entries:
January 15 1999
January 5 1999
December 29 1998
December 14 1998
December 6 1998
November 28 1998
November 18 1998
November 10 1998
October 28 1998
October 14 1998
September 29 1998
September 13 1998
August 24 1998
August 15 1998
August 3 1998
July 27 1998
July 20 1998
June 2 1998
May 13 1998
April 30 1998
April 15 1998
March 22 1998
March 4 1998
February 24 1998
February 7 1998
January 23 1998
January 19 1998
January 15 1998
December 22 1997
December 10 1997