---
January 15 1999
---

For friends of New Order, 1999 will be an extremely interesting year. First New Order have decided to record their first album since "Republic" from 1993. The band members made the decision after participating in a BBC talk show. No details have been released. Obviously the fear for a complete split-up is gone. Secondly not one, not even two - but three of their side projects will deliver records this year. In February, Stephen Morris and Gillian Gilbert releases a new The Other Two album. In March, Bernard Sumner shows up with the third Electronic album, called "Twisted Tenderness". The fourth member, Peter Hook, is currently working in the studio with the follow-up to his Monaco debut. If this wasn't enough, there are plans for a new New Order compilation, this time a combined New Order-Joy Division compilation.

Another British pop band, Gene, will release a new album on February 22.


The Cardigans live in Sweden.
Photo by: Mikael Kahrle (Release)

After their fourth sucessful album "Gran Turismo", it's time for The Cardigans to tour the world. The Swedes will start with USA in February, followed by Japan in March and then Europe from March to May. Another Swedish band, Kent, will play with The Cardigans in the States and Scandinavia. There is an obvious connection between the bands in Paus, a collaboration between Kent's Joakim Berg and The Cardigans' Peter Svensson. On the Scandinavian leg of the tour, a third band will join the two others - Barusta. The cool video for the second "Gran Turismo" single, "Erase & Rewind" is spinning on TV right now.
The tour with The Cardigans is a step further for Kent (one of the most famous rock bands in Sweden) to get famous in the rest of the world as well. In August a seven month period of tours and other activities in Scandinavia ended. The group has then been busy with gigs and promotional activities abroad, connected to the English version of their latest album "Isola" - the first international Kent album. In December they played in USA and in January they will perform in the UK.

One of the leading Scandinavian music festivals, the Arvika Festival in Sweden have released some details for this summer's event on July 16 and 17. 9000 tickets (for SEK 520 plus service fee each) will be avaliable from February 1. In the middle of April the first live acts will become official. Last year's festival with The Sisters of Mercy, Moby, Kent, S.P.O.C.K and lots of other alternative artists was a huge success and completely sold out.

Swedish punk, rock - and nowadays industrial - icon Thåström will start recordings of a new solo record in April. He has decided to make a more conventional rock solo album with lyrics in Swedish after three industrial albums with his band Peace Love and Pitbulls. The bass player and drummer of Whale will assist him.

Now we know more about Nasa's comeback album. "Remembering the Future" is the title and the album and a single will be released in late winter/early spring. The music is electronic pop with influences from drum'n'bass and jazz. In April, they will be one of the headlines at the Swedish Electronic Music Awards.

Nasa's record company, Memento Materia, will compile a best of CD - "Retrospective 88-99" - with the German EBM band X Marks the Pedwalk scheduled for a February release.

The 3 CD box with Gary Numan from Eagle Records has been delayed and no release date is set yet.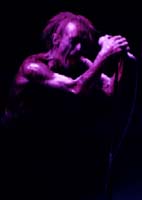 Das Ich visited Sweden and Virtual X-Mas in December.
Photo by: Anders Ekne (Release)

The new Das Ich album "Morgue" will be licensed to Scandinavia by SubSpace Communications shortly.

Another delayed release: Malaise have experienced technical problems during the recordings of their next album. It has now been delayed for 1-2 years - will it ever show up?

The new Drown album named "Product of a Two Faced World" will be out during 1999.

New romantic duo Second Decay are preparing their next album, "Hotel", which will be out in February on their own label Quiet Men Records. In March they will rerelease the album "Taste". Tour plans are on the way and for example they hope to play in Scandinavia in March. Quiet Men will also sign one or two other bands.

---
Read previous news entries:
January 5 1999
December 29 1998
December 14 1998
December 6 1998
November 28 1998
November 18 1998
November 10 1998
October 28 1998
October 14 1998
September 29 1998
September 13 1998
August 24 1998
August 15 1998
August 3 1998
July 27 1998
July 20 1998
June 2 1998
May 13 1998
April 30 1998
April 15 1998
March 22 1998
March 4 1998
February 24 1998
February 7 1998
January 23 1998
January 19 1998
January 15 1998
December 22 1997
December 10 1997