---
---


S.P.O.C.K 1999. From left to right: Christer "Crull-E" Hermodsson, Alexander "Android" Hofman and Johan "Yo-Haan" Malmgren.
Photo by: Bo Magnusson.

This week a new and slightly different S.P.O.C.K is back with their fourth album "S.P.O.C.K: 1999". The title is taken from the sf TV-series "Space: 1999".
- And of course, since we show up with new albums about every second year, the next album will be called "S.P.O.C.K: 2001 - a Space Odyssey" laughs frontman Alexander "Android" Hofman.
S.P.O.C.K is Sweden's largest synthpopband and the largest synthpop export as well. The band that started as a fun project at a birthdayparty eleven years ago has developed into something bigger and better. S.P.O.C.K is still is mainly about having a good time together with the listeners and the audience, but at the same time Hofman is very eager to point out that S.P.O.C.K are no clowns and it is a serious project who has the members' full attention. This subject is dealt with in the album song "Star Pilot on Channel K": "Pleasing is our aim, this is not a game".
The new album is more varied, mature and complex than the previous three. The sound is deeper, there are lots of details and two songs are over six minutes.
- When I listen to the album I really feel that we could have done so much more with the previous ones, Hofman speculates. This time we have worked hard with each and every song. Earlier we approached new songs in a very straight-forward manner, but now we have returned to the tracks several times in order to change and improve stuff over and over again. This is without a doubt the best album we have made.
1999 marks a new start for S.P.O.C.K. They have a new album, they have improved their sound and changed their outfit to newly designed silver space suits inspired by those used in the film "Contact" and designed by Annelie Bertilsson from Cat Rapes Dog with assistance from Hofman. But the most influential change is that S.P.O.C.K has two new recruits. Johan "Plasteroid" Billing and Eddie "Cpt Kirk" Bengtsson left the band 1997 and 1998.
- But Bengtsson is still a friend of ours, Hofman says. He trains martial arts in the same building as our studio and he drops in from time to time. One song on the new album is partly written by him. The new members are Johan "Yo-Haan" Malmgren from the sleeping synthpop trio Elegant Machinery and keyboard wizard Christer "Crull-E" Hermodsson.
- They are fantastic, Hofman claims. They have proven to be able to give S.P.O.C.K more than I could have dreamed about. I think I work hard with S.P.O.C.K, but Christer is so productive that he makes me feel really lazy. He has been involved with all kinds of music - jazz, dance music and even the background music for a horse show at the Olympic Games in Atlanta! But never synthpop. It gives S.P.O.C.K a fresh injection. Christer was actually at that famous birthday party in the beginning, so obviously he knows our roots. And Johan is a great song writer, keyboardist and he has also proven to be a good singer. We are a great team.
Read more about S.P.O.C.K's forthcoming touring activities and the US launch for S.P.O.C.K in our next News entry.

Nothing Records announces that there in fact will be a new Nine Inch Nails album during 1999. It will be a double album - which of course is the least you can demand after this long period of waiting. Rick Rubin, Adrian Belew, Mick Garson and Bill Rieflin are all involved in the production.
Nine Inch Nails will be one of the participants on a new Nothing sampler. Trent Reznor has collaborated with Ice Cube on one track. /Kristoffer Noheden, Mikael Kahrle


The Swedish duo The Northern Territories have released a third, twelve track album, entitled "Satellite People" (picture). It is said to contain both uptempo clubhits and slow moody ballads, which used to be their hallmark. The Northern Territories have received high grades in Release before, for their first two albums. The Swedish company Hawk/Scandinavian Songs will probably license the album, but they have not decided for sure. /Niklas Forsberg, Mikael Kahrle

Another band that plan to deliver a new album this year is good, old The Cure - despite some rumours. /Kristoffer Noheden, Mikael Kahrle

Gabi Delgado is now on his own in DAF.DOS who changes their spelling to DAF/DOS in connection to the new album "Der DAF/DOS Staat" with songs in English, German and Spanish. But first - on March 29 it's time for the new single "International Song".

The Swedish media giant Bonniers plan to start a big record company. The plans may have to do with the current success of Swedish music throughout the world and the lack of new really big, new company in Sweden. The world's music market - and Sweden's - is dominated by only a handful of companies.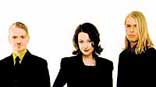 Still no word about the next Vacuum CD.

The just married companies Universal/Polygram will release an impressive flow of releases now when they are ready to take off. On March 8 one album and two singles worth mentioning will show up. Smiths-sound-a-likes Gene's new "Revelations" is the album we're talking about and the trip hop/drum'n'bass duo Lamb's "B-Line" and techno/ambient act Orbital's "Style" are the singles. Lamb's new album "Fear of Fours" will be released on May 10. Orbital's "The Middle of Nowhere" on April 5.
The Swedish label Stockholm is a part of Universal/Polygram. We still haven't seen any release plans for their new, second Vacuum album "Seance at the Chaebol", which recordings where completed last spring. No plans have been released for the new Antiloop album either. But the wave/synthpop group Playground Intl's debut album "Swallowed By..." is scheduled for May.
Other artists who soon will be back with new releases at Universal/Polygram/Stockholm and perhaps doesn't fit perfectly in our profile are Texas, The Crannberries, LPC, The Beautiful South, Armand van Helden, Echo and the Bunnymen, Suzanne Vega and Earthbound.

The largest independent company in Sweden, MNW, has lost their managing director Jonas Sjöström. He has been with the company for 21 years. He fears that MNW will be sold to a major company and as a solution to the company's problems he suggested a collaboration with the German indie Edel. This was rejected by MNW majority owner Traktor that now wants to restructure the company.

A new festival is born. In Sweden Stockholm Open will be organized on April 2 as the first major indoor rock festival in Sweden. There will be mainly Swedish artists like Yvonne and Broder Daniel. The organizers plan for several thousand visitors this year and 10 000 next year. See On Stage.


New releases through the German distributor/label Nova Tekk include the new Second Decay album, "Hotels" (Quiet Men Recordings) and Wumpscut's "Totmacher", which is a double remix CD including remixes from bands like Covenant, VNV Nation and Haujobb. A Wumpscut album with new songs will be released in April. /Niklas Forsberg

Albion Venables is a new member of Statemachine. Their new single "Battered and Bruised" is released this week (Monday).
---
Read previous news entries:
February 18 1999
February 12 1999
February 6 1999
January 28 1999
January 15 1999
January 5 1999
December 29 1998
December 14 1998
December 6 1998
November 28 1998
November 18 1998
November 10 1998
October 28 1998
October 14 1998
September 29 1998
September 13 1998
August 24 1998
August 15 1998
August 3 1998
July 27 1998
July 20 1998
June 2 1998
May 13 1998
April 30 1998
April 15 1998
March 22 1998
March 4 1998
February 24 1998
February 7 1998
January 23 1998
January 19 1998
January 15 1998
December 22 1997
December 10 1997