From what started off as a small celebration for independent music stores in the US in 2007, and the UK later, Record Store Day has turned into a worldwide celebration of the remaining record stores, vinyl and in a larger sense, the independent music scene.

This year, in London, the Record Store Day was celebrated all across the metropolis, but in Berwick Street especially, where a hub of London's collection of record stores remains. A special stage was set up in the middle of the street, with traffic closed off for the day, while other stores off the main street celebrated with DJ:s, artists and live performances, alongside specially created products for the day. Just and example: Röyksopp released i vinyl single of their and Susanne Sundfor's "Ice Machine" cover just for this day.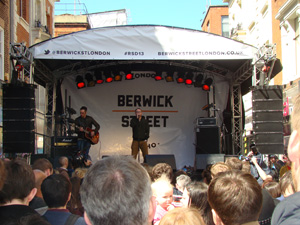 Acts performing across the capital included Paul Weller, Two Many DJ:s, ex-Beta Band member Steve Mason, Little Boots (pic), and Planet Mu taking over a record store completely for a day, with legendary acts such as Luke Vibert and the label boss, Mike Paradinas performing. This list does nowhere near do justice to the amount of events going across the city, and in fact the country, on the day – but it gives a flavour of some of the acts Release readers might have liked.
With so much emphasis placed on downloads these days, it is refreshing to see that this year marks the sixth year-on-year increase in vinyl sales – and with Record Store Day bringing more and more people back in touch with the music, long may it continue to do so.
Pictures by: Mike Whyte