Release had an opportunity to speak with Graham Crabb, original member of Pop Will Eat Itself (PWEI) as drummer, vocalist and songwriter, backstage before a gig in Camden, London.
PWEI started in England 1986 as a guitar driven outfit with witty lyrics using hooky pop culture references tracks. For their genre, they still have an industrial electronic following in dance clubs. Their live show today has the same intensity of those tours back in the early 1990:s.
Pop Will Eat Itself got a some mentions here in Release Magazine when they reformed for a short UK tour and brief recording sessions. The band formally split in 1996, after amounting sizable band peer fans with only five studio albums in total.
Their industrial mosh lineage brought them in contact with the like of The Wonder Stuff, Gaye Bykers on Acid, Flood, Nine Inch Nails and they had a co-writing collaboration with The Prodigy. PWEI's remixers include Jim Foetus, The Orb, Youth, Apollo 440 and Die Krupps. PWEI were signed to Trent Reznor's Nothing Records when their seminal album "Dos Dedos Mis Amigos" was released in 1994.
"A good bunch of fellas"
With 25 years of existence now, a 2005 rebirth with a mini tour of UK, and a new record out, maybe you can give us a bit of background?
- The new album is titled "New Noise Designed by A Sadist", it is out since October of last year. It includes myself as remaining original member. We're doing a second tour now – an earlier UK tour was in October 2011. Our new single 'Disguise' was just announced as single of the week by BBC Radio 6 Music. Tonight's the last stop on the tour in London.
Will you take the tour out of UK?
- Hopefully if it can be financed. We did quite a bit in USA, Canada and Australia before and like to get out there again.
If I can touch on a bit of the band's past, a subject of great interest to our readers (in the electro-industrial genre), is the period when you were signed to the NIN Nothing label. Can you speak of these recordings and the aftermath of that?
- The last album we did was "Dos Dedos", I think on his label and he (Trent) was a big Poppies fan. That was the last record of the original line-up. The last album is consistent with the new album but it's a bit heavier. "Dos Dedos" was about the heaviest sounding record we've done to date.
Yes, "Dos Dedos" had a polarized sound with 'Everthing's Cool' and a bit more ambient on the side of "Cape Connection" on the remixes on the "Two Fingers" collection. There are two angles there… Since that time you've been involved with music and your more recent project was Vile Evils, can you speak about the formation of the band and why it's not in existence anymore?
- The band; myself with Fuzz Townsend and Adam Mole – two other members of PWEI. It was a bit more electronic, less guitar driven. We did four singles, but really my real desire was to go back to PWEI and a the heavier sound. So Vile Evils split just after just the four singles, and then I took on the PWEI project.
This reincarnation of the band is with the blessing of Clint Mansell. The band is furthering its name today without any issues between the former band members now.
- Ya, we all get along well. After the 2005 reformation gigs, the idea was that we were to do another PWEI record and then it became difficult as band members had other commitments, such as Clint Mansell was too busy with his soundtrack work. Then there were a couple of other attempts but it didn't work – with people's work, family and commitments, so it became clear that the line-up that was, never would be again. The only option was to get a new line-up together, which the old members were perfectly happy with.
It's unique that band members move on amicably.
- Well I went and sat with Richard (PWEI member Fuzz Townshend) for a drink lately. I saw Clint on my last trip to LA. Adam (Mole of PWEI) was at one of the gigs recently. It's a good bunch of fellas.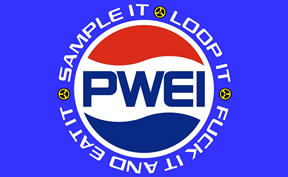 Legs of its own
It's been roughly seven years; has there been any surprise outside interest that you didn't see coming?
- Not to that point, once we got the new record out, it has legs of it's own. We have to stand on our own two feet and whether we get offers to do this and that depends on whether people think we've made a good record or not.
Now that you have distribution from Metropolis Records in USA, have you had any feedback stateside since the new album was released in October?
- Not yet, we're hoping to get out there as I mentioned before. I heard there was a possibility of a tour with Lords of Acid (a pause).
That would be a strange ticket, ya… (laughs).
Focusing on some of your remix work for the last five years, you did one for Al Jourgensen of Ministry, how did that come about?
- I think Mary (Byker, member of PWEI) also did a remix on that one as well. Through a guy, Chris Kniker, who does various managerial things, he knows those guys and was asked to put a team together for the remix project ("Sex-O Mixxx-O"). I did the RevCo one: "Keys to the City (Invincible Mix)".
And also a remix for KMFDM (Vile Evil's "Pop Will Eat This" mix of the song "Bitches" ), do you have any dialogue with Sascha from the band?
- No, I haven't been paid for that yet, I'm not sure what the dialogue would be if we did have words, it might be interesting…
Well they do play Europe quite often you know, so maybe…
I know the new album cover brings up a ghost-like images of previous PWEI records.
- Yes, that's still the work of Ian from The Designers Republic. It's good to have that continuity.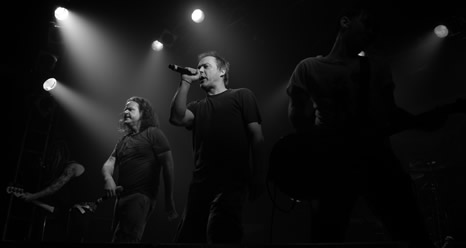 This and main photo: Pop Will Eat Itself live in Camden 2012.
Photo by: Alex Veronac
Can you tell the fans about the new line-up? They're all on the new record and appearing tonight live.
- Jason Bowld as I mentioned is a drummer in a band called Pitchshifter, an industrial type band. Our guitarist is Tim Muddiman who plays in Gary Numan's band, also in the band Sulpher (Release News piece here). And we've got Mary Byker, vocals, originally from a band called Gaye Bykers on Acid, and later Apollo 440. He has worked with Ministry and the industrial supergroup Pigface. And we've got Davey Bennett on bass, who plays for a band called This Burning Age. And myself and that makes up the band.

Footnote
Clint Mansell was vocalist and guitarist in Pop Will Eat Itself. He works as a movie score composer and have made music for numerous films including "Black Swan", "The Hole", "The Wrestler" and "Requiem for a Dream". "Requiem for a Tower" is a reworked version of "Lux Aeterna" from "Requiem for a Dream" which has been used in many places, including the "The Lord of the Rings: The Two Towers" and "The Da Vinci Code" trailers and the TV series "Lost". Mansell provided backing vocals on Nine Inch Nails' "The Fragile".
Videos
PWEI's version of "Their Law" (collaboration with The Prodigy) here.
"Ich bin ein Auslander" here.