---
---

AD

---
October 14 2004

---
Hiem revives the Sheffield tradition
• In the native town of everyone important in early British electronica, from The Human League to Cabaret Voltaire, spirited tweaks and beats can be heard again. Sheffield's new hope in electronic pop is Hiem, a silly looking but cool duo with past careers in All Seeing I and Venini, both bands related to former members of Pulp. Their style has been described as "electronica with a human heart, but balls of steel". The single "She's the One" can be heard on their web site and another track, "Tweak" appears on the recently released compilation "The Electronic Bible" put together by Ann Shenton (Add (N) to X/Large Number). /Mattias Huss
Get "Perfect Body" with Spetsnaz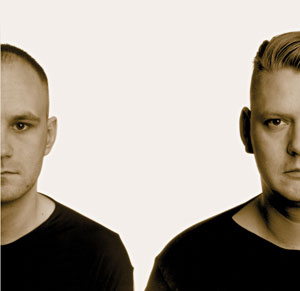 • A new EP from Swedish retro-body outfit Spetsnaz will be unveiled on November 8. Entitled "Perfect Body" it contains eight tracks altogether: new, remixed and live. /Johan Carlsson
Oslo Synthfestival headlined by In Strict Confidence
• This year's version of Oslo Synthfestival is a two-day event with a whole bunch of bands playing. Headliners are In Strict Confidence and Namnambulu, with Ali Baba, Konfront, KjøttQvarna, Act of Confidence, Event Horizon, Paranova, Red 7 Productions, The Machines and Bitch Cassidy filling up the rest of the bill. The festival takes place in one month, on November 12 (pre-party) and 13 in Oslo (duh), Norway. /Johan Carlsson
---
October 11 2004

---
Classic Can albums arrive in remastered versions
• Four albums by German outfit Can will be released in newly remastered versions today (Europe) and November 2 (North America). The albums, which are presented in SACD format, are "Monster Movie", "Tago Mago", "Ege Bamyasi" and "Soundtracks".
All are prime examples of Can's unique fusion of their backgrounds in highbrow music studies and love of primal energy drawn from pioneering avant rockers like Velvet Underground and Captain Beefheart, as well as funk and a diverse range of ethnic music.
Stunningly funky, as often outright scary as whimsical, the krautrock of Can bridged the (supposed) gap between primal and cerebral, and it's not difficult to see why they've been acknowledged as inspiration by everyone from Soft Cell to Coil to Primal Scream. /Kristoffer Noheden
Kraftwerk re-issues still absent
• Unfortunately the upcoming re-issues of the Kraftwerk catalogue that should have been out in September with partly new artwork has been put on hold. The reason for it is unclear, but may have something to do with artwork issues. /Johan Carlsson
Klinik live at WGT: CD next Monday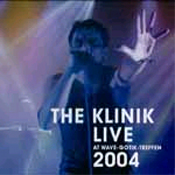 • The reunited electro-industrial legends Klinik played live at this year's Wave Gotik Treffen. As previously reported, this event was recorded and will be now be burnt on plastic for you to purchase - in one week. Hands will release this on October 18. /Johan Carlsson
Swedish retro-body act Sturm Café gets signed
• Progress has just signed the newcomer act Sturm Café from Sweden. The duo with Jonatan Lofstedt and Gustav Jansson play old school body with hints of Neue Deutsche Welle in the same vein as DAF. Their debut album will come out sometime in 2005. /Johan Carlsson
Holland's Angels and Agony returns
• "Avatar" is the title of the upcoming album from Dutch EBM band Angels and Agony. It comes in two flavours, namely regular and limited. The limited edition features a bonus disc with extra tracks, remixes and a media-track. Out on November 2 via Out of Line. /Johan Carlsson
New single from Assemblage 23
• The second single from Assemblage 23's new album "Storm" is the track "Ground". It's released on November 8 and contains a couple of mixes of the title track as well as two new tracks. /Johan Carlsson
---
October 8 2004

---
Petition for Shock Therapy's jailed Itchy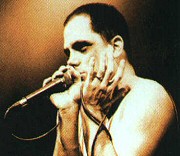 Itchy cirka 1997.
• Gregory-John McCormick (aka Itchy), leader of darkwave-rock squad Shock Therapy has been in prison for 3½ years in Michigan, USA. A plea has come from friends as his physical condition has declined. Further info can be found here and if you wish to add your signature to a release petition, click here. Itchy was sentanced for the arson of a drug dealer's residence which had been disputed.
Shock Therapy was a long time artist on Dossier Records with album "Hate Is a 4-Letter Word" as their best known release. Their last studio record is "No Fear of Death" from 1997 and a later compilation in 1999. /Alex Veronac
New single from Helium Vola
• "In lichter Farbe steht der Wald" (Chrom) from Helium Vola is due out soon and will feature two alternate versions of the title song plus four new tracks: "Dies Ire", "Omnia Sol Temperat", "Hold on" and "Carmen ad Deum". /Peter Marks
New EP coming from In Strict Confidence
• The latest song to be lifted from the latest "Holy" album will be "Seven Lives". This EP will feature 14 tracks including three new ones entitled "Der Teufel", "Open Skies" and "Walking Shadows" with a total projected run time of nearly 80 minutes. Planned re-mixers include De/Vision, The Crüxshadows and Iris. No release date has yet been set. /Peter Marks
---
October 7 2004

---
electriXmas with Welle:Erdball and Pride and Fall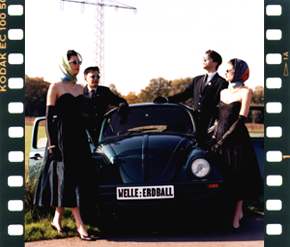 An old pic of Welle:Erdball.
• This year's electriXmas festival will take place on December 11 at Mejeriet in Lund, Sweden and the first three of five bands to be booked are Welle:Erdball, Pride and Fall and Sturm Café. The organizers had plans for Karl Bartos but hope to bring him in early next year instead. /Mikael Kahrle
Anthony Rother strikes in November
• A strictly limited picture disc 12" single from Mr. Rother will be out November 3 on his newly-created Data Punk label. "Synthetic" will feature the said title track and also the songs "Young" and "Dreams". Rother recently wrapped up his "Popkiller" tour of Europe and is now concentrating on the studio side of things. /Peter Marks
Deine Lakaien on tour in 2005
• The long-standing darkwave act will embark on a 13-date German tour commencing in April of next year. Some stops include Stuttgart (April 13), Köln (April 20), Leipzig (April 23) and Münich (April 27). Whether or not any of these shows will include new material by the band is unknown at this time. Deine Lakaien's last album "White Lies" was released in 2002 with only founding members Ernst Horn and Alexander Veljanov participating. /Peter Marks
---
October 6 2004

---
Rammstein tour news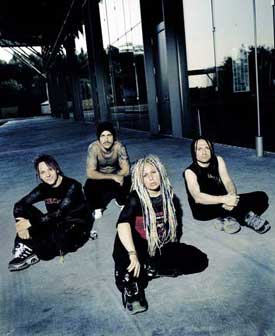 Exilia: Rammstein support.
• The fourth Rammstein album "Reise Reise" is out now and reviewed here. The preparations for the upcoming tour continues. Fairly unknown Italian female fronted rockers Exilia have suddenly found themselves as openers for Rammstein on their new tour. With a sound reminiscent of Korn and Guano Apes, they are not exactly the ideal choice for most Release readers.
Rammstein has just added five new German tour dates for 2005 and more is to be expected. And we just learned, for the November 18 gig in Stockholm, the sold-out venue Hovet is changed to the huge Globen arena and obviously more tickets are released. /Mikael Kahrle
Pop Will Eat Itself reunited live in 2005
• Chalk this one up in the "never to happen/hell freezes over" category as the UK's Pop Will Eat Itself will reform for a trio of dates this January. The announcement came on October 3 that all members Clint Mansell, Graham Crabb, Adam Mole, Richard March and Robert "Fuzz" Townshend would reunite on stage for the first time in almost ten years. Tickets for Birmingham, UK (Jan. 22 and 23) and London (Jan. 24) go on line exclusively presold at pweination.org on October 8 at 9am GMT.
The Poppies were another musical energy that disappointed legions of fans by haplessly dissolving in 1996 after the second industrial era came to an end. The band fell off the radar during their recording of a new record for Infectious Records (to be distributed through Trent Reznor's Nothing Records label in USA) later that year. The last we heard of newly issued material was a compilation 2CD "PWEI Product 1986-1994: The Pop Will Eat Itself Anthology" released in late 2002 on the Castle Music label (UK).
Vocalist Mansell has been the most successful since the band's demise with a respectable career scoring soundtracks ("Pi", "Requiem for a Dream", "Knockaround Guys"). His music has also been used in "The Lord of the Rings" trailers. Crabb has gone on work musically as project The Golden Claw. Mole took a stint managing Sigue Sigue Sputnik. Members March and Fuzz went on to become the quirky breakbeat duo Bentley Rhythm Ace.
Catch earlier Clint Mansell news from Release here. /Alex Veronac
Stina saves the world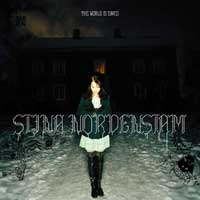 • The new album by Stina Nordenstam we told you about back in August, "The World Is Saved", will be released as soon as Monday, on October 11. The first single "Get on with Your Life" was released on September 15, including a remix by Pluxus. Songs from the forthcoming album are being streamed over the Internet; check the details on the official site. /Mattias Huss
Planet Mu compilation imminent
• Fans of Mike Paradinas and his record label Planet Mu are in for a big treat very soon. A new 34 track compilation album "Amunition" covering the entire Planet Mu artist roster (including amongst others Venetian Snares, Leafcutter John, Luke Vibert and Mike Paradinas himself) is imminent. The launch party was held in London, with great success, and is followed by a Vsnares/Planet Mu tour which is travelling around Britain until October 10. /Mike Whyte
---
October 1 2004

---
Manson and co. tour with injured drummer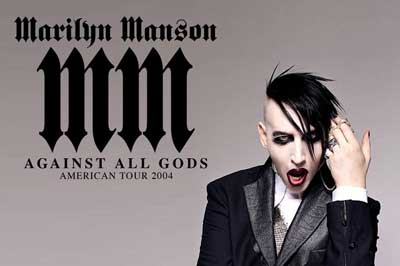 • The new Marilyn Manson "Lest We Forget: The Best of", featuring the Depeche Mode cover "Personal Jesus", is just released. Manson has announced a "Against All Gods Tour" through N. America between late October and early December.
Drummer Ginger Fish plan to join the spectacle, although he suffered a broken nose and fractured arm at a recent overseas performance after falling off a raised stage. /Mikael Kahrle
New installment of electro collection
• "Advanced Electronics Vol. 3" is a double disc collection from SPV with EBM, electroclash and futurepop acts. Artists like Fixmer/McCarthy, Benny Benassi, Seabound, Dave Clarke, Nitzer Ebb, Skinny Puppy, In Strict Confidence and many more can be found on here, with lots of exclusive tracks and remixes. /Johan Carlsson
Eat Your Own Ears exclusive!
• For those of you who enjoy good music in and around the London area, you may have already heard about, or even been to one of their nights, as it seems Eat Your Own Ears has its hands in everything. From hosting nights with underground artists like Aphex Twin and Clinic – to big names like Beth Orton, Eat Your Own Ears always throws a good party. /Mike Whyte
Dirk Ivens Dive-s behind the sun
• Dive is now a collaborative effort with main man Dirk Ivens, formerly of The Klinik, and Spanish musician Rafael M. Espinosa as well as Ms Poly-Ester from This Morn Omina. The new album is called "Behind the Sun" and is out on November 15. /Johan Carlsson
New EP and album with Project-X on new label
• Swedish EBM heads Project-X are working on a new EP and album. They stick to Trisol/Matrix Cube in Germany but have just left Energy Rekords in Sweden for another well known label for electronic music (to be announced soon). /Mikael Kahrle
Compilation from E-Craft
• If you want to discover hard German EBM, you can check out the new compilation "Status" from E-Craft. It's a double-disc album with new exclusive tracks, mixes, live tracks and deleted tracks. /Johan Carlsson
---