Bill Leeb's and Rhys Fulber's resume is indisputable, with a whole bunch of both seminal and successful albums under their belt. After some adventures apart, they recently joined forces again to make a new Delerium album. "Mythologie" is a darker, and in many ways more modern sounding album than previous efforts, and I thought it would be interesting to ask Bill some questions to get the skinny on how "Mythologie" got made.
Instrumental album? Not really…
You're back with Rhys again, but also a kind of new lineup with Jared Slingerland from FLA and Craig Johnsen. How did this come about?
- Basically, this thing came about through a natural evolution from having worked with Jared and Craig over the past 10 years on Front Line Assembly and the "Airmech" releases and "Music Box Opera" as well. We came up with some new ideas and thought they were very conducive to a Delerium project. With Rhys, there is obviously a massive history and since we had been doing some tours together, we all started vibing together on some tunes.
The sound is a bit darker than usual, almost trip hop at times, but also with a modern pop sensibility to many tracks. Did you have a plan when you started, or did it just turn out like that?
- Ironically this album is the result of the perfect storm. We potentially said we were going to do an instrumental album, but then one thing led to another and we basically had a sound that was developing. I've always been a fan of the downtempo trip hop genre and other newer genres of music and it just sort of took its course.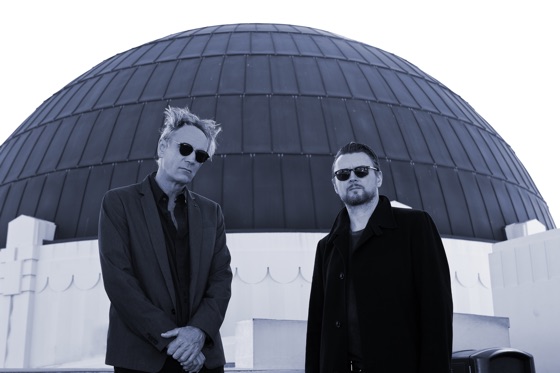 In my opinion, this is the best Delerium album in a while, and "Stay" for example is a great track. How do you keep yourself inspired and enthusiastic about making music?
- If you notice, with this album, we have almost all new singers and that alone has inspired an entire new sound for us. It has also crested a very diverse song selection with the singers. "Stay" features JES who has always been a creative force in the electronic dance world. Mark from Nettwerk suggested her as a collaborator and then after meeting up with her in Los Angeles, we ended up doing three tracks with her. Two are on the album and we have one more that we will potentially release later. I'm a huge music fan, and with the internet and social media, there's also never a lack of new influences that are readily available.
Purity Ring, Grimes and Massive Attack influences
I guess the album was recorded in Rhys's studio in LA? Can you talk a bit about the experience, and your process?
- Actually this record was a much more cross-border effort. Half of it was done in Vancouver and half was done in Los Angeles. I flew back and forth to work with Rhys and the vocalists are from all over. It has a pretty international feel from songs being written on airplanes by Phildel and other singers, like Jaël writing from Switzerland. The beauty of today's technology is that we can do a lot of file sharing via the internet. Again, we had never truly done an album in this manner. Hence, a newer sound naturally evolved from this as well.
Did you have any specific influences for this album? I think I can hear some Purity Ring in "Ritual".
- Yes you are absolutely correct. Our musical tastes are inspired by various styles and I do have to give some credit to Jared for bringing some newer music to my ears. Definitely bands like Purity Ring and even going back to Massive Attack and along with newer artists like Grimes, there has been a true evolution in electronic music that has recently inspired us. Geri Soriano-Lightwood is a member of Supreme Beings of Leisure and they were actually one of the first bands to bring trip hop to North America and also among the first to do flash animation on their videos. Her influences mirror the experimental side of our music.
How did you choose all the vocalists?
- Actually, if we had to get in specifics from the very first emails, we could probably write an entire book! To keep it more brief – from internet music stations, social media, and other outlets played a large part as well.
- Usually with Delerium we look for singers with very angelic, ethereal voices. Because we are involved in the music world, we are constantly listening to new artists and new music. The first time I heard of Phildel was through an Apple commercial that used some of her music. Mimi Page is a singer-songwriter that we came across after hearing her on a Sirius music channel. Geri Soriano-Lightwood is a member of Supreme Beings of Leisure and I really liked their music and their sound. JES is a well-established artist and her song with her band Motorcycle (Gabriel and Dresden) "As the Rush Comes" was always a very notable trance song, just like our "Silence". And Jaël has worked with us several times before and has literally contributed to Delerium since practically the beginning.
Did the singers come to you in the studios?
- Both. Mimi and Geri actually live in Los Angeles and Rhys worked with them in his studio. JES, who also resides in Los Angeles, recorded in her studio there. Phildel actually came to Vancouver to do a folk festival a couple of years back, and after writing lyrics on the way over on her flight, we recorded her in the Green Room Studio in Vancouver when she was there. Jaël worked with us via internet file transfer from Switzerland. Again, this is quite a global album.

Remixers, label change and future plans
You've got some interesting remixers for "Ritual", from Matt Lange to Daniel Myer. Can you tell me a bit about how you chose them?
- Matt Lange is a personal friend of Rhys' and he set that up since he had worked with Matt before. Alex Klingle is Vancouver-based and was brought to my attention by Mark Jowett from Nettwerk. Daniel Myer we have a big history with, as he worked with us on Front Line Assembly remixes and has toured with us. Joey from Blush Response also has worked previously with us on some FLA tracks and is a big part of the underground electronic Berlin scene.
This is the first Delerium album on Metropolis. Why did you change label, and what will this mean for the release?
- Dave Heckman, the head of Metropolis Records, and I have such a big history and he had said he would love to do a Delerium album one day. After having been with Nettwerk for so many years, we both felt that we should start fresh and move into a different environment. Everybody wanted a change and this was naturally an easy move since I have been part of the Metropolis family for such a long time.
Will you go on the road to support the album?
- We would love to. The fact is that Delerium has historically done only two world tours. For now, we just want to see how everyone responds to the album and then we will see if we can do some live shows and a possible tour in 2017.
Will there be any more singles from "Mythologie"?
- Most definitely yes. We think there is a least two or three more tracks that will lend themselves nicely to remixes. We missed our window for doing a video for the first single "Ritual," but we would really like to do a video potentially for the next single.
Any news about other projects? About "Airmech 2″ with FLA? A long time ago there were rumors about new Noise Unit…
- We are currently mixing the very last tracks for "Airmech 2″. Ironically enough, we started with Noise Unit, but then that evolved into the "Airmech" tracks. Apart from that, it's been three years since "Echogenetic" was released by FLA. We would definitely like to focus on a new FLA album. For now though, we are whole-heartedly supporting and focusing on "Mythologie" and everything it involves.
Read more from Release
Front Line Assembly "Caustic Grip" Retrospective including interviews
Front Line Assembly and Delerium interview