"Caustic Grip" celebrates its 25th anniversary in 2015. Released in 1990, it was a complete game changer for Front Line Assembly, and possibly the industrial genre. It also saw the young prodigy Rhys Fulber stepping up to be a full time member. It's a very personal album for me, and in this article I'll try to tell you how it got made, and what it meant to me. I've been in contact with Bill Leeb, Rhys Fulber and also Gary Levermore who ran the label Third Mind where the album was released.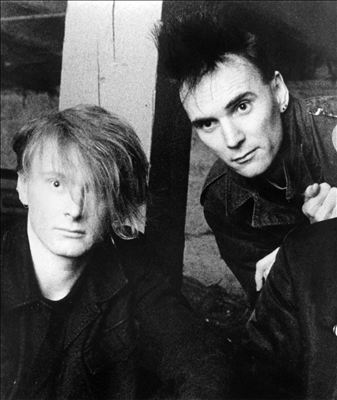 From left to right: Rhys Fulber and Bill Leeb.
My story
To start with, if it wasn't for "Caustic Grip" I wouldn't be writing this. Other than the obvious fact that I wouldn't have an album to write about, this album made me such a hardcore fan of Front Line Assembly and electronic music in general that it set me on the path to writing for Release Magazine. I had been a subscriber to the printed magazine (one of the biggest music magazines in Swedish at the time) for a while. My first contact with our editor-in-chief Mikael Kahrle. He had interviewed Rhys Fulber while Fulber lived in Release's hometown Gothenburg for a short while, they were both in their teens then. Anyway, I sent an e-mail where I suggested I should write about the then upcoming album "Poem" by Front Line Assembly side project Delerium. We started e-mailing back and forth a bit, and suddenly I was drafted into writing reviews for my favourite magazine. And if I hadn't discovered FLA in 1990 this probably wouldn't have happened.
My daytime job is developing the website for a local newspaper in Skellefteå, located in the north of Sweden, but the first web site I ever did was a Swedish FLA fan site in 1994. I had a discography and everything. A while after that I discovered Jon's (the Mindphaser founder) British fan site, which later transformed into Mindphaser and the forum it became known for. Through that forum I discovered a global fanbase and met up with people in both Holland, Germany and England. People who I'm still in contact with and share the passion for music with.
In all honesty though, I didn't like "Caustic Grip" when I first heard it! I was brought up on softer music such as Jean-Michel Jarre, Depeche Mode and Pet Shop Boys and just wasn't prepared for the sonic onslaught. However, my friend Anders boldly bought the album at Mega Skivakademien in Stockholm, and after a while he convinced me I really needed to listen again. I did, and this time I couldn't stop.
Setting the scene
In the 80:s when Bill Leeb left Skinny Puppy to start Front Line Assembly, Vancouver looked quite different compared to what it does today.
B (Bill Leeb): Vancouver was definitely a much smaller artist-based community city where everyone knew everyone. There was live music and cool underground clubs all over the place. People were always at the record stores hanging out. You could literally go down to the local import store and run in to people from all the other bands. It was much more personal and the music scene was very alive, from punk to new wave to electronic. Now Vancouver has turned into a giant corporate unaffordable city. I miss the old days.
R (Rhys Fulber): Vancouver was much smaller then than it is now but it had a great music and studio scene. I was very into the punk scene there from when I was very young, like 10 years old, and the bands were great and even influenced the LA punk bands at the time. There was also a cool cable access TV show that played punk and new wave videos, and a good university radio station that played subversive stuff. So for a smaller city, there were things going on.
The answer to the question of where Bill and Rhys met in 1986 is surprisingly divided. First, here's Bill's version.
B: Rhys and I met at a record store called Odyssey Imports in Vancouver. It was the go-to record store for all of the imports from Europe. I was in the store and Rhys walked in with a drum machine under his arm and he approached me stating "Hey, aren't you in Skinny Puppy?" We starting talking and rest is history.
R: I met Bill at an alternative clothing store called The Black Market in downtown Vancouver. I was pretty sure he was in Skinny Puppy and was always playing fantastic music in the shop. I asked what he was playing and it went from there. He was selling "Nerve War" cassettes there too and I bought one. I still have it…
When asked about the discrepancy, Rhys insists it was in Black Market, but Odyssey Imports was across the street. The answer may be lost in time.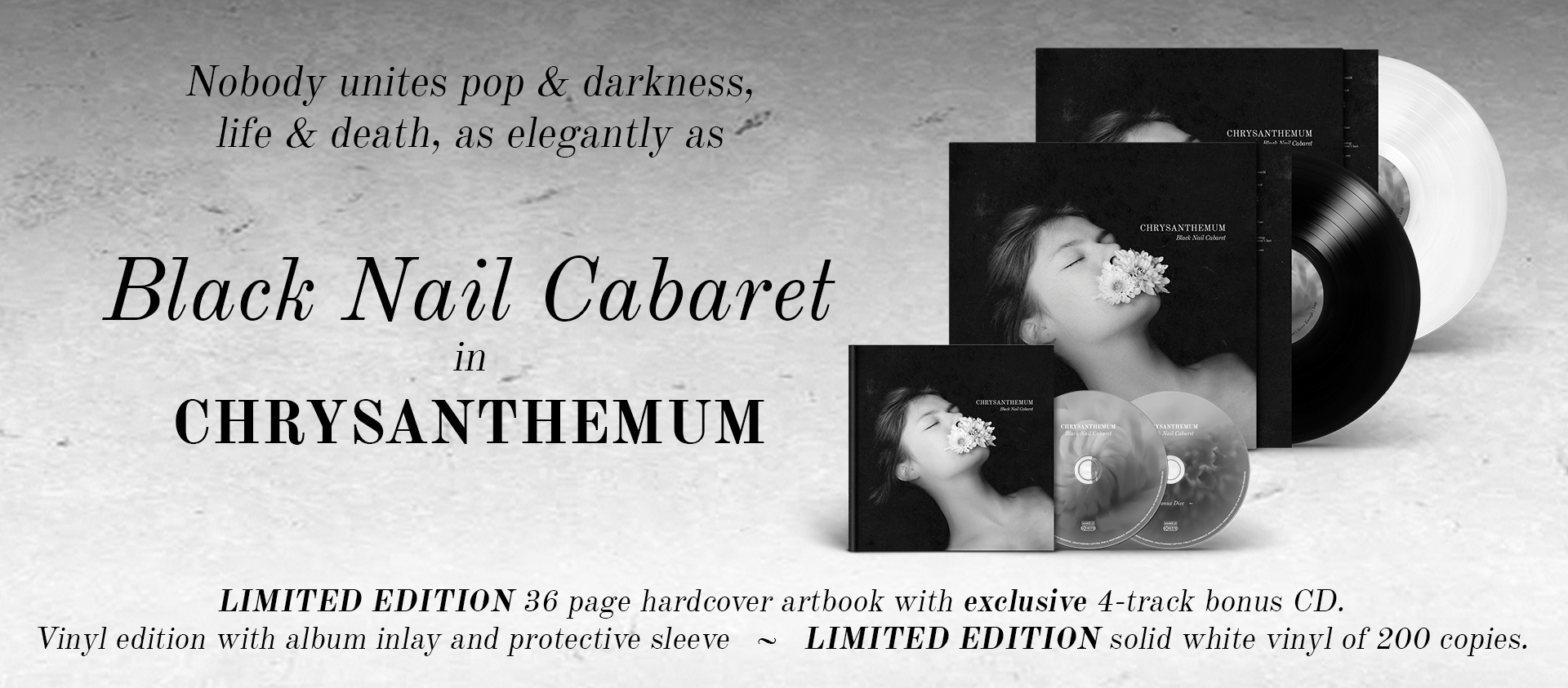 Rhys' nickname at the time was "Youth", as he was very young, but that didn't stop Bill from working with him.
B: Rhys was 16 or 17 when we met. At that time, we were both young at heart and both had the same taste in music. We were both interested in the same underground industrial music and we became friends through all of the same interests. To this day, we don't even think of age barriers because music really neutralized any age difference. Music is the great equalizer.
Rhys, this was your first album as a full member of FLA, and you were very young. What was it like stepping into an existing band? 
R: Yes I was 19 years old, but because I had already known Bill for a few years and just did the "Gashed Senses" tour it seemed totally natural. I actually hadn't used the C-Lab Creator program (Atari computer music sequencer software) before and learned as I went.
I know you were involved before, but did you feel any pressure when you became a full time member? 
R: Not at all. We just started doing it!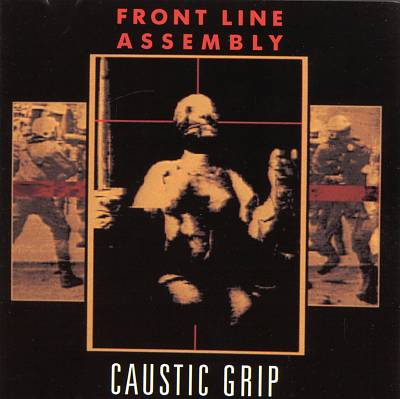 The artwork for "Caustic Grip" with images by Christian Mumenthaler and design by Sleeping Partner.
The Recording
Where was it recorded? 
R: We did all the programming in Bill's apartment then once we had all the music down we went into Vancouver Studios, a commercial studio, to record vocals and mix. It was the first FLA record done in a bigger commercial studio. Also a big part of the sound of that album is the usage of analog tape to record all the drums, basses and vocals.
Did you set out to change the sound with "Caustic Grip" compared to previous albums, or did it happen organically with Rhys?
B: This album has a very strange background because initially Michael Balch and I were supposed to do it as a follow up to "Gashed Senses & Crossfire". However, just as we were about to get started, Michael went for a holiday in San Francisco and while he was down there, either Ministry or RevCo had let go the monitor man and Michael stepped in and was offered to do the tour. That basically left me in the lurch after getting that news. Rather than wait around unsure and having already worked with Rhys on a few tracks on "Total Terror", he came over and we starting putting things together. The entire album was written in my second closet-sized bedroom with antiquated analog gear, a turntable and a cassette deck.
Any fun stories from the sessions?
B: We wrote the album and by the time Michael came back, we were finished. As we started our mixing session with Greg Reely, Michael came into the studio early one afternoon with a blender and wanted to make us all drinks. As he was leaning over the SSL board, I had visions of sticky drinks flying all over the place. Greg was wondering "who is this guy" and then others in the studio were partaking in other copious substances as well. Even some really expensive gear somehow went missing but was eventually returned. I honestly thought Greg would never work with us again after this session! The names have been changed to protect the innocent, haha.
R: Fun isn't an accurate adjective for some of the things that went on, but that was only at the beginning of the session. After that it was work work work. We only had ten days. We stayed up all night on the last day to finish up and as we were putting down the last mix in the morning, Queensryche's crew was loading in gear. They recorded their huge hit album "Empire" on that session coincidentally…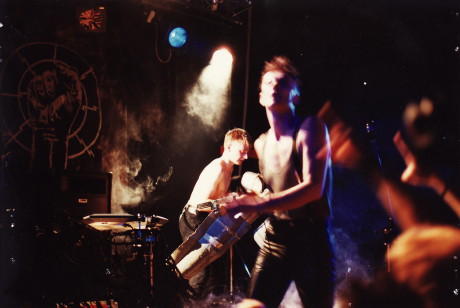 Bill and a young Rhys on stage at Kåren in Gothenburg 1989.
Photo by: Mats Kadmark

Legacy
Did you have any sense that you had created something out of the ordinary at the time?
B: I actually felt like we did. On our first day of mixing the first song was "Iceolate" and we were using this major SSL board and it was the best. We were doing a 24 hour session mix and after I laid down the vocal, I started to get the sense that we were, in fact, creating something a bit magical. As we progressed from song to song, I started to really feel a sense of urgency and future possibilities for what Rhys and I had created. Greg Reely deserves a tremendous amount of credit with his talent and major skills on this record.
R: I'm not sure we thought that lofty but I think we knew some of the songs sounded pretty good. Mixing on an SSL desk with Greg Reely for the first time and hearing how punchy he made the drums on "Iceolate" and "Mental Distortion" sound, we were excited about how it would sound played at a club. Ken Marshall, who now mixes and tours with Skinny Puppy, was assistant engineer on the session and thought "Provision" sounded great so we had some idea we were going in the right direction.
In my opinion it didn't sound much like anything else released at the time. Where did you draw your inspiration? 
R: I actually think that was the least influenced record we made. I think the energy of Bill and I making a professional record together for the first time fed itself. We both liked all the same music but things like Liaisons Dangereuses, Yello and New Order crept into that record in particular on top of the super industrial influences like Test Dept etc.
What kind of gear did you use at the time? 
R: "Caustic" was a pretty minimal set up. All we used was the Atari, an Akai S1000 and S950, a Minimoog, Micromoog, Pro One and a Kawai K4 for strings… Less is more I'm starting to think! We did have a couple disks of Adrian Sherwood drums and Yello bass sounds for the Akai that were used a lot.
What do you think of the album today?
R: I think because of the big console mix it holds up quite well. I have a soft spot for "Provision" because I was proud of that chorus progression.
B: I still think today that it sounds just a fresh as it did back then. It really became a benchmark in our music genre. When I listen to it closely now, it would almost be impossible to replicate those moments where all the stars lined up.
Did it sell well?
B: Yes, it did quite well. "Iceolate" and "Mental Distortion" both became singles of the week in Melody Maker. Rhys and I were both quite floored to see that in the British Press and this really spoke volumes to us.
This was the first time that you worked with Greg Reely. How did this come about?
B: Vancouver's scene was a small intimate one and Greg had worked with Puppy and other electronic bands around town and had a good reputation as an up and coming sound engineer. His works speaks for itself.
What impact did he have on the sound of "Caustic Grip"?
B: Gary Levermore, who ran Third Mind records and was a major part of this whole scene, and who I can't give enough credit to, had the actual fortitude to get us our first real recording budget of $20 000. We put that money towards Greg and Vancouver Studios which had the top of the line SSL board and Greg could work his magic without any limitations. I could write volumes on the relationship that started with with Greg musically and sonically… it just became the best situation possible. Without Greg Reely, all of this may have never happened. We have to give Greg full props for his immense talent and creatity. From FLA, Delerium, Conjure One, Fear Factory… the list goes on.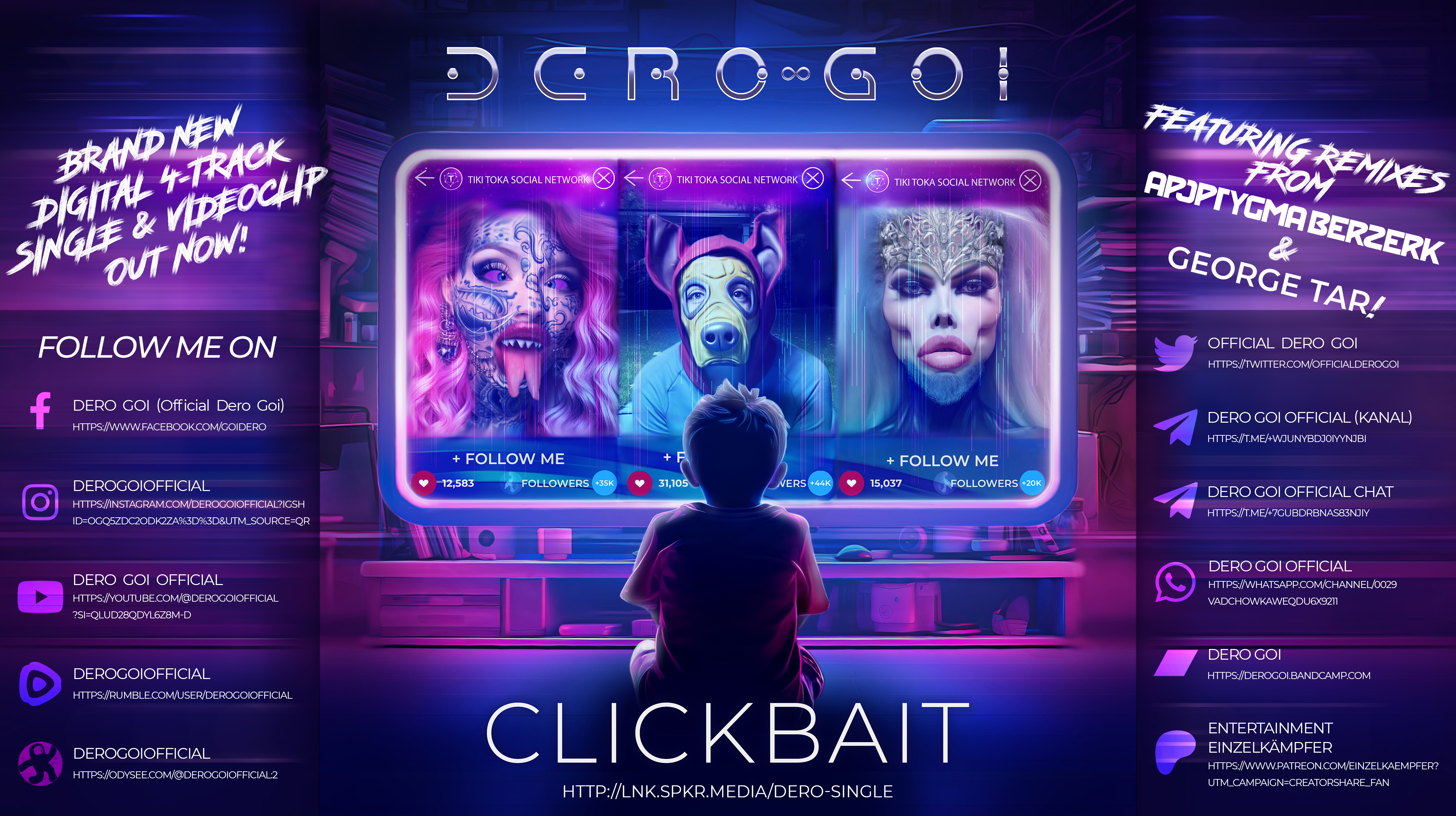 Gary Levermore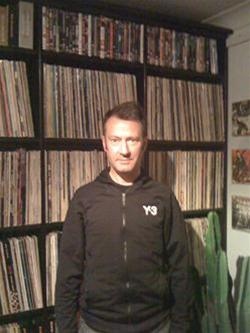 Gary, what do you remember about the time around "Caustic Grip"? What was the "scene" like back then?
- I ran Third Mind Records and had signed FLA to a 3 album deal in 1988 after releasing "Corrosion" and "Disorder" that year. The first album under the new deal was "Gashed Senses & Crossfire" in 1989, which, combined with their first tour, began to elevate them into the vanguard of electro-industrial acts along with Front 242, Skinny Puppy and Nitzer Ebb. "Caustic Grip" was recorded in late 1989 and early 1990 and it was immediately apparent that these recordings were a massive step up and sonically at least the equal as any of those acts. It was the band's decision to have the CD and vinyl releases mastered by Bernie Grundman in LA, which was expensive… but actually a masterstroke. You could tell the difference.
- In regard to the "scene", I had also relocated my label to London in the late 80:s and began frequenting the weekly Hard Club (at Gossips in Soho) and Slimelight (at Elektrowerkz in Islington). It was nice to hear my releases being played all the time!
How did you get in contact with FLA in the first place? 
- Bill Leeb (and the rest of Skinny Puppy) had all written to me in 1983 when I started Third Mind and released a cassette compilation of underground electronic/ambient/dark/industrial acts entitled "Rising from the Red Sand". It featured Chris & Cosey, Nurse With Wound, Portion Control, Legendary Pink Dots and many more. I was selling it on mail order and began receiving quite a lot of mail from Vancouver! Skinny Puppy also sent me a cassette in 1984 and asked if I would like to release it. I turned it down as I had already worked with Portion Control and thought they were too similar! Bad move, as they went on to make some excellent records…
- Anyway, Bill wrote to me in 1987 and asked if I would like to release something by his new band, FLA. I was in the process of changing my distribution from Rough Trade to PIAS at that time, so this is why "Corrosion" and "Disorder" did not appear until the first half of 1988. Meanwhile, KK and Dossier had already released a couple of FLA records.
How was your relationship with Bill and Rhys?
- Mostly great and I think they appreciated the work I did for them… which has also continued in the post-Third Mind years with my label management and promotion work on both FLA and Delerium. We are good friends to this day. However, there were also some scary times around 1990. I had a huge disagreement with PIAS at the time "Caustic Grip" was released, which had financial implications for myself, while there were also fraught moments on the European tours in both 1989 and 1991. It's the sort of thing you can look back on and laugh about; however, at the time I was working constantly but losing money!
Please tell us a bit about what running a label was like.
- Well, it was my label. So, I did everything from A&R, budgeting, financing, PR, marketing, paying for tours! I had some help from my distributor, which at the time was Play It Again Sam, but we fell out badly around the time "Caustic Grip" was released. For the benefit of your North American readers, I licensed all Third Mind releases of FLA to Wax Trax! up to and including "Caustic Grip" and its associated singles.
Did you notice that the band got greater exposure after "Caustic Grip"?
- Yes, although it had been a natural growth since "Corrosion". It is true to say that everyone in the scene noticed the progression between 1988-90.
How much did it sell?
- I have never seen a statement since 1994, when Roadrunner took over 100% rights in the Third Mind catalogue and I exited and started a publicity company. Up to that date, I think it had sold about 70 000 copies (split equally between Europe and North America).
Can you tell us more about what happened with Third Mind?
- I had sold Roadrunner 50% of the label in 1991 in order to pay off my debts and they paid me a salary for three years to continue running the label while they financed new releases. This arrangement ended in April 1994 and the label ceased issuing new products shortly thereafter. This is also the reason why the "Millennium" album was released on Roadrunner rather than Third Mind.
What are you doing today?
- I have always been involved in music. I started a publicity and label management business in the autumn of 1994 called Tora! Company, within which I looked after the UK interests of labels such as Nettwerk, OffBeat, Noise, InsideOut and more. Actually, I was busier than ever! I also played a key role in the set up and release of "Silence" by Delerium featuring Sarah McLachlan, which was a huge hit in the UK in 2000.
- I later became more fully entrenched within Nettwerk's operations, but left at the end of 2009 to set up a new business, Red Sand PR. I still run that and handle UK publicity for several labels and acts, but I am also the UK label manager for the large German record company and distributor Membran, which has a wide ranging musical roster of acts and distributed labels.
I'm glad to see that the people involved are still making waves in the music industry, 25 years after this seminal album. Rhys and Bill are still working together, and are putting the last touches to a new Delerium album which will hopefully be out soon. Bill is working with his current FLA cohort Jeremy Inkel to create a soundtrack to the computer game "Airmech 2″, and there are also rumours about new Noise Unit material coming our way. Rhys is producing a whole bunch of bands, the latest being old school industrial newcomers Youth Code, who have recorded their next album in his studio.
It's been a lot of fun digging into the history of this industrial milestone, and we at Release hope to do more of these retrospectives in the future. Please let us know if there are any albums you want us to write about.