Swedish electropunk band Bondage Fairies on Hamburg based label Audiolith launch their tour at Hafenklang in the heart of the Hamburg fish market district. Famous for their high energy shows and devoted fans, the unknown members met up with Release to chat about secret identities, chiptunes punk music and being stalked by Russian fans.
With or without masks
Bondage Fairies have been releasing records since the "Cheap Italian Wine" album in 2009.  The C64 sound, the fundament of chiptune music, is consistent on their first two albums although the overall sound originates in punk music, yet coated in electronic sound waves. With the latest album "Alfa Gaga CP Wifi" – "more fun if pronounced in Swedish" says Elvis Creep – Bondage Fairies take a step away from the world of chiptune punk.
We met Elvis Creep, Drummer Boy, Dallas Pumpkin and Scott Hole, without their masks, after the soundcheck. Although their identities are out of the closet, the masks are back on when the interview starts just to try to keep the idea of secret identities alive. A not too serious interview starts after a few beers have been handed out and jokes about the masks are temporarily over.
Welcome to Hamburg! A bizarre situation to interview four dudes in masks that hardly allow any communication!
- Stressing, isn't it! But we're kind of lame as you probably noticed. We have a spare mask for you as well if it makes you feel better during the interview. Let's say that we will lose a prosodic dimension in our communication.
Bondage Fairies caught my attention when you made this campaign for a few years ago in which fans from all around the world were trying to find USB memories with pieces of new Bondage music. Did it work out in the end?
- Certainly, but we can't take any credit for it. It was our former tour manager Felix Henrich who came up with this really great idea. We uploaded pieces of music on ten, or twelve, USB memories which were distributed around the world. Some of our fans ran out with their computers to find the dongles, probably infected with a few viruses, and put them into their computers to download the information. All dongles were found except for the one in Norway which we uploaded ourselves but that we pretended had been found. It worked out really well.
You're on tour with the latest album "Alfa Gaga CP Wifi", the first album in five years efter your latest self-titled album. What is different from the last album? It sounds more punk and less electro than on previous albums.
- The title is some kind of Swedish humor. You have to pronounce it with a Swedish dialect to be able to understand what is funny [I didn't understand anyway]. It's spot on! Otherwise you're right, it's much more punk. It's much about developing in another direction. I think many bands think "Which songs are the most popular ones? OK, let's do more of those", but we don't work like that.
If we make a song we have a song no matter how it sounds like – but it always turn up to be a good one! This time we stripped the music of the electronic parts and used more acoustic instruments. Or you can say that where some people want puberty we're trying to find menopause.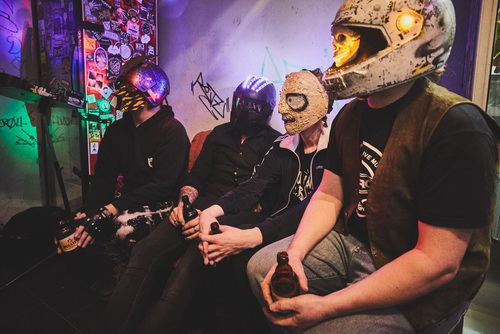 How are we going to drink these?
A five year mission
Many fans, in particular Russian fans, have been worried that the band split up because of the long break in between albums. Why did it take five years?
- Which fans? Do we have any? It takes time if it's going to be really good and I also lived in Hamburg for a while which caused, let's say, a pause. The songs on this album are really old but they needed to mature for a while before they were ready to be released. It's a process. And there is always problems to find money and then it's always the same story "Yeah, let's wait then". If someone would have given me a few million, I would have ten more records like this one. No, just kidding!
It's like I said, I'm quite picky when it comes to music. It has to be perfect and after every album it becomes harder to be creative because you always think "OK, the last one sounded much better".
The Russian fans worrying about new songs should be happy that we have new stuff for them. It's just like with other bands – be patient and not give up on your favorite band when they don't deliver anything else than awesome shows. I understand that they need new songs as well. And of course we have ordinary jobs as well and ordinary girlfriends. We also need to fulfill our duties as brain surgeons in Stockholm.
You rarely hear or read anything about Bondage Fairies in Swedish media. So you have to tell us how it all started and how the band has evolved over the years.
- It was such a long time ago and I don't fucking remember everything, but it started by mistake. I [Elvis Creep] started for ages ago with another dude that a few years later left the band – and now I forgot the question. What are we talking about?
Well, I was eighteen and found music in general and punk music in particular to be awesome. Weezer were the coolest band there was and I wanted to learn to play their songs and bought a guitar but I was a disaster. Then I discovered what you could do with a computer instead. With good software it was easy to turn my ideas into music although I couldn't play any instruments, and that's how it still is today. But with these guys I have three damn good musicians and one idiot who is good enough to create new melodies – if I'm allowed to sit on my own and not make songs during jam sessions.
You have performed in Hamburg quite a few times now, haven't you? Your label Audiolith is located here.
- No fucking idea. It has been shitloads of shows for more than ten years and I can't remember really. At least one or two per year. Let's pretend it's a ten times anniversary.
Many of your shows are in Germany probably because of your label, but you also seem to have many fans in Eastern Europe.
- Nothing's impossible in those neighborhoods. It's clever people, in particular the youth, who listen to us. We are kind of strange, with a punk attitude that inspires others, you know like "If they can do it, I can. Cool!" or it's just jerks who listen to us. I guess it's the combination of good music and sleazy aesthetics that attracts people from low-life areas.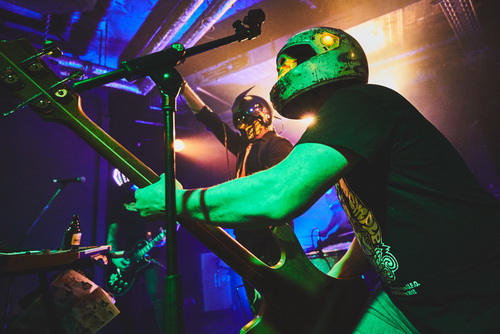 "Some kind of synth punk"
After being hailed by the 8bit pop community for fusing C64 sounds and punk music, their latest album "Alpha Gaga CP Wifi" is a step away from the sound on previous Bondage Fairies albums, with fewer "bleeps" and "bloops" on the tracks, the typical characteristics of chiptune music.
As with many of the bands starting in bitpop, the music has started being incorporated in mainstream punk music. However, Elvis Creep – the founding member of Bondage Fairies – still keeps the unique bitpop feeling on the new album since most songs start in bitpop software.
On home turf, in Sweden, it doesn't work out with chiptune punk music?
- Call it chiptunepunk if you want to but it's rather some kind of synth punk. It's like calling nutcreme Nutella. The problem is that the Swedish music scene is dead. It's not good at all, just stuff like "Idol" [music talent show]. Nobody tries to make it better, the scene fell asleep a long time ago. There are some music crews on the west and east coast but they end up heading in the same direction as everybody else, they are just pie in the sky.
Electropunk works out for most people. We ourselves usually listen to old stuff and find it really surprising when new great bands turn up. But it rarely happens in the same genre as us and have nothing to do with what we do. Quite a few bands jump onto the 8bit bandwagon and continue with something else after a while. Not many are honest in their intentions when starting making bitpop music.
To me there are quite many similar bands such as Gidropony, 64revolt, Fucking Werewolf Asso, You Love Her Coz She's Dead and many more chiptune punk bands. Do you get you're influences from such bands or are you inspired by something else?
- Gidropony have been our support band, he's a really nice guy and makes great music. Fucking Werewolf Asso have nagged about getting free T-shirts. We are their Kraftwerk! But it's really not the same kind of music in the end.
Many bands in the genre allow their music to be determined by the genre itself and forget to write good songs. They just think it's enough using the genre sound. In a way it's like in the rock genre where many put ink all over their bodies, buy the toughest clothes from the coolest stores such as H&M – a very popular store among rockers – and make a marketing plan before they making music. Music is not the priority in such bands. They like tattoos, to dress in similar clothes, go to clubs where everyone looks the same and listen to music that is defined as "hard". It works out for a while but in the long run they don't have songs that are good enough to continue. It's similar in all music genres, nothing explicit for our genre.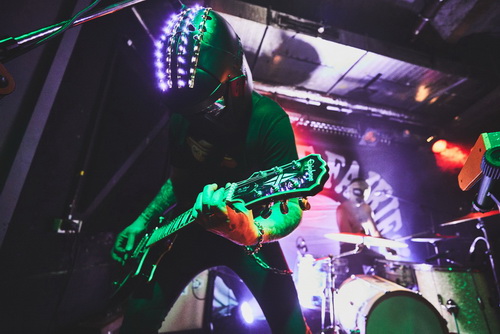 Be honest; do you prefer SID station or VST modules? That is, are you real chiptune fans that listen to the radio show "8 bitar till kaffet"?
- We use a software called Buzz Machines that hardly anyone knows about. There's no need to hide that we use a lot of 8bit sounds, in particular from the amazing SID chip which is a good reminder of the love for my C64 computer back in the days. Nintendo isn't that impressive at all although it has some really good triangle bass sounds. But keep in mind that much of this stuff is what I [Elvis Creep] could get my hands on when I started, and I will continue with it.
They are really great sounds and you want to use stuff that sounds great, don't you? If you would have owned a Juno-106 most music would sound Juno-106 but for now I have to settle with my microKORG.
"We look better in masks"
At a glance Bondage Fairies look like a chiptune version of Slipknot and follow the pathway of several masked artists such as Daft Punk, Carpenter Brut, Ghost B.C. and Gwar.
The arguments of keeping identities secret are as many as the bands. The music should be in focus rather than the image (Carpenter Brut), to create a brand by having a cool image (Deadmau5) or a general shyness of being public persons (Daft Punk). Of course, the mystery surrounding bands with unknown identities causes a surge of interest which may even contribute to make it even more interesting to find out about the real identities.
The masks! There are loads of questions about the masks and the reasons for keeping your identities secret. To start with, is it important stay anonymous?
- It was really important from the beginning but when you grow old and get lazy you don't find it important anymore. Our Russians fans just have one big wish and it is to stalk us and they're really good at it. Not nice at all. They know where you live, your girlfriend's name, your parents' names, where you have your studio – everything! And that was when we tried the hardest to stay anonymous. But on the other hand, the anonymity itself may have made it more interesting to find out who we are.
I think it has served us well, the interest in "They are anonymous, let's find out who they are". We may also have benefited from it because we have become much more interesting. But it changes with age. Just look at The Residents whom which got tired of their masks and took them off. It's not as exciting anymore.
Is it even possible to keep the identities secret in the long run?
- It would be really cool if you would really go for it. I had such an ambition for a long time ago, that it would be cool to not know anything about us. However, these occasions turn up that destroy everything such as a label putting pressure on you, and combined with the boring Swedish attitude you just say "OK, I'll do it" and then it's gone. You will end up in alcoholism.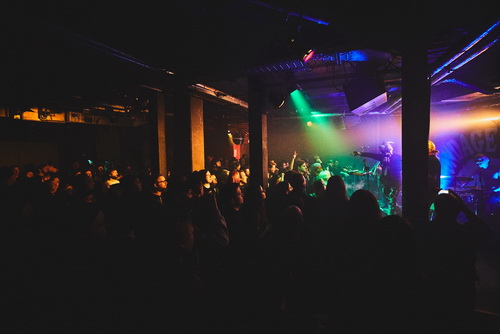 What you're saying is that you will do like Kiss and perform without masks in the future?
- And we will look exactly the same! It's all about vanity. As long as you find the mask to look better than your face you will continue to use the mask, and that how it has been since the start. Our faces will never look better than the masks. Maybe when we're dead or if we're aging with grace. We may turn up as George Clooney or George Michael, or Michael J Fox – or why not Sean Connery. He's a really hot old man according to women. Or you will look like Janne Schaffer, he's gorgeous. Christer Glenning is another man of the month, and Christer Ulfbåge in sportswear. Or Arthur Ringart!
Time to stop.
Photos for Release and Drefvet by: © Julia Schwendner