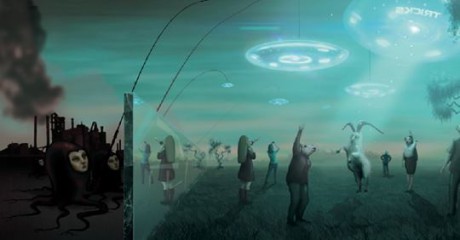 A year after the announcement of an online Pledgemusic campaign, Mark Walk and Nivek Ogre's fifth full Ohgr album release "Tricks" has finally become available as a digital download.
The ten track collection will also ship in CD, colored vinyl and 180 gram vinyl gatefold version. A physical label supporting the CD has not been announced though digital downloads are available now through the main streaming sites so far with a distributor called AWOL (artists without labels).
The live band project Ohgr will support the new "Tricks" with an impressive 32 date US/Canada tour with musicians Justin Bennett (drums), William Morrison (bass), Jeff "Squigg" Smith (keyboards), and Matthew Setzer (guitars).
Live gigs begin August 14 in Southern California with anchor Cold Waves dates September 13 NYC, September 21 Chicago, and September 27 LA. Support for most of the live tour dates come from Paul Barker's project Lead into Gold, which is promoting a new single release "A Savage Gift / Inside a Golden Sun". This tour stops in Calgary, Canada, which is notable since it is Nivek Ogre's original hometown and he has not performed there for roughly 25 years.