It's getting cold and dark here in Sweden. Sounds like the perfect time to rewind two months back to July and one of our favorite festivals, this year heated up to 35º C. The Release team reports from the 14th edition of the Cologne based festival Amphi, where we met and watched artists such as Midge Ure, And One, Priest, OMD, Oomph!, Aesthetic Perfection, A Projection – and drank gallons of water.
Saturday
After Friday's pre-party we discovered that our apartment didn't have air condition and after a really hot day with temperatures reaching +35º C we didn't get much sleep the first night. Most people going to Amphi are used to hot weather, and we usually love to spend those days at Tanzbrunnen in the sun, but these days were going to be a challenge.
This first day of the festival was about drinking gallons of water, being introduced to, probably, the best Swedish post-punk act we've seen in years and meeting up with legendary Midge Ure for an interesting interview about his overall career. Since the night hardly offered any sleep but instead massive dehydration, it wasn't difficult to get up really early and take the bus to the other side of the River Rhine to pick up our wristbands.
Just like last year, the summer heat caused too low water levels in the Rhine to allow the Orbit Stage onboard MS RheinEnergie to harbor next to the Beach Bar at Tanzbrunnen. Instead people had to catch a shuttle bus going every tenth minute between the festival ground and Orbit which, in our case, led to fewer visits since the major bands played at Tanzbrunnen. However, the first day of the festival started out onboard MS RheinEnergie and a very interesting band on the post-punk scene.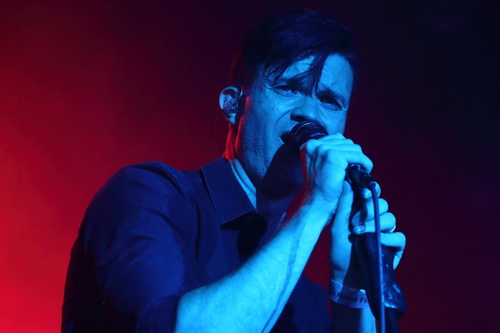 Stockholm based A Projection (pic) were formed in 2013 and shortly after discovered by Hamburg based label Tapete Records. In 2015 they released their debut album "Exit" and last year saw the arrival of their sophomore album "Framework". If you happen to be a fan of Joy Division, A Projection is certainly something to watch out for and not only in terms of their sound; singer Rikard Tengvall both sounds and moves a bit like Ian Curtis.
And it was a furious show. Although MS RheinEnergie offers some shelter and protection from the heat outside, the crowd turns up the heat a few degrees as the show gets more intense. "Hands" and "Dark City", two personal favourites, bring back memories of Joy Division at their best however with much better production and song structures. Later the same day we had an interview with the band who revealed that they're working on the third album.
After the show we made a quick run to the shuttle bus for Tanzbrunnen to see Aesthetic Perfection. This is also the moment when you realise that you have to chose between Tanzbrunnen and the Orbit Stage. Interviews at Tanzbrunnen combined with shows by Aesthetic Perfection, Funker Vogt, OMD and Midge Ure compete with Soviet Soviet, Lebanon Hanover and She Past Way at Orbit, a great day for post-punk indeed, but we stayed at Tanzbrunnen the rest of the day.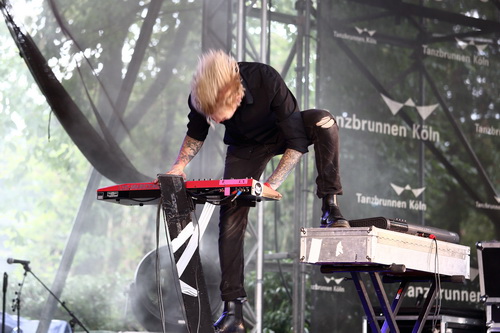 There's no reason to question the popularity of Aesthetic Perfection (pic). Thirty minutes before the show people are already waiting and I can't really understand why they always play a daytime slot every time I see them at Amphi. If you also consider Daniel Graves and Elliot Berlin's amazing live shows I find it even more strange that they won't get a prime time slot. Sure, they can't compete with OMD and Midge Ure. Maybe Amphi just wanted people to get out of their pre-party coma and start to dance?
At this point the temperature had reached +35º C in the shadow and every movement of your limbs caused excessive sweating. I still wonder how those two dudes in their black latex dresses made it through the day. I already had salt lines on my jeans but I'm quite sure that those guys had a few more degrees inside their dresses. Poor choice lads.
Few bands can embody their music live the way Aesthetic Perfection can. While Daniel Graves run around on stage causing loads of frustration as our photographer can't shoot him (at least that's what he said), Elliot more than often stands on the keyboards. Pure performative art that fits perfectly with their music, and the crowd loves it. Unfortunately I had to leave after eight songs because of my interview with A Projection but at this point it was enough considering the heat.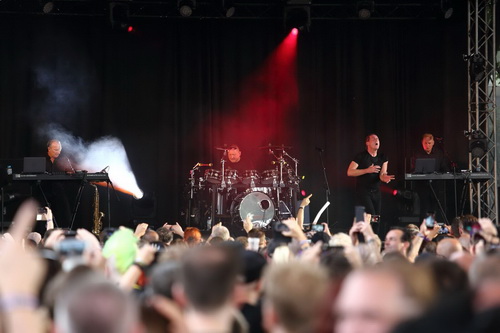 One of the major reasons for visiting the 14th edition of Amphi was to finally watch OMD (pic). I grew up with this iconic synthpop band and already had "Architecture & Morality" in my record collection at a very early age and bought "Sugar Tax" during my teenage years. And what an entry they made!
If your start off with the major hit you've had as a band nothing can go wrong. "Enola Gay" blasts from the speakers and people remembering their teenage years (yes, the average age is above 45+) start to sing-a-long. This is also the point when the manager of Midge Ure (see interview) calls me to change the time for the interview, thus forcing me away from the stage after four songs, but I made it back to see the encore, entailing "Sailing on the Seven Seas" and "Electricity".
Although there wasn't time enough to attend the full concert one thing was clear. Compared to many old bands that've started to get quite tired on stage making mediocre performances, OMD are quite the opposite. Andy McCluskey runs around the stage with his bass just like it was the 1980:s and it's quite refreshing to see and something for many other bands to be inspired of. Some people never get tired to be on stage, that's for sure.
Although the hectic schedule didn't allow for much breaks, the thirty minutes between the OMD and the beginning of Midge Ure at the Theater Stage was enough to finally catch a drink in the Beach Bar and a few minutes of relaxation before the final "must see" of the day.
Midge Ure's career is at a different level than most other bands together at this year's festival. Starting punk/new wave act Rich Kids with Sex Pistol's Glen Matlock in 1977, hooking up with Steve Strange and Rusty Egan to start Visage in 1979 and then offered the position as the singer in Ultravox after John Foxx left the band for his solo project. And then we haven't considered his role in Band Aid as the songwriter of "Do They Know It's Christmas", one of the major Christmas songs ever in the UK. Ultravox also happen to be one of my own childhood hero bands and the interview with Ure earlier in the evening is a memory that will stay for a while.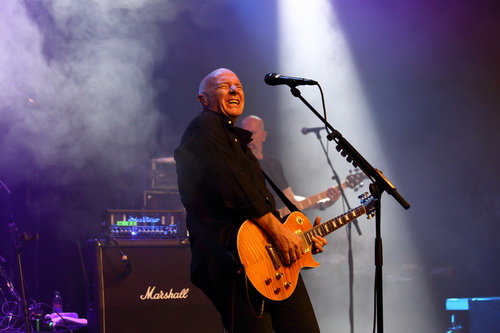 Although Midge Ure has a long solo career and a huge back catalogue to chose from, most songs were Ultravox songs. Already the beginning of the show includes his biggest solo project songs "Call of the Wild" and "If I Was" – both huge in Germany. The rest of the night was a walk down memory lane. "Fade to Grey", "Vienna", "The Voice", "Hymn", "Dancing with Tears in My Eyes" and many more of those songs that bring back memories of your childhood years in the 80:s, blasting out of the amps, and it's impossible to not sing-a-long.
However, the first day of the festival is not over. Although there's nothing interesting left on stage we soon found ourselves on the shuttle bus to the afterparty at the Orbit Stage, and even if the DJ:s tried their best to destroy the dance experience – why on earth do they start to play Avicii's "Levels" in the middle of "Temple of Love"? – nothing could change the fact that I met Midge Ure (and he even signed my Roskilde Festival flag) and that the nice dude who bought me a few too many drinks made it a perfect ending of the first day.
Sunday
The second festival day actually starts out in the night since there was no possibility whatsoever to sleep in an overheated apartment with no air condition. And that's not the main problem. To have two dudes smelling cheap vodka and sounding like two dump haulers in full speed next to me didn't help at all. Therefore it was better to go up for an early coffee even before the rooster started to crow. However, the second day was already set for being the most interesting of the two days entailing first encounters with bands as Neuroticfish, Priest and Oomph!, and having And One closing the festival would be a massive grand finale.
The heat continued and peaked at a "comfy" +34º C but since there wasn't anything on stage until 14.00, the heat could be controlled by a few pints of Kölsch before setting off to the area. That's when another unpleasant surprise hit me. If you read my Roskilde Festival coverage you will see me whining about huge problems with my feet due to a poor choice of shoes and even if it was three weeks later they still haden't healed up – and they came to be the plague of the day (but I won't whine about it again, just read the Roskilde Festival report).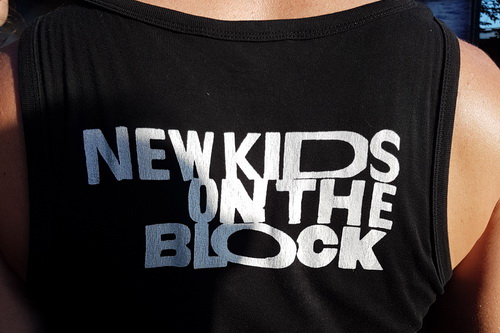 Waiting for concerts is boring but me and the photographer took on the task of trying out the local cuisine at Tanzbrunnen. Germans like their meat, that became clear already when moving to Hamburg last year and when a dude in a New Kids on the Block shirt showed us the way to some kind of "meat heaven" that impression was certainly enhanced, and Release's photographer found some sort of "meet on a stick", probably around a kilo for a "fiver". Although the vegetarian alternative was great it couldn't outcompete the dimensions of the meat plates at any food truck. On the other hand you didn't get any belly problems either.
To summarize the gastronomic side of Amphi is simple – a wide range of food trucks and fairly good prices. I always compare to other open air festivals such as Roskilde Festival, Primavera Sound and the Reading Festival, and in that context the prices at Amphi is rather good (but as with all festivals – we want more vegetarian options!).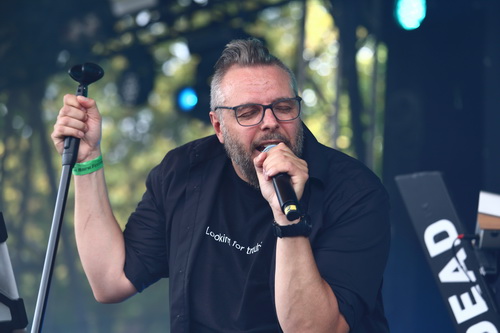 First act on stage of interest was Neuroticfish (pic) and since I've missed out on every opportunity there has been the last years. The stage broke down at Amphi 2015 due to bad weather and they had to cancel the show, and I was ill when he played Electronic Winter in Sweden, so this was something to look forward to. Aside from their debut album "No Instruments" in 1999 I've always held Neuroticfish as one of the five best futurepop acts. "Les Chansons Neurotiques" (2002) is a masterpiece, not meaning that "Gelb" (2005) is bad but with songs as "Prostitute" and "Wake Me Up", both ending up in the top of the Deutsche Alternative Charts (DAC) in 2002, it's difficult to compare (although "I Don't Need the City" is one of their best songs).
After a few years where Sasha got fed up with music and was about to sell all his studio equipment on E-bay (thanks to the guy who stopped him!), "A Sign of Life" was released in 2015 which, again, ended up in a prominent position on the DAC.
Henning Verlage, the second member of Neuroticfish, couldn't join Sasha on stage this day but where there's an abundance of synthesizers, there's always a dude willing to operate them and a "machine operator", not known to me, stood behind the decks backing up Sasha. If you've listened to a band for sixteen years and bought their albums it's difficult to get disappointed. Maybe it's a bit boring to see lead singers using an iPad to remember the lyrics but it didn't seem to affect Sasha's "manoeuvres" on stage at all.
With such a good setlist, you must do something completely wrong to fail. "Prostitute", "Wake Me Up" and the brilliant "Agony" from the latest album turn up quite early and then it is an endless line of 135-140 BPM songs the rest of the show. Some would probably say it's a bit boring with no change in tempo but it's a festival, people need a bit tempo to get over their hang overs from yesterday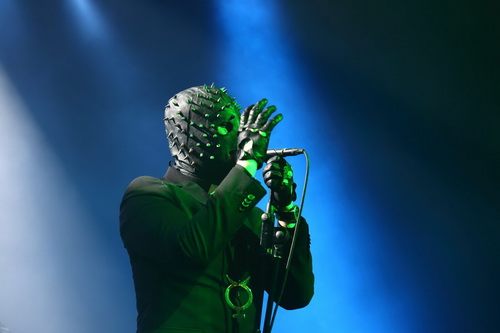 It wasn't possible to stay the full show though since people pushed me towards the Theater Stage and Priest, the electronic equivalent to Ghost – even more similar when you consider that there's a former member of Ghost in the band. The point is that Priest's music never got to me, it doesn't give me goose bumps, but peer pressure does work out at times and I found myself in front of the stage five minutes before the start. And what a show they made!
While Ghost's Papa Emeritus/"Cardi C" is a bit static, Priest's singer Mercury moves across the stage in a well rehearsed choreographic pattern. It's a show way beyond what you expect to see on the synth scene – a professional performance, not home made that many bands on the scene suffer from. However, I really don't know any song since I wasn't hooked the first or the second time (or the third) I listened to their debut album "New Flesh", but after the gig I promised myself to give it a fourth try when arriving at home – and I did but with the same result. Some bands might be good on stage and it's enough, ey? At least for me.
After the show there was nothing interesting going on for four hours and although Sweden's biggest – and probably only – Solar Fake fan literally held me by the arm and dragged me to the Solar Fake show I couldn't stay long enough to review it. It's not really my thing, not at all, but there were loads of people at the show. Anyhow, here's a photo just to cheer (a) possible fan/s up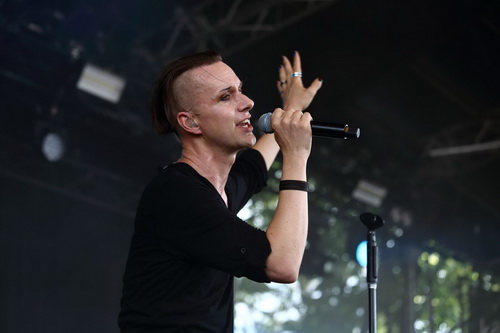 How do you manage a long break at Amphi? Well, there's beer and loads of stands selling albums you need to pay humongous amounts of shipping costs for when you buy them online, thus a reasonable allocation of time would be to spend two hours on finding a few records and two hours at the Beach Bar.
At 7.30 PM it was finally time for me to see Oomph! for the first time. Ever since Nine Inch Nails released "Pretty Hate Machine" in 1989, guitar based industrial rock on the verge to metal music has had a special place in my record collection. In 1994 Oomph! released their second album "Sperm" and the year after they struck the world with the amazing album "Defekt". Not only were they a pioneering band on the industrial/metal scene, they also inspired bands as Rammstein, and there are certainly musical similarities.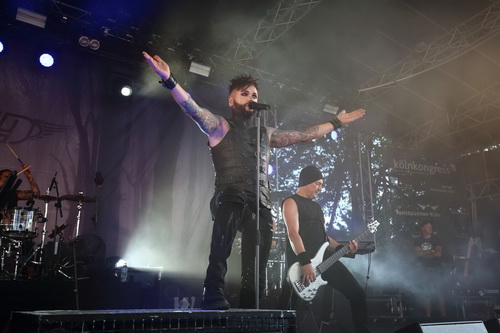 Although Dero Goi, Andreas Crap and Robert Flux (yes, it's nicknames) have been around for almost thirty years they really don't seem to have lost any energy on stage. While most bands get tired after 10-15 years, such as Grendel and Funker Vogt, Oomph! just put on a few more layers of heavy distorted guitars, crank up the volume a few more dB's and seize control of the audience at Tanzbrunnen.
Starting off in the brilliant "Gott ist ein Popstar" followed by the even more brilliant "Träumst du" – obviously two really good sing-a-long tracks if you can twist your tongue in German guttural sounds – opened up for a hit parade. But somewhere in the middle of it all it gets a bit boring before the hit machine starts again and blasts out "Sandmann", "Augen auf!" and the epic "Labyrinth" (in which I tried out some sort of German singing with a really poor result since the dude next to me glanced and telepathically said 'Hey dude, what the hell are you singing?' "). Oomph! is at this point the best show of Amphi 2018 but that was about to change in just thirty minutes.
I grew up in Lerum just a few miles north of Gothenburg. Me and one of my childhood friends (still a friend although he tried to kill me with his chinchilla 25 years ago) had a quite crappy EBM band around '91. During one of our rehearsal breaks he played the new single of a German band no one had hardly heard of yet. It sounded new and fresh and something completely different from the Nitzer Ebb kind of EBM that I was used to. 27 years after its release "Techno Man" still sounds great, maybe even better, when Steve Naghavi sputters out "Two sounds are better than one" and then the crowd reply with "Techno Man".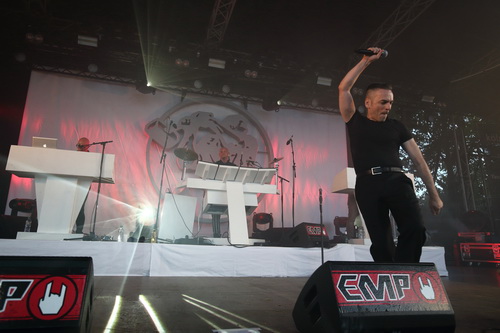 And One is Steve Naghavi since very few even take notice of anyone else on stage. It's just in a few songs when Joke Jay takes the mic and Steve hides behind the keyboard – but hardly stayed for more than a few minutes – there's a noticeable change, and it actually gets a bit boring. However, and fortunately, it's just temporary. Naghavi is a true onstage persona and keeps the audience on their toes from the beginning to the end. And it's fairly easy. If you consider And One's back catalogue it's made up of a wide range of hits, spanning from EBM to synthpop with the characteristic dark voice of Naghavi.
It's yet again a hit parade; "Sometimes", "Deutschmaschine", "Military Fashion Show", "Krieger" and the encore with, for instance, "Steine sind Steine" and "Second Voice". No one growing up with the synth scene can be disappointed after such an amazing setlist embodied by Steve Naghavi's performance on stage. It simply can't get any better! There's no way you can leave Tanzbrunnen and Amphi 2018 feeling disappointed after this. Actually, who wants to go home!? Everyone in the entourage were to speeded up after the show and we just headed off to the nearest dancefloor – just to find the one-hour line to get in.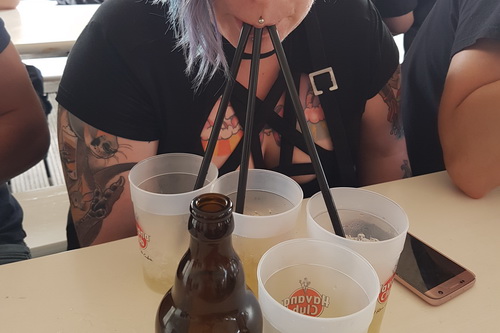 This is also where me and the photographer made the crucial mistake to go back to our apartment and leave cameras and recorders, have a few hot shots (yeah, the nineties is in fashion again) and go back to the festival ground just to find out we couldn't get in anywhere, not even the Beach Bar. When everybody had a few more hours of fun we had to wait with a few beers outside Tanzbrunnen. Not bad but not as good as on the dancefloor.
Just a suggestion to next year Amphi; can't you please use the Orbit Stage as a dancefloor or let people have fun in the late hours on the Beach Bar the last night as well? To make it a full festival weekend experience? Now you didn't get my beer money. Yes, I'm whining, it's a great festival in every aspect.
Photos by: Henric Carlsson (Release)